This is Part 2 of a series where I will discuss the changes in risk for the 25 BDCs that I cover compared to the previous quarter including portfolio yields, non-accruals, leverage ratios and portfolio investment mix. In the previous articles I discussed changes in analyst recommendations, earnings projections and price targets, dividend coverage from net investment income ("NII"), changes in net asset value ("NAV") per share, portfolio investment classes, debt to equity ratios, the ability to cover interest payments on borrowing with quarterly NII, and the amount of floating rate investments.
The charts below show the 'relative risk' rankings (10.0 implies the least amount of risk) before and after taking into account the most recent financial results. Full Circle Capital (FULL) has not reported results and the changes in its risk score is due to relative changes compared to other BDCs rather than specific changes in the company.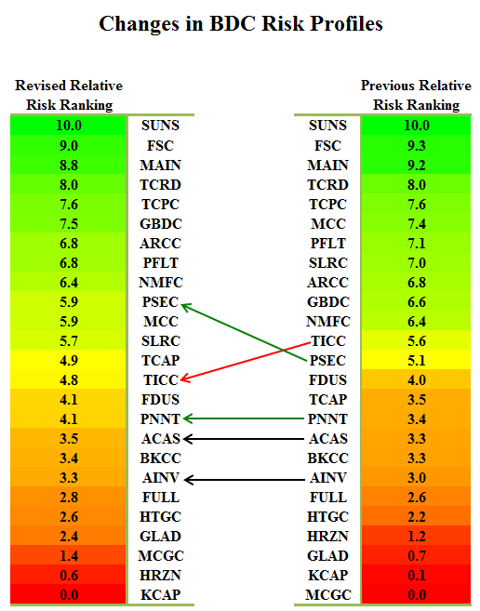 Click to enlarge
American Capital (NASDAQ:ACAS)
ACAS maintained it risk ranking but improved its score mostly due to decreased portfolio yields. Its effective interest rate on debt investments was 10.0% for the most recent quarter down from 14.1% the previous quarter but its average rate on its riskier Structured Products (which includes investment and non-investment grade tranches of CLO, CDO and CMBS securities) increased from 19.4% to 19.8%. ACAS continues to have declining portfolio credit quality, the highest amount of non-performing loans in the industry and continues to write-off non-performing Structured Product investments as discussed in "American Capital: Is It Time To Get Out?".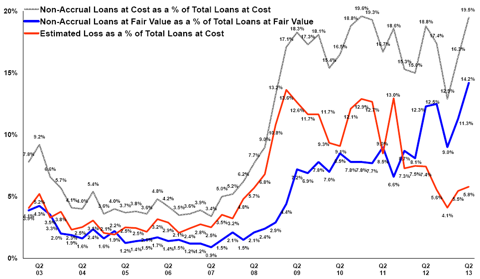 Click to enlarge
ACAS continues to reduce its debt to equity ratio to 0.11 from 0.12 in the previous quarter, which is currently the lowest in the industry, but its interest expense coverage from NII was reduced as well due to its continued decline in income.
Prospect Capital (NASDAQ:PSEC)
PSEC reported results last week and in "Prospect Capital: Time To Buy?" I discussed the changes from the previous quarter including risk relative to other BDCs. Previously PSEC had a ranking of 5.1 which has been improved to 5.9 for a few reasons including:
Overall, PSEC has improved its investment class mix from the previous quarter by increasing the amount of senior debt to 53% of the portfolio from 51% the previous quarter, and reducing its exposure to CLO type investments from 17% to 16%. However this was only due to rounding and the actual difference as a percentage of the portfolio was nominal. PSEC had an annualized yield of 13.6% as of the end of the year compared to 13.9% in the previous quarter, most likely due to origination efforts focused on secured lending as well as potentially some yield compression in the industry from increased competition.
Non-accruals decreased from 1.3% of assets at fair value to 0.3% and none of the loans originated in nearly six years has gone on non-accrual status. The decrease was mostly due to the sale of Wolf Energy.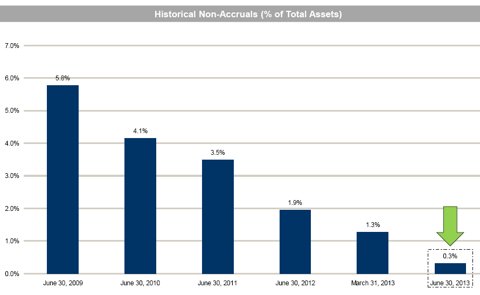 Click to enlarge
The debt to equity ratio increased from 0.55 to 0.63 but after subtracting cash and equivalents it is closer to 0.56 and near the industry average. PSEC has increased its NII for better than average interest expense coverage.
Continued management skin in the game - senior management has never sold a single share of stock and continues to be significantly invested with more than $35 million of cash equity in the company (including an additional $1.5 million in 2013). Recently PSEC was given a BBB+ bond rating by Kroll Bond Rating Agency.
TICC Capital (NASDAQ:TICC)
TICC is currently part of my "High-Yield BDC Portfolio" but projected EPS in the upcoming quarters of $0.28 are slightly below current dividends of $0.29 and I may have to reconsider its allocation levels as well as replace Solar Capital (NASDAQ:SLRC) which recently retooled its portfolio and reduced dividends.
Its risk level compared to other BDCs increased from the previous quarter due to missing projected EPS by $0.02 or 7%, a 3% reduction in NAV per share, and an increased debt to equity ratio from 0.74 to 0.88. TICC has higher than average portfolio yields as discussed in "TICC Capital: High Dividends And Low Price" but it did reduce its yields by improving its portfolio investment mix and increasing the amount of senior debt to 72% of its total portfolio compared to 70% in the previous quarter as well as investment restrictions of its securitization vehicles that requires TICC to invest in higher-rated and/or larger corporate loans which carry lower yields. TICC has also improved its interest expense coverage from NII.
PennantPark Investment (NASDAQ:PNNT)
PNNT improved its overall risk score by meeting projected EPS for the quarter which was much higher than the previous quarter as well as improving its portfolio mix by increasing the amount of senior first and second lien secured debt from 48% to 52% of the total portfolio and reduced its portfolio yield from 13.4% to 13.1%. It also reduced its debt to equity ratio from 0.56 to 0.48 which is below the industry average and improved its interest expense coverage from increased NII. PennantPark entities have had only seven non-accruals out of 244 investments since inception six years ago as discussed in "PennantPark Investment: Is It Still Good?" and PNNT currently has no loans on non-accrual.
Apollo Investment (NASDAQ:AINV)
AINV continues to rank low from a risk standpoint due to its high volatility ratios, lower than average amounts of senior debt and insider ownership. The CEO currently holds about $1.5 million in stock which is low compared to its market cap of almost $1.8 billion and BDCs such as Main Street Capital (NYSE:MAIN), Prospect Capital and Fifth Street Capital (NYSE:FSC) all have CEOs with holdings between $20 million and $40 million. Its portfolio yields and investment class mix have remained stable and are average for the industry and its overall risk score improved slightly due to reductions in leverage and increased interest expense coverage from NII.
In the remainder of this series I will cover the risk profiles for the other 15 BDCs that I follow as well as my personal price targets for each BDC based on their relative risk rankings.
Investors should only use this information as a starting point for due diligence. See the following for more information:
Disclosure: I am long PSEC, MAIN. I wrote this article myself, and it expresses my own opinions. I am not receiving compensation for it (other than from Seeking Alpha). I have no business relationship with any company whose stock is mentioned in this article.