Chase Coleman's hedge fund Tiger Global has recently amended its 13D filing on Longtop Financial Technologies (NYSE:LFT) and the fund now shows a 6.8% ownership stake. Tiger Global is now left holding 3,491,928 shares as the filing was amended due to activity on September 22nd, 2009. This is vastly lower than the previous total of 6,313,181 shares held when we previously detailed that Tiger was selling shares of LFT.
The fund's sales can date back to July and beyond as it has amazingly reduced its position from a greater than 14% stake now down to only 6.8%. If past trend is any indicator for the future, we'll continue to see hedge fund Tiger Global dump shares of LFT. Here is a graphic extracted from the SEC filing where you can see the dates and prices of their sales: (Click to enlarge)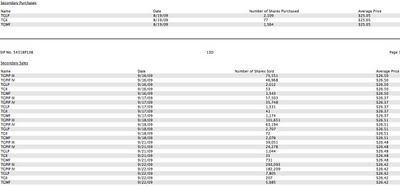 Coleman attended Williams College and his focus in the markets has always been on smaller cap names and on technology, though he has since expanded his horizons with time. An interesting fact about Coleman is that he is a descendant of Peter Stuyvesant, the man who built the wall that gave Wall Street its name. He was clearly born for Wall Street.
In 2007, Tiger Global returned 70%, and from 2001-2007, Coleman bolstered an average return of 47%. The fund has a great historical track record and that's why we track it here on the blog. For more on Coleman and Tiger Global, check out its background and focus in the middle of the linked post.

Taken from Google Finance:
Longtop Financial Technologies "provides a range of software solutions and services to the financial institutions in the People's Republic of China (PRC), including the development, licensing and support of software solutions, the provision of maintenance, support, and other services, and system integration services related to the procurement and sale of third party hardware and software. The software solutions provided by the Company are classified into four categories: channel, business, management and business solutions."