I have written about Annaly Capital (NYSE:NLY) extensively on Seeking Alpha, and have owned the stock on and off, mostly on, since 1997. I might be crazy, and everyone else might think I have lost my mind as well, but I think that this entire talk about the Fed ending, or tapering QE now, is one huge head-fake.
If I am right, buying shares of NLY right now, might be the biggest bargain ever. Yes, I know all about the rising interest rates, and the slowdown in mortgage applications, but those are some of the exact reasons for my opinion.
I am sorry if you disagree with me but I cannot get rid of this nagging feeling that the economic FACTS are saying the exact opposite of what the Fed has been intimating. Forget about tapering, I see more easing, and soon!
If I am right, not only will NLY take off, but so will all of the market indexes. More on my thesis later, but first let's look at what the facts are to support my opinion.
What Do The Facts Tell Us
I suppose that we should begin by briefly mentioning what the Federal Reserve has been trying to achieve since they began Quantitative Easing.
Lower longer term interest rates to stimulate the housing market.
Keep interest rates low for consumers to refinance existing mortgages, or take out new ones to buy a new home.
Keep interest rates low enough for business to borrow enough to allow them to expand and hire more people.
Lower the unemployment rate down to at least 6.5%.
Keep short term rates at or near zero, ZIRP, so banks and lending institutions can have access to cheap money. That will enable them to lend more, have greater liquidity, and rake in profits.
By taking the QE actions, the Fed is also hoping to see real income growth as employment increases, which will stimulate consumer spending in all areas.
At the same time, the Fed has been trying to avoid deflation, not just keeping inflation in check. If anything, re-flation is a focus.
Now let me ask you something before I get into the actual facts, with links: Has the Fed succeeded?
What does the actual data tell us?
Well, first of all, employment still stinks here in the US and the puny numbers being reported prove it. Here is one article which states the "not so" obvious.
Unemployment rose in 21 states and declined in 27 states during the last three months, according to a new analysis by a left-of-center advocacy group, the Economic Policy Institute.

"In the midst of this ongoing economic train-wreck, national and state policymakers need to redouble their efforts to create good jobs that put working families on a sound path to economic security," said a statement from the left-wing group.
The left wing is not giving any ringing endorsements of the employment direction, are they.
Take a look at the EPI report directly. It has some interactive maps that you can play with to find the actual unemployment numbers for any State in our nation. As always is the case, the States with the largest populations are always the most important. Check out California, New Jersey, New York, Pennsylvania, Texas and Florida first.
The average is nearly 8% unemployment in these States.
Even in a positive article spun by Bloomberg, the facts seem to have a funny way of showing up:
The number of people continuing to receive jobless benefits increased by 29,000 to 3 million in the week ended Aug. 10. The continuing claims figure does not include the number of Americans receiving extended benefits under federal programs.
The title of the article is "U.S. Jobless Claims Fell To Five Year Low Over Past Month". Did I miss something, or didn't the article contain the above information right smack dab in the middle of the report?
The report also stated this:
Employers in July added the fewest number of workers in four months, even as the jobless rate dropped to a more than four-year low of 7.4 percent from 7.6 percent, the Labor Department reported earlier this month.
Moving on to the housing sector, take a look at this article, which reports that new home sales dropped to a nine month LOW. Is that what the Fed had in mind?
Despite improving builder confidence, sales of new single-family homes dropped to their lowest level since last October, the Census Bureau and HUD reported Friday.

The seasonally adjusted annual rate of sales dropped a stunning 13.4 percent to 394,000 in July. Economists surveyed by Bloomberg expected June sales to drop to 487,000 from June's originally reported 497,000. June sales were revised to 455,000.
Folks, the data is going in the opposite direction of what the Fed policies intended. If these numbers deteriorate further, then so will the employment numbers. Here is the report directly from the Census Bureau itself.
I believe that the drop in housing sales is directly related to rising mortgage interest rates. Take a look at this chart: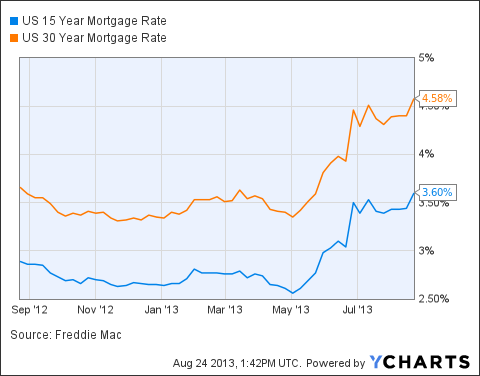 More than 100 basis point increases in both the 15 year mortgage rate, and the 30 year rate has put a screeching halt to mortgage applications, and new home sales.
The Mortgage Bankers Association said its seasonally adjusted index of mortgage application activity, which includes both refinancing and home purchase demand, fell 4.6 percent in the week ended August 16........Demand to refinance existing loans has declined as rates have climbed. The refinance index shed 7.7 percent last week, its biggest weekly fall since late June, and is down 62.1 percent since peaking in the week ending May 3. The refinance share of total mortgage activity slipped to 62 percent from 63 percent the prior week.
Is this what the Fed had in mind for QE? Not according to the Fed itself. In last weeks FOMC minutes, even with the "positive spin", the facts just keep bubbling up:
However, construction activity was still at a low level, with demand restrained in part by tight credit standards for mortgage loans. Starts of new single-family homes were essentially flat in June, but the level of permit issuance was consistent with gains in construction in subsequent months. In the multifamily sector, where activity is more variable, starts and permits both decreased. Home prices continued to rise strongly through May, and sales of both new and existing homes increased, on balance, in May and June. The recent rise in mortgage rates did not yet appear to have had an adverse effect on housing activity.
I bolded the areas I believe are noted "between the lines" of this rather confusing comment. My takeaway here is that the housing sector and mortgage markets, are anything but good. Does this sound like a halt to QE is imminent, to you?
Finally, let's take a look at household income levels. As noted in this report, incomes are BELOW those of the actual end of the "Great Recession".
U.S. median household income, once adjusted for inflation, has fallen 4.4 percent in that time, according to the report from Sentier Research. The report is based on an analysis of Census Bureau data......The median, or midpoint, income in June 2013 was $52,098. That's down from $54,478 in June 2009, when the recession officially ended. And it's below the $55,480 that the median household took in when the recession began in December 2007.
Here is another report, with several interesting graphics, that support my opinion:
The nation may be in better economic shape, but that doesn't mean Americans' paychecks are. Median annual household income has fallen 4.4% to $52,098 in the four years since the economic recovery began.
Minorities have taken the largest hit, as shown in this graphic: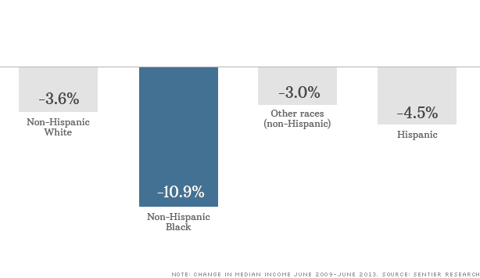 Here is one more graphic showing income deterioration in married folks versus single folks: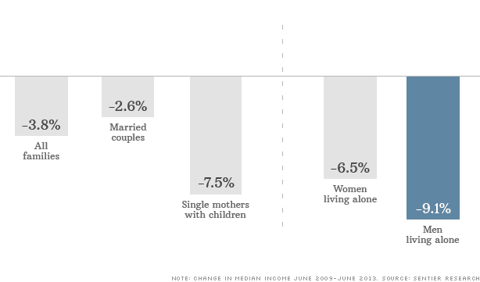 If incomes are lower, housing sales stalled, mortgage applications dropped, refinancing has dried up, and unemployment remains way too high, what are the reasons that the Fed will stop QE or even taper?
As a matter of fact, I believe we will see EASING before any sort of tightening from the Fed, and THAT will help NLY, and other mREIT stocks, not only rebound, but begin to fly.
At least ONE news agency agrees with my easing thesis, as reported by CNBC just yesterday:
A toxic combination of depressed employment participation rates, weak real growth and the onset of Obamacare, will force the Federal Reserve to increase rather than decrease quantitative easing next year, according to the chief economist at SaxoBank...... Saxo Bank's Steen Jakobsen said the decline in the U.S. unemployment rate was deceptive and does not point to a recovery in the labor market....
"If you look at the reason why unemployment has come down, the participation rate has been a significant part of that. Basically, we haven't created necessarily more jobs, but less people have applied for jobs," Jakobsen told CNBC.
Annaly Is Still The Best Of Breed
I like Annaly because not only has its management proven to be able to navigate just about any interest rate environment, but insiders have been gobbling up cheap shares right now as well.
These are the most recent purchases of course, but insiders have been buying all along, and not selling at all. Of course the more compelling reasons are very strong:
If the Fed eases, or stops the tapering talk, interest rates will stabilize and the entire environment for NLY profits will be greater.
Book value will stop eroding, and the current price to book makes the stock undervalued (a 12% discount).
In a more stable interest rate environment, the dividend payments should be more stable, and the current yield of 13% is very, very compelling.
The added profits from the CreXus acquisition will only help increase the dividends.
With ZIRP in place for a long time to come, the spread for NLY to profit within will remain wide, and very favorable for the stock and the dividends.
We are all familiar with the risks involved in the mREIT sector by now. If the Fed ignores the facts and decides to throw caution to the wind, interest rates could rise quickly, and hurt the investment greatly. Of course, if the Fed takes that action, the economy might crumble quickly and we will have more issues than just an investment in NLY.
The Bottom Line
NLY is still a dividend opportunity risk investment. I certainly do not advocate an investment of more than a risk allocation or a tad more, and by no means does this mean an investor should put too any eggs in one basket.
That being said, I believe that I have made a compelling argument for my thesis.
Disclaimer: The opinions of this author is not a recommendation to either buy or sell any security. Please remember to do your own research prior to making any investment decisions.
Disclosure: I am long NLY. I wrote this article myself, and it expresses my own opinions. I am not receiving compensation for it (other than from Seeking Alpha). I have no business relationship with any company whose stock is mentioned in this article.