When insiders accumulate a stock intensively, the stock can be expected to outperform the market during the next six months. Insiders tend to buy more often than usual before large price increases and to sell more than usual before price decreases.
In this article, I will feature one healthcare company that has seen intensive insider buying during the last 30 days. Intensive insider buying can be defined by the following three criteria:
The stock is purchased by three or more insiders within one month.

The stock is sold by no insiders in the month of intensive purchasing.

At least two purchasers increase their holdings by more than 10%.
Valeant Pharmaceuticals (NYSE:VRX), a specialty pharmaceutical company, develops, manufactures, and markets pharmaceutical products and medical devices in the areas of neurology, dermatology, and branded generics.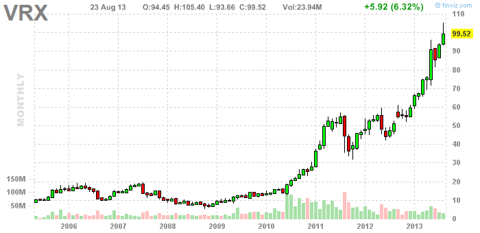 Click to enlarge
Insider buying by insider (last 30 days)
Robert Chai-Onn purchased 5,032 shares on August 23 and currently holds 188,277 shares or less than 0.1% of the company. Robert Chai-Onn is Executive Vice President, General Counsel and Corporate Secretary.
Brian Stolz purchased 4,500 shares on August 12 and currently holds 32,156 shares or less than 0.1% of the company. Brian Stolz joined Valeant in July 2011 as Executive Vice President of Administration and Chief Human Capital Officer.
Laizer Kornwasser purchased 3,500 shares on August 9 and currently holds 7,500 shares or less than 0.1% of the company. Laizer Kornwasser joined Valeant in February 2013 as Executive Vice President/Company Group Chairman.
Insider buying by calendar month
Here is a table of Valeant Pharmaceuticals' insider-trading activity by calendar month.
| | | |
| --- | --- | --- |
| Month | Insider buying / shares | Insider selling / shares |
| August 2013 | 13,032 | 0 |
| July 2013 | 0 | 0 |
| June 2013 | 1,356,271 | 6,000 |
| May 2013 | 0 | 0 |
| April 2013 | 0 | 0 |
| March 2013 | 2,000 | 0 |
There have been 1,371,303 shares purchased and there have been 6,000 shares sold by the insiders since March 2013.
Financials
Valeant reported the second-quarter financial results on August 7 with the following highlights:
| | |
| --- | --- |
| Revenue | $1.1 billion |
| Net income | $10.9 million |
| Adjusted net income | $420.6 million |
| Cash | $2.5 billion |
| Debt | $10.8 billion |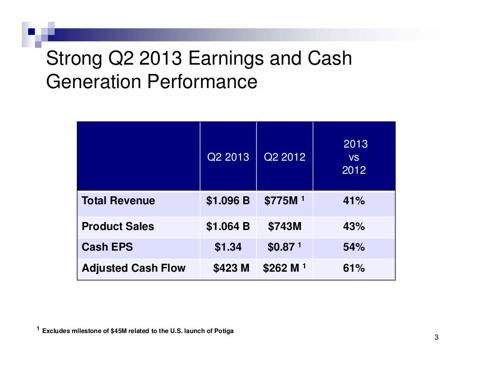 Click to enlarge
Outlook
Valeant is targeting cash EPS of $6.00 to $6.20 in 2013. Cash EPS expectations for the third and fourth quarters of 2013 are $1.33 to $1.43 and $2.03 to $2.13, respectively. Total revenue for 2013 is expected to be in the range of $5.8 billion and $6.2 billion.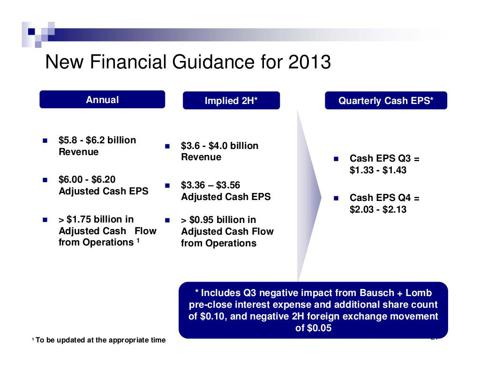 Click to enlarge
Upcoming milestones
Valeant has the following upcoming milestones: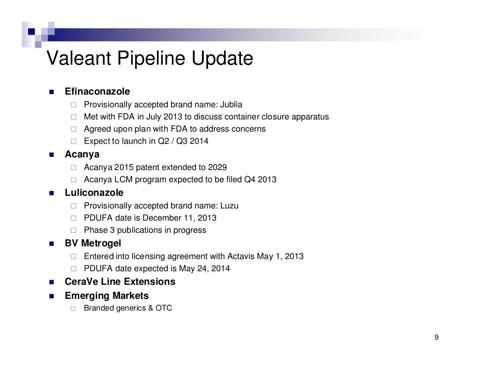 Click to enlarge
Valeant received a complete response letter for efinaconazole in May. There were no safety or efficacy concerns from the FDA regarding this compound. In July Valeant met with the FDA to discuss their concerns centered specifically on the container closure system. This month, Valeant hopes to reach a final agreement with FDA on a plan for addressing all of the issues. Valeant expects to receive FDA approval for efinaconazole in the second or third quarter of 2014.
Valeant has been able to extend the patent life for Acanya previously set to expire in 2015 up to 2029. This was a more specific formulation patent, which was granted. In addition, Valeant has recently received Phase III results for a new formulation of Acanya, which demonstrate both improved efficacy and improved tolerability. Valeant expects to file this new product with the FDA by the end of the year.
Valeant has a PDUFA date of December 11, 2013 for Luliconazole or Luzu and hopes to publish Phase III data later this year.
BV Metrogel, which Valeant entered into a licensing agreement with Actavis (ACT) earlier this year, now has a PDUFA date of May 24, 2014.
Valeant's dermatology R&D group is also working on several line extensions for CeraVe. Valeant expects the CeraVe family of products to surpass $100 million in sales by next year. Valeant has successfully launched CeraVe in Canada and plans to launch in Mexico, Brazil and Australia later this year.
Valeant has also a robust pipeline of branded generics and OTC products across emerging markets, which it expects to launch the remainder of this year and next year.
Competition
A number of Valeant's products already face generic competition, including Wellbutrin XL, Ultram ER and Diastat, all of which had generic competitors during 2012. In March 2012, a generic version of Cesamet was introduced by a competitor in Canada.
With the expiration of the last patent covering the Cardizem CD 360mg, Valeant anticipates increased generic competition for this dosage strength of this product, which currently only has one approved generic competitor.
In the U.S., Zovirax does not currently have generic competition, but is not protected by patent or regulatory exclusivity. Given the FDA's draft guidance on acyclovir ointment, which would permit the approval by the FDA of an ANDA for acyclovir ointment referencing Zovirax ointment on the basis of in vitro studies only, and the FDA's denial of Valeant's Citizen's Petition with respect thereto, Valeant anticipates that it may face increased generic competition for this product.
Conclusion
There have been three different insiders buying Valeant and there have not been any insiders selling Valeant during the last 30 days. Two out of these three insiders increased their holdings by more than 10%. Valeant has an insider ownership of 2.30%. There are 15 analyst buy ratings, two neutral ratings and one sell rating with an average target price of $52.38. The stock has several anticipated catalysts, which are described at the upcoming milestones section. I have a neutral bias for the stock currently based on the bearish analyst target prices and on the other hand insider buying.
Disclosure: I have no positions in any stocks mentioned, and no plans to initiate any positions within the next 72 hours. I wrote this article myself, and it expresses my own opinions. I am not receiving compensation for it (other than from Seeking Alpha). I have no business relationship with any company whose stock is mentioned in this article.