The surging auto market is well known and well discussed. I am, however, a believer that this trend will not continue forever, going as far as to say that the U.S. market might actually be overheating. With the U.S. market becoming saturated it's no surprise that the major U.S. automakers, Ford (NYSE:F) and General Motors (NYSE:GM), are turning to the overseas markets for growth. The two have traded in near lockstep since GM's IPO back in 2010.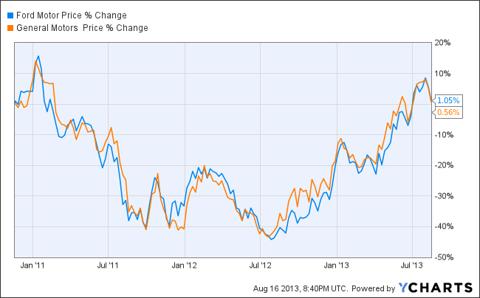 Click to enlarge
The issue is that I can go blue in the face explaining why GM, or even Ford, is the better investment, what we really need is a market moving event, or game changer, to wake Mr. Market up.
"Improvise, Adapt and Overcome!" - Clint Eastwood, Heartbreak Ridge
Enter China
This behemoth of a population, this behemoth of an economy, this behemoth of an auto market is a divergence promoter for GM and Ford. The Chinese growth rate is outpacing the likes of the U.S. at a blistering rate. This hasn't changed much even during the global economic slowdown.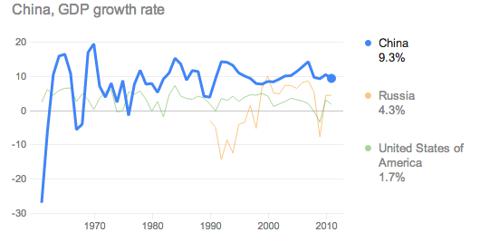 Click to enlarge
The Chinese market continues to stand the test of time. For years China has managed to beat estimates when it comes to GDP estimates. This trend should continue, and the automakers have recognized the huge market opportunity.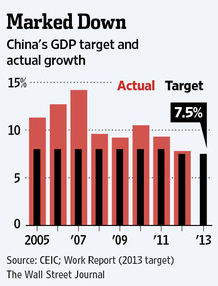 Eastbound and down, loaded up and truckin'
Truckin'? Not so much. In overpopulated Eastern countries, namely China and India, the smaller cars will be the way of the future. This marks a big transition for the U.S. automakers, where bigger is has always been better, for example, more than 60% of Ford's current revenues are from truck sales.
Re-enter the China market. Ford is attacking the market aggressively. And part of this includes tailoring to the market, hence smaller cars.

The Chinese auto market has grown at a blistering pace over the years. Before the turn of the century, there were only 15 million vehicles on the road in China, with 6 million being cars. Compare this to the over 130 million cars in the U.S. at the same time. Then in 2010, China had over 78 million vehicles on the road, half that of the U.S.
And China is spending gobs of money to cater to promote further vehicle growth. As of 2011, China had some 53,000 miles of expressway, with nearly all of it built over the last five years. The U.S. Interstate Highway system has 47,000 miles, which took more than three decades to build.
Chinese infrastructure spending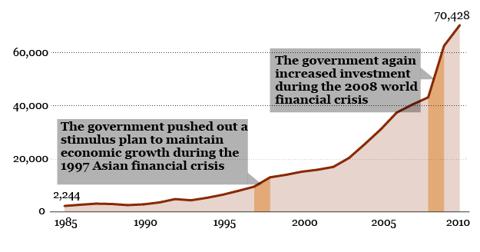 Click to enlarge
China has been blowing money fast for a number of years, giving it an impressive network of roads. Admittedly, there is more room to grow in the western part of the country.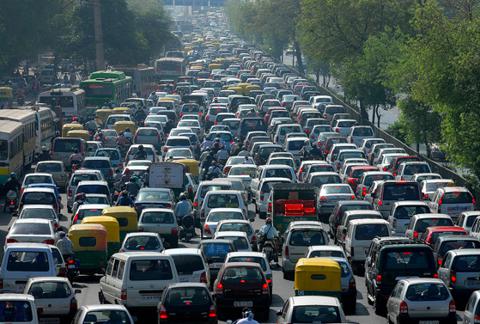 Click to enlarge
Quite the traffic jam in China
Since 2000, China has grown its expressway network 16%, putting it as the second largest expressway network in the world, over 75,000 km. This number is expected to jump to some 83,000 km by 2015.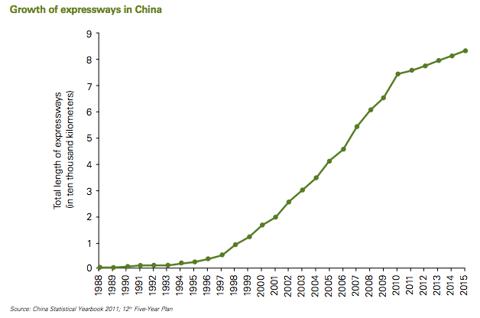 Click to enlarge
Mo' money, less problems
The other big tailwind for China includes a rising middle class. We touched on this briefly last week after noticing how major retailers, namely Coach, have been betting big on the "affordable luxury" market in China. Asia's gambling market is another testament to bustling middle class, helping fuel Macau's toppling of Vegas as the gambling capital of the world.
"The majority of Macau's visitors are from mainland China. Enter China's rapidly rising middle class, which is already larger than the entire U.S. population and will likely be the key driver of Macau's growth. Back in 2000, only 4% of China's households were considered middle class. That number had soared to 66% by last year."
Putting this in perspective, China still has tons of room to grow, with a GDP that's less than half that of the U.S.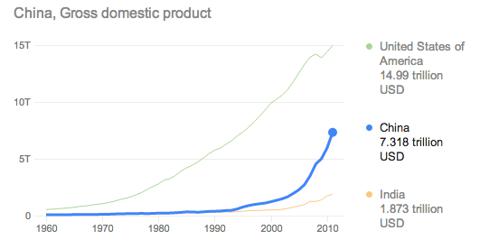 Click to enlarge
Although demand is picking up in China, we still have a long way to go. China is the world's largest car market, but its vehicle per capita (vehicles per person) is well below other major nations. The U.S. boasts 0.79 cars per person, Germany 0.57, Brazil 0.25, but china is at only 0.085.
The great forays to the beyond
Volumes for Ford are up 30% from the start of 2013 through June, but Europe is still an overhang for the company, where it still manages to lose money. The robust rebound in the U.S has helped offset this weakness in Europe, for now that is.
Going forward, Ford is expecting Asia to make up 70% of its global growth this decade and eventually make up 40% of total sales. To get there, Ford has spent some $500 million on China and India since 2009. Ford plans to make some 450,000 to 600,000 engines in India by 2015, having invested upwards of $2 billion in manufacturing facilities in the country. One of Ford's big moves to the India market includes its EcoSport SUV.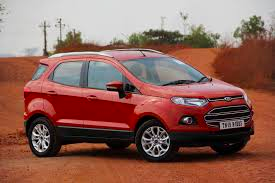 GM is coming back from bankruptcy with a vengeance. The company is strapped with $11 billion in credit lines, putting its available cash to $42 billion. Part of this cash will go to upgrading 70% of its global lineups by the end of 2013, and another $8 billion will go toward new vehicle development.
GM is building four new plants in China to help up its capacity to 5 million vehicles, helping triple its exports in China by 2015. Its joint venture in China will allow it to invest $11 billion by 2016.
Thanks to the bankruptcy, the company was able to cut loose of billions of dollars of liabilities. While in restructuring mode, GM sold or discontinued the Pontiac, Saturn, Hummer and SAAB brands, choosing to focus on its core brands Chevrolet, Buick, Cadillac and GMC. This should help lower operating costs going forward and boost margins.
Recent, 2Q, results were still strong for GM, showing it as the leader in market share position for North America and South America. Meanwhile, Ford still has a stronghold in Europe.

Click to enlarge
Digging a bit deeper, we see just how exposed Ford is to Europe, getting over 20% of revenues from the country. Meanwhile, GM has a solid mix between South America, Europe and the rest of the world (namely China and India).

Click to enlarge
If you have to choose
Simply knowing that there's robust growth in the China market is not likely to make both Ford and GM a solid investment. Although both Ford and GM have a strong position in the U.S. market, GM has set itself apart as the leader in virtually every other major market, except the U.K. This includes China, where GM has a stronghold.

Click to enlarge
Let's run across some key metrics. Namely, return on equity. The ROE is nearly 33% for Ford, versus a mere 21% for GM.
That's quite a spread. Even the sustainable growth rate points in favor of Ford, where Ford pays a 2.5% dividend yield. The sustainable growth rate for GM is its ROE since it doesn't pay a dividend, but ford pays out nearly 25% of earnings as dividends, and so its SGR is 24%, still above GM's 21%.
Lipstick on a pig
Ford has levered up its balance sheet 10 to 1 to get its ROE up to 33%. If we take into account the debt the companies carry, by using return on invested capital, it's actually GM that's the winner. Ford's ROIC is less than 3%, while GM's is at 11%. Why is this?
It's quite simple; debt is helping Ford give the appearance of a robust ROE. The profit margin tells a similar story for Ford and GM, but then things go awry. GM is actually generating higher returns with its asset base, but what drives Ford's ROE up is its leveraged balance sheet. Ford has a leverage ratio of 10.2, compared to GM's 5.8.

Click to enlarge
Takeaway
The higher structural cost for Ford does not bode well, nor does the leverage situation. The weakness in Europe is expected to continue, at least for the interim, and so I'm sticking with GM for the time being.
Based on a 20% to 25% ROE, a 3.5 P/B multiple is justified for the carmakers. But GM trades at a 1.75x book value, while Ford is at 3.4x. As the market becomes more aware of GM's strength in China, the removal of the U.S. government overhang, and solid ability to generate returns on an invested capital basis, we believe the automaker will come to trade closer to Ford's 3.4x P/B. That would suggest an ultimate price target of $68, nearly 100% upside.
Disclosure: I have no positions in any stocks mentioned, and no plans to initiate any positions within the next 72 hours. I wrote this article myself, and it expresses my own opinions. I am not receiving compensation for it (other than from Seeking Alpha). I have no business relationship with any company whose stock is mentioned in this article.