The major American oil companies Chevron (NYSE:CVX), ExxonMobil (NYSE:XOM) and ConocoPhillips (NYSE:COP) have underperformed the overall market over the last year despite stubbornly high oil prices. Being a contrarian I decided to analyze these dividend payers for possible inclusion into my income portfolio. After looking at all three, I decided the best positioned American oil major is ConocoPhillips.
Dividend Yield
Obviously the most obvious place to start my analysis was to compare their dividend yields. In this comparison, ConocoPhillips easily comes out on top (see below).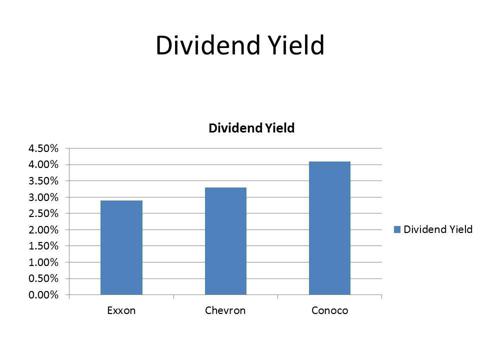 Comparative Advantages
There are several things I like about ConocoPhillips compared to its larger brethren. First and foremost, the company spun out its refinery and retail assets via an IPO of Phillips 66 (NYSE:PSX) last year. This makes Conoco a pure play E&P concern. Pure plays are usually awarded higher multiples by investors as their core business is easier to understand and project.
Second, Conoco seems to have less major issues than ExxonMobil and Chevron right now. Exxon has had five straight quarters of declining production. Chevron has a $19B judgment against it in Ecuador. Even though I believe this judgment will eventually be tossed or settled, it is still a major distraction.
Finally, Conoco has sold off overseas properties and spun out assets to concentrate on growing production in North America. The company has properties in the Bakken, Permian and Eagle Ford shale regions and is investing 60% of its capital budget in growing production from its North American properties. This helps lower Conoco's geopolitical risk and gives it greater exposure to the best energy production expansion story in the world right now.
Exxon tried to expand its North American presence by purchasing XTO Energy for some $40B in 2010. Unfortunately, it made the purchase near the peak of natural gas prices and the acquisition has been somewhat of an albatross around the company's neck since. Chevron has sold off some refinery assets but still remains a more complex enterprise than Conoco with downstream assets and presence on just about every continent.
Valuation
Conoco is selling for less than twelve times this year's expected earnings despite its more than four percent yield. The company has raised its dividend payout by some 50% over the past five years. COP is also priced at just over 5x operating cash flow. Consensus earnings estimates for both FY2013 & FY2014 have consistently been ticking up over the past three months as well.
Oppenheimer recently upped its price target on COP to $80 from $70 a share. It gave several reasons for the upgrade. (A) It believes the company can achieve the 3% to 5% annual production growth targets through 2017, led by production increases from its Eagle Ford acreage. (B) It is impressed by the ~$12B in divestitures the company has made recently and believes this secures dividend growth, enables its capital budget and support further share buybacks in the medium term. (C) Oppenheimer believes the company could eventually receive $5B to $10B for its confiscated assets in Venezuela, which is not reflected in its current stock price. BUY
Disclosure: I am long COP. I wrote this article myself, and it expresses my own opinions. I am not receiving compensation for it (other than from Seeking Alpha). I have no business relationship with any company whose stock is mentioned in this article.