Alexza's (NASDAQ:ALXA) US marketing deal with Teva (NYSE:TEVA) for Adasuve (orally-inhaled loxapine) enhances the product's US sales prospects given Teva's expertise in the psychiatric and hospital markets. Adasuve is a potentially disruptive new product for acute agitation in schizophrenia or bipolar disorder, given its advantages over existing options (injection/oral/buccal). The investment case is shifting from a development/regulatory play to one of commercial execution by Adasuve's licensees, Teva in the US and Ferrer in Europe.
Price: US$4.67
Market cap: US$74m
| Share details | |
| --- | --- |
| Code | ALXA |
| Listing | NASDAQ |
| Shares in issue | 15.8m |
Business description
Alexza Pharmaceuticals is a US-based company developing products for acute CNS disorders using its proprietary Staccato aerosol rapid drug delivery system. Lead product Adasuve is approved in the US and EU for acute treatment of agitation in patients with schizophrenia or bipolar disease.
Bull
Adasuve is a potentially disruptive entrant in acute agitation in the schizophrenia/bipolar disease market, given its advantages over injection and slower absorption of oral/buccal alternatives.
Staccato delivery system can be applied to other CNS-product candidates.
Teva-sponsored Phase IV could raise Adasuve's profile among physicians.
Bear
10% of Adasuve royalties owed to Symphony Allegro.
Adasuve REMS could curtail US penetration rate.
Financing may be needed before year-end 2014.

Teva deal validates Adasuve's potential
Alexza received $40m upfront ($10m passed to Symphony Allegro), and may obtain up to $195m in milestones, plus tiered royalties on US Adasuve sales. Teva will fund the required post-marketing studies and will establish a minimum 40-rep sales force targeting 1,000 US hospitals. Teva's commitment signals its confidence in Adasuve for acute agitation in hospital settings, where the drug's competitive benefit is its ~10 min time-to-clinical effect (vs ~15-30 min for intramuscular injectables), while offering a non-coercive and more patient-friendly route of administration.
Adasuve launches in H213
Teva intends to launch Adasuve in H213, while EU licensing partner Ferrer plans H213 launches in Germany and Austria, with other EU countries to follow in 2014. Given 6.5m Americans with bipolar disease and 2.2m with schizophrenia, and assuming a 50% institutionalisation/agitation rate, ~4 episodes pa and ~$75 cost per treatment, capturing 8% of this market could provide $100m in US product sales; Alexza has indicated it will be cash-flow positive when sales reach this level.
Alexza resumes work on other Staccato products
With Teva taking control of US Adasuve marketing, Alexza will work on developing further CNS products using its Staccato system. It will start a 60pt Phase II trial in H213 for AZ-002 (Staccato alprazolam) for acute repetitive seizures (ARS), with results expected in 2014. Other Staccato projects could be disclosed by end-2013.
Valuation: Modest EV of $37m; focus on execution
Alexza had $11.7m in cash and $4.9m in debt at end-March 2013, and will net $30m of Teva's upfront fee. The transfer of US sales efforts to Teva should lower Alexza's burn rate from Q113's $9.4m. After considering a $25m five-year convertible note granted by Teva, Alexza expects to have sufficient cash to fund activities into Q314. Adasuve's uptake and market share gains are therefore key to share price performance, and may determine the timing of a future financing.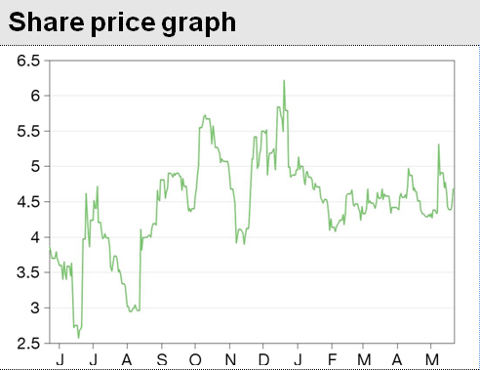 To view the disclaimer that governs our research, visit our profile.
Disclosure: I have no positions in any stocks mentioned, and no plans to initiate any positions within the next 72 hours.
Business relationship disclosure: Edison Investment Research Limited (Edison) is a leading international investment research company. Edison and its subsidiaries (Edison Group) have won industry recognition, with awards both in Europe and internationally. This article was written by Pooya Hemami, one of our Healthcare Analysts. We did not receive compensation for this article, and we have no business relationship with any company whose stock is mentioned in this article. Pooya Hemami has no positions in any stocks mentioned, and no plans to initiate any positions within the next 72 hours.