Almost everyone thinks Tesla Motors' (NASDAQ:TSLA) stock is overvalued. It has risen 426.65% in the last year to its $161.84 close on August 23, 2013. It has risen 348.19% in just the last six months. It was not profitable in Q2 2013; and it has no PE. Its FPE is a lofty 94.09. Yet its average analysts' five year EPS growth rate per annum is only 18.70%. At that rate it will take at least five years for TSLA to begin to grow into its current valuation. How can you not think it is overvalued. HYPE is not value. The "pie in the sky" future is not "real value". Even TSLA's CEO Elon Musk has hinted/said the stock is overpriced. He seems to be positioning himself (his recent comments) to deflect possible future shareholders lawsuits. These would inevitably follow a significant crash in the TSLA stock price. Such a crash could happen at any time, especially if the overall market reverses significantly. He clearly does not want investors to be able to say he was deceiving them.
Here are some quotes from an August 21, 2013 CNBC interview with Elon Musk:
The market is being very generous.
They are giving us a lot of credit for future execution.
The valuation we have right now is more than we have any right to deserve.
Our stock price is obviously too high based on historical financials or even current financials.
This sounds very much like Musk is trying to safeguard the company from investor lawsuits when the stock inevitably crashes. If he is this worried, you should be too if you are a shareholder.
Here's what a few of the analysts have said recently:
Bank of America Merrill Lynch's (NYSE:BAC) John Lovallo II and John Murphy are holding their price target at $39 even after the recent run up. They say there are "300,000 reasons" to be skeptical. "… we estimate that a $120 share price implies over 321K in vehicle sales in 2020, which is a full 300K units higher than the FY2013 rate; and it would represent a 7-year CAGR of 48%." As I noted above the current average analysts' five year EPS growth estimate per annum is only 18.70%. The difference between these two figures is astronomical. The BAC folks say the needed results would have to include EBIT margins of 12.5% in 2020, which is more than 380 bps more than the average of BMW, Mercedes, Audi, Bentley, and Porsche. They say 70% of luxury autos reach peak volume within the first 8 quarters. If true, Model S sales could begin leveling out within a year. Such an eventuality would decimate TSLA's estimates.
Goldman Sachs' (NYSE:GS) auto analyst, Patrick Archambault, set an average price target of $84, with a best case scenario of $113 and a worst case scenario of $58. Archambault cited "sustainability of demand longer term" as one of the big risks for TSLA. GS also downgraded the auto industry overall to neutral. Archambault cited rising interest rates as a headwind to auto sales, even once the employment situation improves.
Donn Vickrey at Gradient Analytics said, "Thus far, the company's results have been driven by nonrecurring boosts and accounting gimmicks, all of which are either unsustainable or purely cosmetic." He gave the company's earnings an 'F'. His main concerns are:
The recent demand has reflected pent-up demand, and it's unclear if this is sustainable.
A 25% gross margin by the end of the year (2013) is unlikely considering the company's low volumes.
Tesla has limited room to absorb warranty costs.
The car is expensive. It is affordable only to the one-percenters.
Vickrey points out that TSLA made $68 million in Q1 2013 from zero emission vehicles (ZEV) credits. If you take those out of profits, TSLA had a huge loss. TSLA expects their ability to sell these credits will diminish quickly. Vickrey doesn't believe the company can make 25% gross margin by 2013E.
Vickrey believes the warranty accounting is in error. He believes the new technology will have more problems down the line as the Model S is a completely new platform with new technologies. Ford (NYSE:F) and General Motors (NYSE:GM) sell on very established platforms, yet TSLA's warranty expenses are estimated to be approximately the same. The likelihood that warranty costs will blow up in TSLA's face is high. One of his biggest worries is the eight year or 125,000 mile warranty on the 60 kwh battery pack and the 8 year and unlimited mileage warranty on the 85 kwh battery pack.
Fast charging is known to cause the batteries to wear out much faster. Any significant number of customers stopping at supercharging stations for fast charges could add huge costs to the battery warranties for TSLA. Some might point out that there are few supercharging stations yet. However, the number is supposed to go up significantly by the end of 2013. It is expected to keep growing rapidly after that. The number of longer term drivers of Model S's could multiply rapidly. TSLA's battery warranty replacement costs could multiply rapidly along with this trend. Vickrey doesn't think TSLA has these expenses adequately built into its estimates. Margins will be hurt in the future.
Not only this but supercharging is free to Model S customers. The cost is supposed to be built into the cost of the car. However, TSLA has to build, maintain, and man all these stations; and that is not free. Some enterprising salespeople with defined territories could easily decide to take advantage of this. Free fuel for them could make TSLA cars more affordable. Plus they would be sure to be able to take advantage of the battery warranty (a $10,000 cost to them if they had to pay). In fact they would probably be able to get their batteries replaced several times. Alternatively they might take advantage of the lease option. Both of these cases would be very unprofitable for TSLA. Weekend warriors going to Lake Tahoe every other weekend could present much the same problem. A lot of people like to stop in or near Sacramento for a meal on the way. There is sure to be a supercharging station there soon. TSLA's battery fast swapping plan is considered even more foolish.
Finally Vickrey is very concerned that TSLA is guaranteeing the residual value on cars that are leased. He thinks this could turn out to be a huge headache because residual values are impossible to predict at this point. Both the car and the EV industry are new. TSLA could end up being stuck with a large number of vehicles that have much less than expected residual values. TSLA could take huge losses on this. Given the battery issue, this could be a significant problem.
Aside from the many holes the above analysts have poked in TSLA's valuation, both the Price/Book ratio and the Price/Sales ratio for TSLA compared to other major auto manufacturers show TSLA's stock is overvalued by an order of magnitude or more. The following table compares TSLA's statistics to some of the majors.
| | | | | |
| --- | --- | --- | --- | --- |
| Stock | Price/Sales Ratio (TTM) | TSLA's Premium to other stocks' P/S ratios | Price/Book Ratio (mrq) | TSLA's premium to other stocks' P/B ratios |
| Tesla Motors | 14.41 | | 30.31 | |
| Ford | 0.45 | 32x | 3.37 | 9.0x |
| General Motors | 0.32 | 45x | 1.75 | 17.3x |
| Fiat (FIATY.PK) | 0.09 | 160x | 1.27 | 23.9x |
| BMW | 0.65 | 22x | 1.53 | 19.8x |
The above data really speaks for itself. Given the many concerns of some of the top analysts, it seems inevitable that TSLA's stock value will crash in the not very distant future. The above table indicates there is the potential for a huge fall.
Wall Streeters like to run up stocks like TSLA, so the new companies have an easier time raising large sums of money through stock offerings. This helps them fund new development costs. Once this need is over (or the stock begins to look like a failure), the stock of such companies inevitably falls dramatically. In TSLA's case, investors can already see major brokerage analysts jumping off the pumping boat. Both GS and BAC have one year target prices far below the current price of the stock.
Admittedly the stock ratings I refer to were made in July 2013. Still the price had already traveled over $120 at that point. Its recent short squeeze after its earnings beat does not really change the situation. Both BAC and GS have been chastised by the government recently for grossly misleading investors. They are both more likely to give more "realistic" forecasts than the hedge funds, etc. that are pumping TSLA. You can buy TSLA if you want. You can pump it as much as you want. However, it will still fall dramatically soon (in the next 1-2 years). The only question is when. It is insane to believe it is worth a 20-fold premium to BMW, which is the car company many people are hoping it will become. A bad economy could make a TSLA stock price crash happen sooner rather than later.
Too many people are saying Musk is a genius. They say he is a wizard a la Steve Jobs. This justifies paying virtually any price for TSLA. He is a genius. He does make a good, innovative car. However, he himself has said the stock is overvalued. It is impossible for any rational person to interpret his comments any other way. If this "super" genius is telling investors that the stock is overvalued, how can they then justify buying the stock? Investors would have to agree on his fallibility in order to ignore his advice on the stock price. If they admit this, their whole argument of his infallibility goes right out the window. The reality is that he is a genius; but BMW, Ford, etc. have some geniuses working for them too. They will provide competition in the EV market. TSLA is a good company, but it does not deserve an approximate 20-fold premium to BMW.
If you remain unconvinced by this article, there are other articles that point out significant flaws:
Tesla: Be Ready For A Massive Crash
Investors Are Buying A Pig In A Poke With Tesla Motors
5 Troubling Takeaways From Tesla's Second Quarter
TSLA is a sell at its current price -- $161.84 per share, which was the closing price on August 23, 2013. TSLA took a turn down after the short squeeze on earnings; but it bounced right back up. Momentum traders and HFT folks predicted this; and it bounced at approximately where they said it would ($135). However, their upward target was $160 per share. This target has already been reached. Yes, the stock price could go higher; but do you want to be the one who rides it a long way down? If you have been in it since spring, it is time to take profits. If you have just gotten into it, it is time to take profits. The risk does not justify the possible reward. The big brokerage analysts are not behind it. Even Elon Musk is not behind the current stock price. With this clear lack of what one might call "normal" support, TSLA is a sell.
The two year chart of TSLA provides some technical direction for this trade.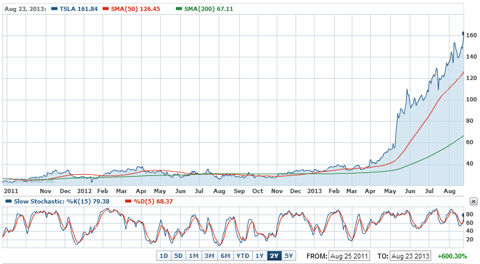 The slow stochastic sub chart shows that TSLA is near overbought levels. The main chart shows that it is in a steep uptrend. However, its current price is more than double its 200-day SMA. This kind of situation does not last long for any stock, even Apple in its heyday. TSLA is due for a sharp pullback. It has some support at $120 per share. It has more support at about $100 per share; and this is still far above GS's one year price forecast ($84). TSLA lost money last quarter on GAAP. In 2014 it has significant competition coming from BMW. The competition from the other EV makers is also getting stiffer. Further the GS analyst lowered the outlook for the entire auto industry to neutral recently. This industry includes TSLA. Neutral outlooks do not go down well with investors looking for extremely high growth. TSLA is a sell.
NOTE: Some of the above fundamental financial data is from Yahoo Finance.
Good Luck Trading.
Disclosure: I am short TSLA. I wrote this article myself, and it expresses my own opinions. I am not receiving compensation for it (other than from Seeking Alpha). I have no business relationship with any company whose stock is mentioned in this article.