As I write this, spot crude is trading up $2... are we seeing a breakout?
I previously posted about crude oil forming a falling channel pattern, and it seems to be setting up near resistance. Today we might be seeing the first signs of this breakout. We'll have to see if it holds on to gains by the closing bell, but this is in line with the inflationary theme in the market.
I've said before that the Fed will stick with its expansionary policies (buying back treasurys, agency debt, low rates) for as long as the economic recovery is not on firm footing. While it's hard to trade stocks in general given the overbought condition of the market, oil is something I'm more comfortable with given that it has a proper set-up.
I have gone long on the U.S. Oil Fund (NYSEARCA:USO) in my model portfolio. The chart below is for WTI Crude Continuous Contract, and is updated as of Wednesday. I've chosen USO over the United States 12-Month Oil Fund (NYSEARCA:USL) given the former's focus on the front end contract (USL is diversified into contracts for each of the 12 months). It's also a bet that we will reverse from contango to the more traditional "backwardation" scenario in oil. This makes more sense since I am betting on an economic recovery.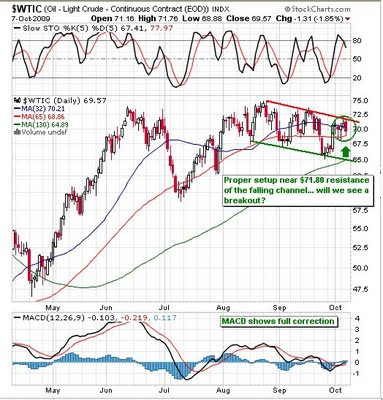 Meanwhile, we have to take as a leading indicator the recovery in Australia and other emerging markets (including Asia and Brazil) which weren't hurt as much during this recession. The fact that the ECB, the United Kingdom and the US are not ready to raise rates will support the recovery for an extended period of time, and when the recoveries in these regions are in firm footing, they will add further fuel to the fire. Short of being ultra-bullish, we have to continue monitoring the situation in the US dollar, as this could potentially derail this breakout in oil (also stocks).

Disclosure: Long -- USO, GLBL