Platinum is a precious metal used by the automotive industry in the manufacture of catalytic converters. It's also used to make jewelry, among other industrial and aesthetic uses. The fundamental case for price appreciation in the metal stands on three planks:
Increased demand
Reduced supply
Price is currently below costs of production
The Demand Side
Demand for platinum comes from users in automotive, industrial, and jewelry industries as well a small amount of investment demand, as depicted in the table below (all figures, except where noted,sourced from: platinum.matthey.com):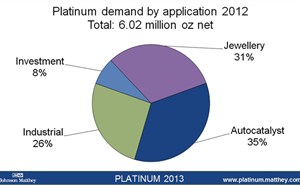 Demand for platinum was materially lower as a result of the 2008 recession. This was a combined effect of significant reductions in automobile output as well as reduced demand for luxury goods such as jewelry as belts were tightened generally. Demand for platinum is levered to the economic cycle and price should therefore move roughly in tandem with movements in the economy. The level of demand is depicted in the table below: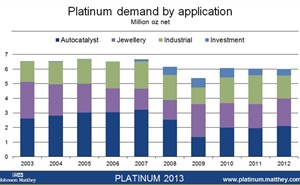 Automobile sales have been recovering nicely since the recession (source:caranddriver.com):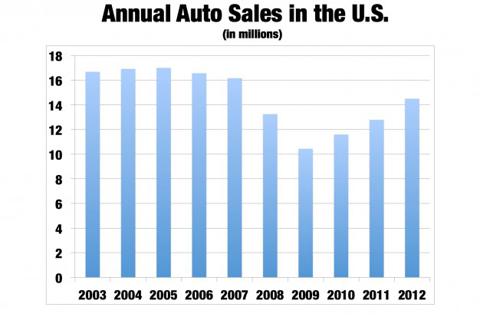 Notwithstanding the strong recovery, anticipated production is expected to continue to grow as deferred purchases in the US leave unsatisfied demand, and demand from economies such as China is enormous as their population gets wealthier (source: goldseek.com):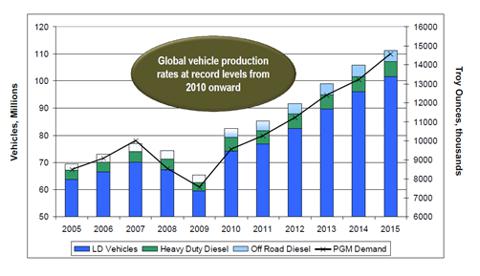 Demand from the jewelry sector continues to grow as the economy recovers: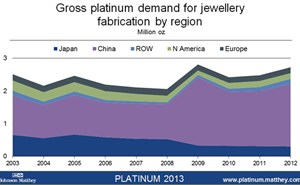 The Supply Side
The supply of platinum has been reducing: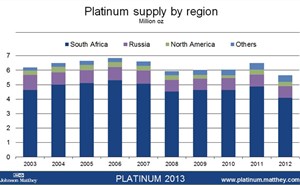 The supply side reduction is the result of lower prices combined with significant labor disruptions in South Africa. In August of 2012, Lonmin (OTCPK:LNMIY), a significant producer, was struck at its Marakana mine, which resulted in violence and shooting deaths and closed mine operations for over a month. Work resumed only after a mediator awarded a 22% wage increase to the striking workers. In July of this year, 5,600 workers struck against the world's largest platinum producer, Anglo American (OTCPK:AAUKF).
The result of the increased demand and reduced supply has left the platinum market in a deficit position (000s of ounces):
| | |
| --- | --- |
| | |
| Supply | |
| South Africa | 4,095 |
| Russia | 800 |
| North America | 295 |
| Zimbabwe | 340 |
| Others | 110 |
| Total Supply | 5,640 |
| | |
| Demand | |
| Autocatalyst | 3,240 |
| Chemical | 450 |
| Electrical | 165 |
| Glass | 180 |
| Investment | 455 |
| Jewellery | 2,780 |
| Medical & Biomedical | 235 |
| Petroleum | 200 |
| Other | 340 |
| Total Gross Demand | 8,045 |
| | |
| Recycling | |
| Autocatalyst | -1,130 |
| Electrical | -10 |
| Jewellery | -890 |
| Total Recycling | -2,030 |
| Total Net Demand | 6,015 |
| Movements in Stocks | -375 |
RMB Morgan Stanley, in their August 19, 2013 Research Note, has forecast this deficit to increase to -579,000 ounces in 2013 and a deficit of -206,000 ounces in 2014.
Mining Costs
All-in cash costs (which include capex) vary from mine to mine. But as the following chart shows, more than 50% of mine production has all-in cash costs greater than platinum's current price (approximately $1,500.oz at time of writing) (source: Thomson Reuters GFMS (Platinum & Palladium Survey 2012):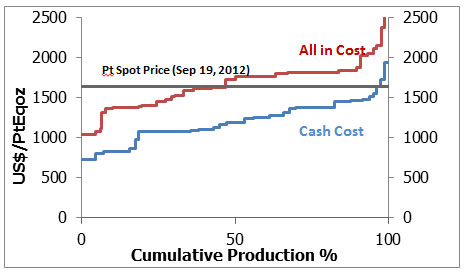 Supply side factors are not likely to increase until prices cover all-in costs of production. And costs are not showing any inclination to stay in check. Deloitte, in their 2012 report on the South African platinum mining industry, noted:
"The platinum group elements (PGEs) industry seems to have lost its grip on cost - in the last decade cash costs have quadrupled on the back of cost inflation running well above global averages. The cost of power nearly doubled, the prices of diesel and steel rose at twice the inflation rate and the average wage increases were consistently a few points ahead of CPI."
Conclusion
With demand outstripping supply, leaving forecast deficits for 2013, 2014 and 2015 and selling prices below all-in producer costs, platinum is poised for a solid rebound in price.
Investors who wish to act upon this thesis can do so with relative ease and relative liquidity through the ETF Physical Platinum Shares (NYSEARCA:PPLT). There are numerous publicly traded platinum miners as well, but since most are operating below cost, and since the South African ones remain exposed to material labor disruptions, risk remains high.
Disclosure: I have no positions in any stocks mentioned, but may initiate a long position in PPLT over the next 72 hours. I wrote this article myself, and it expresses my own opinions. I am not receiving compensation for it (other than from Seeking Alpha). I have no business relationship with any company whose stock is mentioned in this article.