Backround:
Constellation Energy Partners LLC. (CEP) is a speculative upstream oil and gas MLP which was first IPO'd in 2006 for about $26/share. Following the IPO, shares reached as high as $50, but have since tanked as low as $1.15/share. Needless to say, the company has been a major disappointment. The company is considered an MLP which is suprising since it hasn't paid a distribution since June of 2009, and up until recently has had no firm source of drop downs, which are critical for small upstream E&P MLPs like CEP. Since 2009, the company has been struggling to find its way, let alone reinstating distributions for unit holders, as high debt and lack of support from a parent has left the company in shambles. Today, the company stands at just $2.00/share with a market cap of $48.6M, and is still jousting debt concerns and a tapering of production due to well output declines, which are relatively normal characteristics for this class of stock. However, new relationships recently forged could signal the stock is about to recover.
Lack of Sponsor Has Damaged Performance:
Much of the blame has been aimed at management, however I feel this fledgling MLP has been struggling since it really hasn't had a sponsor; which is usually the backbone in the upstream MLP structure. The sponsor generally sells legacy assets which are further down the production curve so the MLP can harness a reliable stream of revenues with minimal production decline usually inherent in older wells. In turn, the parent takes the funds paid and reinvests them in new wells- you could say it's a healthy cycle that's mutually beneficial to both parties. These new wells dropped down generally counteract the natural declines of existing assets, which like we said has been plaguing CEP, especially since it's been difficult for the company to obtain new assets.
At IPO, CEP was spun off from Constellation Energy [CE], a utility now owned by Exelon (NYSE:EXC), which also assumed the role of sponsor. As sponsor, CE retained interests in CEP and agreed to provide certain support services under a Management Services Agreement. However in 2009, CE terminated the agreement, and CEP has been operating without a real sponsor ever since. Therefore, CEP was left out to dry quite literally, as output from existing wells has been gradually declining without a clear source of new wells from a parent entity with some kind of asset base.
However, on August 8, 2011, PostRock Energy Corporation (NASDAQ:PSTR) announced it had purchased a majority of CE's interests in CEP, which in aggregate represented a 14.9% interest. Then on December 20, 2011 just 4 months later, PostRock announced it had purchased CE's remaining class B units. As a result of that transaction, PostRock now owns a 21% net interest CEP. The original sponsor, continues to own all of the incentive interests in CEP, however management recently referrred to them as having "essentially no economic value". Goodbye and good riddance.
PSTR owns and operates over 2,800 wells and nearly 2,200 miles of gas gathering lines, as well as 1,100 miles of interstate gas pipelines in the Midwest. Despite PSTR's small size, having a partner in the same market with some kind of asset base is a huge positive for the company. Also, PSTR's large ownership in the company via shares should be a positive as they should seek to ensure CEP's success in terms of share price appreciation. PSTR's investment was and is a positive, however a recent deal was even more glorious.
Sanchez Energy Deal:
In Q3 2013, CEP acquired interest in 67 producing wells in Texas and Louisiana for a purchase price of $30.4 M from Sanchez Energy Corp. (NYSE:SN), one of the fastest growing E&P companies around, with strong assets and management to boot.
The assets are 75% operated by Sanchez Oil & Gas and provide revenues derived of 50% oil, which will help offset CEP's overweight exposure to N. Gas, which was over 70% of total output in 2012.
The deal will boost production by 32.8%, as current production from the acquired SN assets is about 1,167 BOE/day, while CEP averages 3,553 BOE/day.
The new wells will provide a much needed jolt to performance, and a 35% increase in proved reserves as well. However due to an increase of 16.7M in debt or roughly 50% post transaction from Q1 levels, the company's NAV was increased by 3%: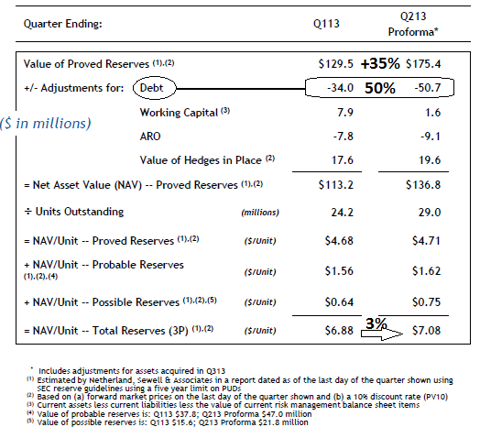 Click to enlarge
Three percent isn't much, but nonetheless it's still accretive to NAV as a net result. Management expects adjusted EBITDA to run between $27.5 M and $29.5 M for full year 2013, which when compared to the $24.5 M in adjusted EBITDA earned in 2012, this improvement amounts to a 16% increase at midpoint. This should prove the deal to be immediately accretive to the bottom line, however the real benefit is SN's net 17.7% ownership interest in CEP as a result of the transaction. This partial SN ownership will align Sanchez's interests with those of CEP, and should fuel future acquisitions and deals, which at the least should fill the absence of a sponsor and compliment PSTR's stake as we discussed earlier. On August 15th '13, management stated :
...our new relationship with Sanchez is a means to achieving enhanced deal flow, which may occur through future asset contributions or joint acquisitions. At the same time, we see an opportunity to leverage the skills of Sanchez Oil & Gas, a proven operator with an outstanding technical team and experience that spans across multiple basins in the U.S.
Moreover, at the end of this same conference call, management stated it believes part of SN's long term strategy is to have a sponsored MLP available to drop-down mature production to, which lead me to believe they could be that entity. Management stated:
"...we are working with the Sanchez organization on a master service agreement so that we can achieve the efficiencies that can be achieved with the 2 organizations, and we're going to work on the next transaction, a drop down from the Sanchez organization."
Management then reemphasized the primary goal is to strengthen its financial position so it can reinstate the distribution. If CEP can somehow solidify a official parent-like sponsorship from Sanchez in which to harness steady downs going forward, a reinstated distribution could happen sooner than one might think.
New Ownership Structure:
Combining SN's 17.7% interest with PSTR's 21% interest, 38.7% of the company is owned by these two E&P companies in total. In my view, this ownership should fill the "no sponsor gap" over the next year, specifically at least until late 2014 when a buyout becomes legally unrestricted and therefore possible. Until this time, under Section 203 of the Delaware General Corporation Law ("Section 203"), PSTR is restricted from a hostile takeover of the company. It is assumed the same ruling will restrict SN from doing the same for a similar period, as a greater than 15% ownership of the company deems it also as an "interested unitholder" under the law. Regardless, more drop downs are destined to take hold before this date which should give the company just the kick start it needs.
Final Thoughts:
It is my prediction that this beaten down MLP will likely grow production via drop-downs from these two entities and especially from SN, as their large ownership in CEP makes it economically attractive to do so. Also, these two entities should supplement what CEP has been missing all these years- an active sponsor, in which to supply accretive, mature wells in a steady fashion. In addition, management made it clear they are seeking a fruitful relationship with SN, possibly a parent-MLP type affiliation. Even if this type of agreement never becomes official, it appears near and mid term drop-downs will continue regardless. For the long term, a PSTR/SN buyout is possible once the Section 2023 restriction is lifted, sometime in late 2014/early 2015.
CEP should continue to grow EBITDA, increase production, and gain managerial expertise through the accretive relationships now established with Sanchez Energy, a proven lionheart in the E&P space, and PSTR. This left for dead MLP has barley survived a long 4 years without a parent supplying assets, and without paying distributions. I have a feeling the worst is behind CEP, and things could get better quickly if SN grabs a hold of the reigns. CEP is a good speculative buy if you're a believer in SN's continued growth. After considering SN's performance as of late, I know I am.
Disclosure: I am long SN. I wrote this article myself, and it expresses my own opinions. I am not receiving compensation for it (other than from Seeking Alpha). I have no business relationship with any company whose stock is mentioned in this article.