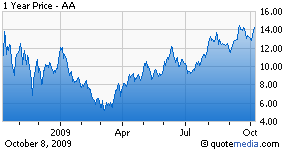 Alcoa (NYSE:AA), the largest US aluminium producer, on Wednesday posted an adjusted third-quarter income from continuing operations of $0.04 cents a share. Analysts estimated a loss of $0.09 cents a share. Revenue was $4.62 billion, beating analysts' estimates of $4.51 billion.
But one thing to highlight is the "better than expected" results fallacy. Who are these dodgy analysts who keep getting exceeded?
Alcoa's beating of the Street estimates was due to cost cutting and higher aluminium prices rather than increased demand for their product. This was very typical of Q1 and Q2 results for most companies. Moreover, in many instances, demand for its products actually fell and profits only increased due to cost cutting. This suggests economic conditions are still unstable/deteriorating and that unemployment will continue to rise. In order for me to be convinced that the economy is improving, the key is for company results to show improvement in profitability in Q3 based on increased customer demand. I will look for statements regarding investment in R&D, hardware, employment, etc for an indication that the economic uptick is sustainable without the fiscal stimulus remaining in place.
Capital expenditure would signal a likely further uptick in demand for both products and labor within the economy and would be the first signal that the economic stimulus is becoming self-sustaining. This would also suggest that Payroll data may begin to improve and consequently the markets may begin to price in the possibility of Fed hikes.
The next biggie up in the earnings parade is Intel (NASDAQ:INTC) on Tuesday, followed by the larger US banks. Expectations in some quarters are firming that earnings will fall and loan losses will rise.
Thursday kicked off with PepsiCo (NYSE:PEP) on the march after reporting numbers that were ahead of expectations ($1.08 versus $1.03). Other stocks seeing buying included Barrrick Gold (NYSE:ABX) with the yellow metal at $1,059. The market will take further encouragement for the chunky drop (-33k) to 521k in the weekly jobless claims number and continuing claims (which also fell significantly). However we need to see weekly jobless claims sub 400k before we'll see any meaningful halt to the rise in the monthly unemployment figures.
Thursday's Market Moving Stories
Surprisingly strong Australian jobs data (more than 40,000 jobs created against expectations for a 10,000 decline) pushed the Aussie and New Zealand currencies to fresh 14-month peaks as the US dollar continued to struggle. The Aussie dollar leapt above $0.90 to its highest level since August last year on news that Australia created. The data fueled speculation the the central bank will raise interest rates again in November after a hike earlier this week. Australian equities rose 1.6%.
The MSCI Index of Asia Pacific stocks traded outside Japan rose 1.2%, but South Korea's KOSPI index was flat as caution reigned ahead of a central bank meeting on Friday. Japan's Nikkei index edged up 0.5%, helped by gains in shipping firms after the Baltic Exchange's sea freight index hit a seven-week high, but a strengthening yen kept a lid on exporters' shares and Sony dipped 0.8%.
The number of Japanese corporate bankruptcies in September fell 18% from a year earlier to 1,115 cases, dropping below the 1,200 mark for the first time in over a year and a half.
The US Senate is to propose a new set of regulatory requirements that will force the US banks to hold much greater quality capital in reserve. In effect the US is looking at the same system the UK's FSA set out for British banks earlier in the week. Sources from the Senate Banking Committee indicated there were many angles to the new regulatory proposals, including increased scrutiny and risk controls, but that the emphasis was on reserve capital. Note that a by-product of the reserves requirement is that it will provide a 'natural' outlet for the Fed and BoE in the UK's case to unwind their respective holdings of Treasuries and Gilts. The banks will have a requirement to purchase and rather usefully the central banks will have a policy need to sell.
The Fed has warned that banks have not taken losses on their commercial real estate loans quickly enough, leaving the system vulnerable to another big shock. Remember that most CRE lending is unsecuritised and hence requires provisions rather than mark-to-market writedowns. The IMF has already warned that the US banks still have to write down $400 billion worth of bad loans.
Interesting to see the US politicians lining up with the press for a change for a common cause. A group of US Senators including Dodd have suggested that Fed chairman Bernanke's confirmatory hearing be delayed until the Fed publishes more detailed information about its various lending programs. As media groups have requested under the Freedom of Information Act, the Senate is calling for the Fed to explain what it has lent, to whom and under what circumstances. The Fed has resisted the calls on the grounds that it feels the fine detail could be too explosive and potentially cause runs on banks named. Both the Senate and the press want the Fed to be more accountable and transparent with its assistance and function.
US consumers made a net repayment of $11.98 billion to their credit borrowings in August, following July's $18.98 billion repayment. In fact, the move marks the seventh month in a row that net outstanding consumer credit has fallen. Most of it has come in the form of revolving credit (i.e. credit cards) at $9.91 billion. Note that if the total drops in September it would the first time since the Fed started watching the data in 1943 that there'd been an 8-month run.
GBP was bid this morning on the back of the below story that Lloyds Banking Group has begun sounding out investors about a £15 billion capital raising, that could allow them to withdraw entirely from the government asset protection scheme. The transaction, if successful, would constitute the biggest ever British rights issue, beating the £12.5 billion raised by HSBC in the spring. The next major resistance in GBP/USD is at 1.6134 with key supports in EUR/GBP at 0.9141 and 0.9082.
The Bank of England MPC left rates on hold at 0.5% and opted to continue its quant easing (QE) program of £175 billion, which is expected to end in about a month's time. The statement read very much like the one published in July (i.e. no discussion of the economic outlook, and leaving all possibilities open for the next meeting in November). This is an Inflation Report meeting when the bank will be able to stress-test the model to determine whether further QE is appropriate, or whether they have done enough. Right now I believe they will announce no further additions to the purchase program, but much will depend on the economic news between now and then.
Great graphic – the billion dollar chart: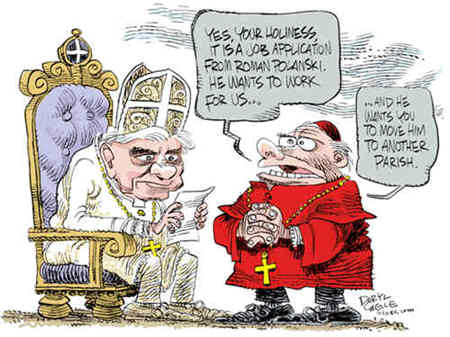 Thursday's Equity News
AB InBev (NYSE:BUD) confirmed last week's rumors with an announcement of the sale of Busch Entertainment Corporation, the Group's US-based entertainment park operator, to Blackstone (NYSE:BX) for $2.7 billion. The deal is structured as a $2.3 billion payment up front plus an earn out of up to $400 million. This is positive news for AB InBev and brings the company close to its $7 billion disposals target following the acquisition of Anheuser Busch. There may also be some technical help for spreads from the debt paydown once the deal is competed. The transaction is also significant in that it marks the nascent return of private equity to the major buyout market.
HSBC (HBC) has resumed talks with RBS (NYSE:RBS) over the sale of the remaining retail and commercial units that RBS owns in Asia. RBS is selling its retail and commercial banking divisions in China, India and Malaysia, worth "a few hundred million".
The farce at ITV goes on. Sir Crispin Davies has pulled out of negotiations to become the Chairman of ITV, apparently due to the high profile and media scrutiny that go with the job. This adds to a number of CEO candidates that have fallen by the wayside. Apparently Sir Michael Bishop, the other leading candidate for the Chairmanship is also questioning whether he wants the job. This may potentially bring Tony Ball back into the picture as a potential CEO, given that he walked away due to not wanting to work with ITV's choice of Chairman (Davies by implication). Given Ball has made it clear that ITV needs a rights issue.
BAA is close to agreeing a sale of Gatwick Airport to a Global Infrastructure Partners consortium for something in the region of €1.65-1.8 billion. Stories like this have been rife all year, but this is the first time in a long while for a valuation in that region. In response, the company has put out a standard statement saying discussions are ongoing with various parties.
Irish drinks company C&C's H1 results were solid with EBIT of €57.4 million (-13.6%) and adjusted EPS of 15.2c (-10%), both 5% better than expected. Net debt fell 24% since year end (ahead of the Tennents deal) and reflects a business that continues to generate strong cashflows despite an adverse market environment. Despite a tough market the group is sticking with its previous full year guidance of operating profits being at the top end of the €77-€82 million range.
US rating agency Moody's said the Irish government's so-called bad bank is "positive" for the country's banks. The National Asset Management Agency, which will buy loans from banks, is "well thought out," Moody's analyst Ross Abercromby said. That said, Irish bank stocks are lower ahead of the w/e Green Party vote regarding NAMA (recall they have set the bar very high requiring a 2/3 majority in favour) and comments by Finance Minister Lenihan that the banks may require more capital, NAMA not withstanding.
As one would expect the reaction to the headline Alcoa numbers, Xstrata (OTC:XSRAF), Antofagasta (OTC:ANFGF) and Vedanta were bid throughout the European morning. Other movers included UK construction company Carillion, up 6.5%, after it said it was "on track" to produce "materially enhanced" earnings this year and Halfords, up 7%, after reporting an increase in Q2 sales and saying it expects profits to be up 25% year-over-year. In contrast, Ladbrokes (OTC:LDBKF) sank 6% after announcing a £275 rights issue due to losses incurred on football bets (not enough draws). In broker upgrades world, Morgan Stanley have upped builder Taylor Wimpey to an "overweight."
And Finally… WellPoint (WLP) Sued An Entire State To Increase Profits
Disclosures: None