The Tesla (NASDAQ:TSLA) story continues to capture more and more attention on wall street and main street. CEO Elon Musk is clearly the first person to revolutionize the automobile industry since Henry Ford. But, we have to ask, did our supercharged stock market push Tesla past the red line?
As the Fed begins to take it's foot off the gas pedal, longs should consider locking in profits. Short sellers may benefit from possible downside opportunity in the coming months.
Amazon vs. Tesla - The Growth Company Elite
Amazon (NASDAQ:AMZN) is the greatest growth company I've ever known, and owned. Jeff Bezos built a company that changed the way you consider, shop for, and purchase products. They also offer enterprise level IT services, brought digital books to market, and run an amazing warehouse and logistics operation.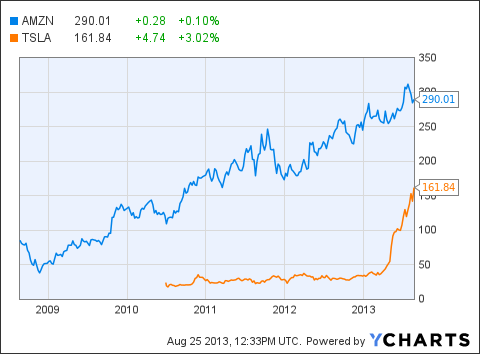 Tesla is quite similar Amazon, as it is innovating just about everything related to the automobile industry. Both companies rely heavily on technological innovation to push their businesses forward.
Amazon is the tech growth stock that has repeatedly left shorts shaking their heads, as the company operates with razor thin margins and barely puts earnings on the bottom line.
| | TSLA | AMZN |
| --- | --- | --- |
| 52 Week Low | $27.33 | $220.60 |
| 52 Week High | $161.84 | $312.01 |
| 52 Week Performance | +449% | +18.01% |
| Price / Sales | 13.9x | 1.9x |
| Price / Book | 31.2x | 15.1x |
8/23/2013 Data
The market has been very friendly to Musk, as his other company SolarCity (NASDAQ:SCTY) is well off it's 52 week lows of $9.20 / share. SolarCity took investors for a ride up to $52.77 in an early summer solar bubble, but shares now trade around $35.00, some 33% off the high. Could a "Musk Bubble" exist?
Short Sellers Delight
The general sentiment for Tesla seems very positive, which is reflected in the share price today. One bit of negativity may have share holders running to the bank.
Short interest on 7/31/13 was up 6.99% from June.
Short sellers may look for any one of the following, amongst other catalysts, which may accelerate a decline in share price:
General Market Sell off
Analyst Downgrade
News Report Regarding Tesla Problems
Tesla Vehicle Recall
Elon Musk sells shares
Cold Weather Issues
Software Bugs / Issues / Hacking
Challenges in International Markets
Tesla recently ran into trouble over a trademark in China. While I don't consider this a major issue to sink the stock, longs or shorts should consider other challenges international markets may pose.
Technology products often face issues after spending a good amount of time in the marketplace. These issues, or bugs, are often hard to simulate or test for, as elapsed time and diverse operating conditions are required. As the Tesla S drives more roads in different climates, over longer periods of time, we should watch for reports related to vehicle issues.
June 30th 13F filings show a 13.78% reduction in holdings.
Industry Snapshot
The automobile market has rebounded nicely since our global economic downturn, but Tesla's price performance is leaps and bounds ahead of auto giants Ford (NYSE:F) and General Motors (NYSE:GM).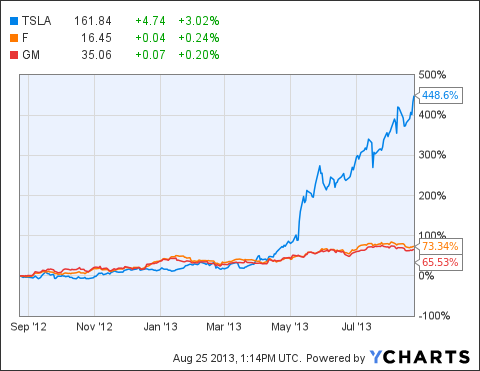 Cheers To The Bulls
If you've been long Tesla all year, even through their additional share offering, then I'd love to buy you your favorite beverage and hear why you bought and held.
The company has done some amazing things, and credit is most certainly due.
Best Safety Rating of Any Car Ever Tested
Motor Trend Car of The Year - 2013
2013 Automobile of The Year - Automobile Magazine
Elon Musk is changing the industry, and only one time has he made me concerned, after announcing a misleading cost of ownership. The seemingly celebrity CEO even purchased over 1 million shares at $92.24 / share in May.
Tesla operates stores, not dealerships, which I like. Drop the middleman and reduce the cost for the end-user, all while driving more profitability to the manufacturer.
The Model S is a great looking, jaguar-esque car which you can charge up at a Supercharger, or get your entire battery pack replaced in 90 seconds... talk about an automobile service revolution.
The next model from Tesla is the Model X, a minivan / SUV.
Wrap Up
My short thesis is not an attack on the company, it's leadership, or products. It is short-term and based on the simple understanding that Tesla is overbought, and one of many catalysts may send shares south. Short sellers must be cautious and understand this is a great company that is simply priced too high, relative, to well... everything.
What goes up must come down, at least a bit. In this bubbly fed-induced market, I'd be baffled to see Tesla hold strong in a market sell off.
The last two earnings reports did surprise to the upside and we will see if the trend can continue into October. Even if the company earns double the consensus of $0.57 for 2013, at today's price it would be trading at a 141.x P/E ratio. Amazon's forward P/E ratio is 102.84.
While I'd love to own some of this great company in the future, I'll wait until the valuation reaches more reasonable levels.
Disclosure: I have no positions in any stocks mentioned, but may initiate a short position in TSLA over the next 72 hours. I wrote this article myself, and it expresses my own opinions. I am not receiving compensation for it (other than from Seeking Alpha). I have no business relationship with any company whose stock is mentioned in this article.