Overview
The last 12 months have been a pretty turbulent time for some of Australia's leading iron ore miners. From both ends of the production spectrum - BHP Billiton (NYSE:BHP) and Fortescue Metals Group (OTCQX:FSUMF) - have had to deal with the challenges posed by slowing economic growth from China, an easing in iron ore spot prices, and an overzealous commitment by the incumbent government to tax the mining boom (albeit about two terms of government too late).
But change there has been, change they have survived, and more change is to come with a federal election only two weeks away. What is the outlook for the Big Australian under leadership of new CEO Andrew Mackenzie, the prospects for Fortescue given stabilization in iron ore spot pricing, and what are the implications for what seems to be a pending change in government under Prime Ministerial aspirant Tony Abbot?
Financial Performance
BHP Billiton recently announced its earnings, with profit for the year dropping by 30% to $12 Billion due to lower commodity prices, whereas pure play iron ore miner Fortescue Metals Group announced a 12% increase in full year profit. BHP Billiton's output increased by 7% to 170 mtpa and Fortescue increased its exports by 41% to 81 mtpa. BHP's earnings were $3.60 per share (decrease of 37.6%) versus Fortescue at $1.21 per share (increase of 23.5%).
BHP Billiton announced a final dividend of US $59c/share being a total dividend for the 12 months of US$1.16/share, an increase of 3.57%. Fortescue announced a final dividend of AUD$0.10/share representing an increase of 150% over the previous 12 months, and a suitable payback for investors who have backed the stock through the recent turbulent period. Most notably this represents a $102 Million dividend for principal shareholder and founder Andrew 'Twiggy' Forrest.
The companies' respective 12 month price performance are shown below.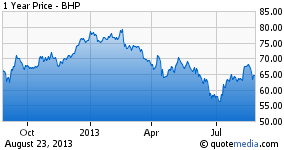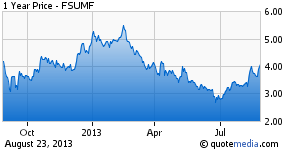 Potential Downside
The biggest downside for each company is potential unexpected downwards volatility or sustained decreases in the iron ore spot price. The longer term movement in price started tapering down from January 2011, with a notable down trend in second half of 2012. This down turn in price put considerable pressure on Fortescue and created difficulties in refinancing long term debt in late 2012.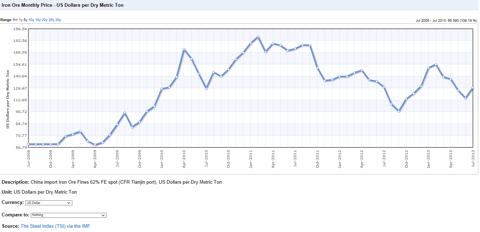 Click to enlarge
While many analysts warned of the demise of Fortescue through sustained lower iron spot prices (some predicting a stable floor of $80 per ton) this has not eventuated, and the subsequent floor of ~$110 per ton and higher has significantly aided both BHP Billiton and Fortescue Metals Group with their bottom line, as the higher prices comparative to 12 months earlier has off set forecast decreases in demand from China.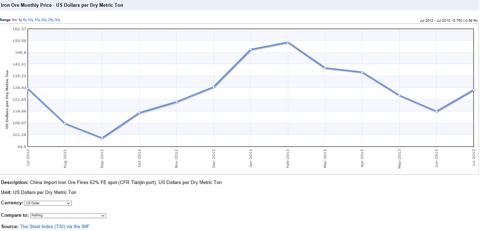 Click to enlarge
Potential Upside
Iron Ore Output - Fortescue CEO 'Nev' Power recently stated that the bottom line for breakeven for the company is $70 per mtpa, which is lower than the $90 per mtpa it was budgeting on 12 months ago as the company rapidly tried to underpin the refinancing of several tranches of debt. While BHP Billiton's breakeven price is much lower, a stabilizing iron ore spot price in the longer term will benefit both companies. This was reinforced by CEO of the Minerals Council of Australia, Mitche Hooke, when he recently appeared on ABC talk show "QandA". Mr Hooke spoke in detail on the resources industry and repeatedly made a point for those seeking an opinion divergent from mainstream media and politicians - that being that the boom is not over, but rather switching into an operational mode. For both BHP Billiton and Fortescue Metals Group, this means capitalizing on the infrastructure put in place over recent years during the mining 'capex boom'. This means the Big Australian in full swing being able to run production at 220mtpa plus, and Fortescue having the capacity to almost match this at $155mtpa and growing.
Government Tax
The biggest bonus is likely to be the pending change in government at the federal election bringing about the demise of the carbon tax and mineral resources rent tax. Surprisingly the taxes we had to have under Labor are apparently no longer required by the same Labor government, and the Coalition under the leadership of Tony Abbot has always spoken of its planned mandate to do away with the taxes on election. The more government friendly attitude to the miners is essential as Terry McCrann recently pointed out "That while companies like BHP can go elsewhere (eg: taking multi-billion dollar developments off shore to Canada, or Woodside Petroleum's decision to establish a floating LNG processing point offshore in North West Australia), the nation however cannot."
New Horizons
So what then does the future offer in relation to the Australian Resource miners? An exceedingly likely change in government that is pro-mining friendly, and a renewed level of confidence in government from the business sector and corporations that has been all but lacking in the last three years. A likely lower $AUD around the $0.80 - $0.85 USD rate which makes our iron ore exports more competitive to Asia and China, which will underpin the production and revenue of BHP Billiton and Fortescue Metals Group. The opportunity at present is to gain exposure to these miners while they are trading at discounts to their intrinsic value. The diversified big miner is a logical inclusion with a low risk base for those seeking exposure to the sector. Fortescue likewise has potential upside, though the pure play iron ore exposure and the higher levels of debt make this more suitable for those with a significantly higher risk tolerance and an outlook that is long term. I plan on conducting a deep dive analysis on each of these companies and writing on them individually in the coming weeks, most likely following the federal election.
Postscript: For those readers who may be wondering where I went, I have not been writing on Seeking Alpha over the last six months due to moving back to Australia, taking some long overdue leave, renovating a house while studying post-grad subjects full time, and most recently changing careers and moving into the finance industry. I'm looking forward to contributing again to the financial analysis and commentary that Seeking Alpha is renowned for, even down under in Australia.
Disclosure: I am long BHP. I wrote this article myself, and it expresses my own opinions. I am not receiving compensation for it (other than from Seeking Alpha). I have no business relationship with any company whose stock is mentioned in this article.
Additional disclosure: This advice is general in nature only. You should seek independent financial advice before making any investments of your own.