US-based Altria Group (NYSE:MO) is a holding company with subsidiaries operating in tobacco products and alcohol. Altria is also the largest shareholder in UK-listed brewer, SABMiller plc (OTCPK:SBMRY), with a 27.37% stake. The non-cyclical nature of the company's products prevented Altria shares from dropping as far as the broader market during the past year. However, the company's stock has lagged behind the market during the strong recovery over the past six months.
Altria Group's business lines are under constant threat of regulation. Altria owns Phillip Morris USA, the largest tobacco maker in the US. In June, President Obama enacted a law giving the Food and Drug Administration authority over the tobacco industry. Altria supported the move, while rivals such as Reynolds American Inc (NYSE:RAI) fought the regulation and have challenged the law, stating that it violates their right to free speech. One of the moves that the FDA has made since the law came into effect was the September 22nd ban on all sales of flavored cigarettes excluding menthol. Altria's Phillip Morris USA was unaffected by the ban, while another one of its subsidiaries, John Middleton, makes flavored cigars, which continue to be legal and may benefit from the ban.
During the second quarter of 2009, Altria saw a 8.9% increase in diluted earnings per share due to stronger profits in its cigarette businesses, the acquisition of UST LLC, and higher earnings from its SABMiller equity investment. Nevertheless, when assessing the company as a long-term investment, we should take into account its long-term fundamentals. After splitting the company's key long-term fundamental indicators into three groups (Business, Management, Price-Attractiveness) we ran them though our proprietary StockMarks rating models, placing the company on a scale of 1-100. The chart below shows Altria Group's ratings for the three fundamental groups as well as a combined 'Total StockMark' rating since mid-2005.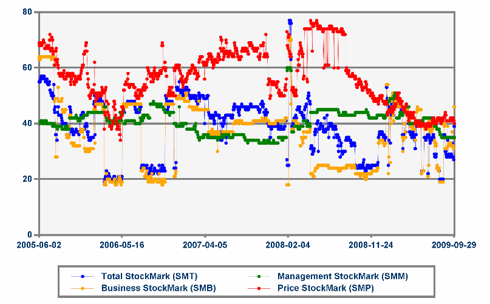 The business rating is the weakest of Altria's three sub-ratings as the company's long-term growth rates fall below the US market average. Although the price rating rated above average duing the period between mid 2006 and the end of 2008, the continued weak investor sentiment towards the stock has caused the SMP to decrease steadily since the start of the year.
Altria rates higher than its US competitors, including Reynolds American Inc, Vector Group Ltd (NYSE:VGR) and Lorillard Inc (NYSE:LO). The company also out-rates its major UK-based competitors, Imperial Tobacco PLC (ITYBY.PK) and British American Tobacco (NYSEMKT:BTI). However, we maintain our negative outlook on the tobacco industry as regulations limiting the companies' operations continue to strengthen.
Overall, we currently believe Altria to be a below-average long term investment.
A summary of our current StockMarks ratings for Altria Group is available here
Disclosure: No positions