Introduction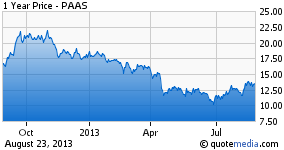 In this article I'll have a closer look at Pan American Silver's (NASDAQ:PAAS) second quarter results and the updated balance sheet. I'll also discuss the company's outlook and my expectations about future impairments. As you'll read in this article, the Pan American management decided to hedge 25% of its forecast precious metals production at fire sale prices, which seems to indicate the management was panicking.
The Q2 Financial Results
Pan American Silver produced 6.2 million ounces of silver and almost 30,000 ounces of gold in the second quarter of this year and recorded a total revenue of $175.6M.
The silver output was approximately 3% lower than the comparable period last year, mainly caused by a lower output at the company's Dolores mine in Mexico, which it acquired last year through the acquisition of Minefinders.
The company generated $23.7M in operating cash flow, but this was almost entirely used to pay a $23.2M tax bill. PAAS also invested $44.4M on its properties which was funded through the maturity of short-term investments, the sale of assets and issuing a short term loan of $18.6M (issued in Argentinean Pesos). During the quarter, the company also paid $18.9M in dividends and repurchased 80,000 shares. The current share buyback plan ends on September 3rd and so far only 1.8M shares have been purchased and cancelled.
The Balance Sheet
The company ended the quarter with a very healthy working capital position of $701.1M, of which $440.1M was held in cash or short term investments. The current ratio is a very high 4.82 which indicates the company has almost five times as much current assets than current liabilities.
Another reason why I think the balance sheet is extremely robust is the fact the current assets are sufficient to cover both the current and long-term liabilities.
The book value is $16.53/share, but this includes a book value of $3.05/share attributed to La Navidad and it's not certain this project will ever get fully permitted.
Outlook
Pan American Silver reiterated its guidance for the entire year 2013 as it still expects to produce 25-26 million ounces of silver at a cash cost between $11.8-12.8/oz. It looks like the company is expecting a cash cost increase in H2 2013 as the average cash cost per ounce of silver in H1 2013 was $11.71/oz. This is not surprising as I already notice a higher cash cost per ounce in the second quarter as the company produced 6.2 million ounces of silver at a cash cost of $12.09/oz. I think this higher cash cost is caused by both a lower production and the lower revenue coming from by-products. As the company has a substantial gold production, each $100 decrease in the price of gold increases the cash cost per ounce of silver by approximately $0.48/oz. So the decrease in the gold price by $300/oz had a very substantial impact on the cash cost.
Unfortunately Pan American Silver thought it was a good move to hedge 5.6 million ounces of silver at a price of $20.43/oz, which doesn't seem to be the best timed decision. If a company does not hedge any silver when the prices are relatively high, I've got the impression the management team was panicking and thought hedging silver at $20.43 was a good move. As the current silver price is approximately $24/oz, this hedge will cost Pan American Silver $22M in lost revenue. As the company has a very good working capital position of $701.1M, there was no need to start panicking. If the company is so proud of being an "unhedged producer" at $30 silver, why did it feel the need to start hedging at the bottom?
Will there be more impairment charges?
As said before, Pan American Silver recorded an impairment charge of $185.2M in the goodwill attributed to the acquisition of Minefinders last year. The company decided to book this charge taken the decreased precious metals prices into account as well as the potential effect of a new Mexican royalty system.
The project currently has a carrying value of $872.5M and as the silver and gold prices have been going up lately towards the used silver price of$25/oz, I think we won't see much more impairment charges soon, unless the company decides to write down its La Navidad property which has a book value of $462.4M.
Investment Thesis
Pan American Silver still offers decent exposure to gold and silver as the company plans to produce 25M ounces of silver and 125-130,000 ounces of gold. But besides the precious metals, Pan American Silver also offers exposure to zinc, expecting an output of 85M lbs of zinc this year.
Even though I like the diversification of the different operating assets, I'm stunned to see the company decided to hedge silver at one of the lowest silver prices in 4 year time. If there's a good time to hedge, it's not after reaching a bottom but at the top of the commodity prices, as nobody can believe trees grow into the sky. Nobody would have crucified the management team for hedging 10% of its output at $30-35 when they still had the chance, but hedging 25% of the following 12 months output at a fire sale price was a bad decision.
I currently have a long position and plan to buy some more shares on a pullback or by writing put options, but I hope the management team gets a grip on things and stops panicking.
Disclosure: I am long PAAS. I wrote this article myself, and it expresses my own opinions. I am not receiving compensation for it (other than from Seeking Alpha). I have no business relationship with any company whose stock is mentioned in this article.