We are expecting a quiet Monday as the economic data seems to indicate that the Federal Reserve may very well have to wait until December for any type of tapering. After last week, it is quite obvious that teen retailing is going to be rough and probably through the end of the year -- unless, of course, the teen retailer offers attractive pricing and has a growing store count.
Readers need to focus their attention on Europe now, as Italy looks as if it could have some political troubles ahead and Germany has elections that could alter the path Europe takes with Greece and the rest of the troubled European economies. That is the possible next big issue facing markets, something that needs to be watched closely.
Chart of the Day
With all of the moves in the tech names that are doing well in mobile, it seems logical that this should be the next driver in the tech sector. Yes, it is already moving names like Facebook (NASDAQ:FB) and Baidu (NASDAQ:BIDU). But look for a big leg up once Google (NASDAQ:GOOG) figures it out because once it does, all of its affiliates will have access to the knowledge and more companies will be able to better monetize mobile page views.
Click to enlarge images.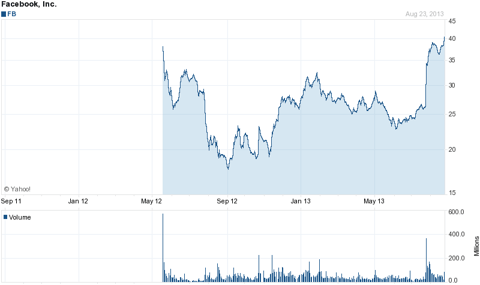 Source: Yahoo Finance.
We had economic news today, as follows:
Durable Orders: -7.3% (-5.0% expected)
Durable Goods, ex-transportation: -0.6% (0.6% expected)
Asian markets finished mostly higher today:
All Ordinaries -- up 0.23%
Shanghai Composite -- up 1.90%
Nikkei 225 -- down 0.18%
NZSE 50 -- up 0.47%
Seoul Composite -- up 0.95%
In Europe, markets were mostly lower this morning:
CAC 40 -- down 0.51%
DAX -- down 0.22%
FTSE 100 -- up 0.70%
OSE -- down 0.20%
Biotechnology
This morning, both Amgen (NASDAQ:AMGN) and Onyx Pharmaceuticals (NASDAQ:ONXX) are trading higher on the news that Amgen will buy Onyx for $125/share in a deal that has been talked about in detail for the last month or so. The purchase should be accretive to earnings in 2015 and continue to improve mildly thereafter. It is not a slam-dunk deal, but it does fill a need for Amgen and allows it to reinvest some of the cash it has, which provides shareholders with a better return on those assets. The pipeline that Onyx has assembled should also give Amgen cancer drugs and bolster a pipeline that will need to replace some aging drugs over the next few years. As we have previously stated, this deal is good for Amgen as it keeps it relevant and a player vs. names like Biogen Idec (NASDAQ:BIIB) and Celgene (NASDAQ:CELG).
Technology
Friday saw one of the tech titans draw a curtain on a long-serving CEO as Steve Ballmer announced that he would be leaving Microsoft (NASDAQ:MSFT) in the next 12 months. Ballmer will stay on until the company finds a suitable replacement, but we doubt that it will take more than six months to find someone as it appears from our vantage point that this move has been planned for some time -- the only thing that has changed is the timeline. In short, we believe the company already has a list of viable candidates, both from within the company and outsiders, and should begin conducting interviews and such soon.
A change will be good for Microsoft at the top, but the question is whether it goes with a CEO who is a tech visionary or one who is a financial whiz and can better allocate capital. Either way, the market seems to believe that a replacement will do better than Ballmer.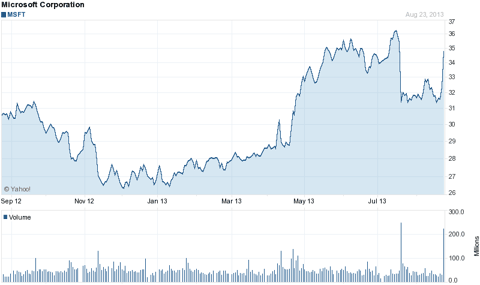 Source: Yahoo Finance.
We are not sure whether to feel sorry for Ballmer as the market's reaction quite obviously demonstrated investors' happiness that he was on his way out, or happy for him as he pocketed another $1 billion-plus on the day of his retirement announcement. If only everyone could get such a nice retirement present when announcing their intentions to leave. One piece of advice to investors is to not chase this one and possibly even book gains, because we doubt that this move has legs and the market could be put into a holding pattern over the next six to 12 months.
Financials
We have never seen anything quite like the story we read on CNBC.com this morning concerning T. Rowe Price Group's (NASDAQ:TROW) mutual funds and the banning of certain accounts because of a tendency of those accounts to trade in the company's mutual funds based off of the recommendations of a newsletter (see here). We understand the logic behind it, but when dealing with a company that manages the amount of money that it does, it makes little sense. With more and more employees managing their own retirement plans and companies continuing to place more responsibility on them each year, it seems as if this could become a very big story -- especially as it appears that one of the funds that triggered this "lock down" of sorts was a rotation out of fixed income.
For those who do not know, a lot of plan providers offer participants information via third parties and even through literature provided by the companies who oversee the plan. If the changes that T. Rowe Price implemented a few years ago hold up, this could seriously change the game of how employees invest and mark just another nail in the coffin of mutual funds and another notch on the belt of index ETFs.
Retail
This five-year chart shows just how bad it has gotten for Aeropostale (NYSE:ARO) recently. Although the chart shows that this could be an area where support could be found, the data says otherwise.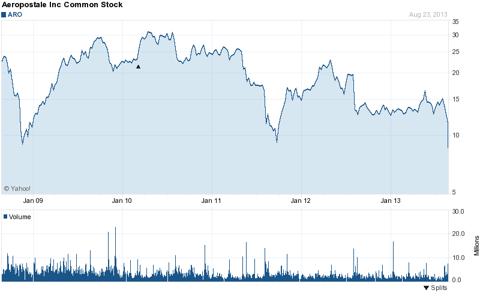 Source: Yahoo Finance.
The teen retail space is awful right now. Gap's (NYSE:GPS) Old Navy is the one consistently strong performer among the old-line teen retailers, and that appears to be due to its focus on value. The trendy value category appears to be the one bright spot in the industry now, with everyone else -- and most notably the high-end players -- suffering from lower traffic and a lack of interest in their new collections as they come out. Aeropostale used to be one of the exciting names in the space, but even it fell flat on its face Friday. Shares fell over 20% as the company announced news a bit worse than investors anticipated, along with the fact that it now appears the trend in teen retailing is going to be shrinking store front numbers and a focus on the successful stores.
Disclosure: I have no positions in any stocks mentioned, and no plans to initiate any positions within the next 72 hours. I wrote this article myself, and it expresses my own opinions. I am not receiving compensation for it (other than from Seeking Alpha). I have no business relationship with any company whose stock is mentioned in this article.