Rogers Communications Inc. (NYSE:RCI) is a Canadian telecom with about $22B in assets and last-twelve-month's revenues of ~$12.7B as of the end of the second quarter 2013. The company operates in four segments: Wireless, Media, Cable, and Business Solutions. Revenues across the segments are distributed unequally: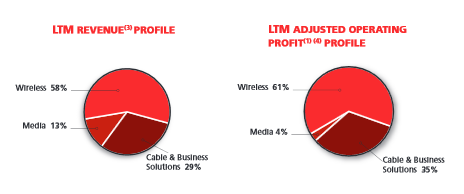 Rogers Business Solutions is a newly developed segment launched in 2012 with the acquisition of Blackiron, a provider of data center and cloud computing services. Rogers paid about $200M for the company, which generated $33M in revenues and EBITDA of $13M in fiscal 2012. Rogers Business Solutions owns and operates a transcontinental network with a 100 percent digital fiber optic backbone and strategic interconnect points to the United States and overseas for seamless, cross-border and international coverage.
Together with BCE Inc. (NYSE:BCE) and TELUS (NYSE:TU), Rogers Communications Inc. controls over 90% of Canada's telecommunications market (pg. 247 of the report). The company has been around for 88 years and employs approximately 30,000 employees.
Rogers Wireless is Canada's largest wireless carrier with 9.4M subscribers and holds approximately 34% of national market share. It is the only carrier in Canada that offers GSM, HSPA+, and LTE platforms at the same time. Rogers offers national distribution with Fido, Chatr, and Rogers networks. Rogers Wireless has grown revenues at a CAGR of 1.4% for the last 3.5 years.
Rogers Cable and Business Solutions have 2.2M cable subs and 5.3 cable service units. It owns 96% of 860/750 MHz clustered plant with 99% telephony availability. It provides cutting edge IP-based solutions for companies with a total of 19,000 business customers. Rogers Cable and RBS together have grown revenues at a CAGR of 1.4% between 2010 and 2013 Q2.
Rogers Media owns 53 radio stations and more than 50 magazine and trade publications. It owns 100% of Toronto Blue Jays and Rogers Centre, while possessing a 37% stake in Maple Leafs Sports and Entertainment. Rogers Media has grown revenues at a rate of 2.9% in the same period.
Now let us look at the market activity in regards to Rogers's stock: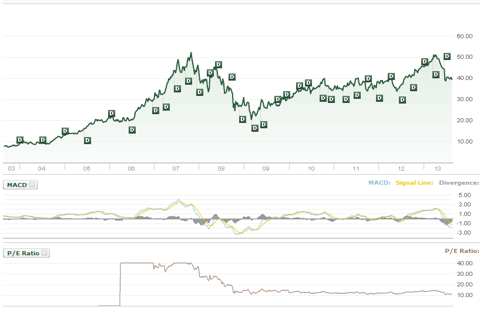 Rogers is trading at a P/E ratio of 11.7X, a 15% discount to BCE's multiple. With an annualized dividend of $1.74, this gives a dividend yield of 4.43%, a 20% discount to BCE's yield. Perhaps, BCE's dividend yield explains the higher multiples assigned to the company's stock compared to the Rogers's. Below is given a list of Rogers's 19 biggest global competitors: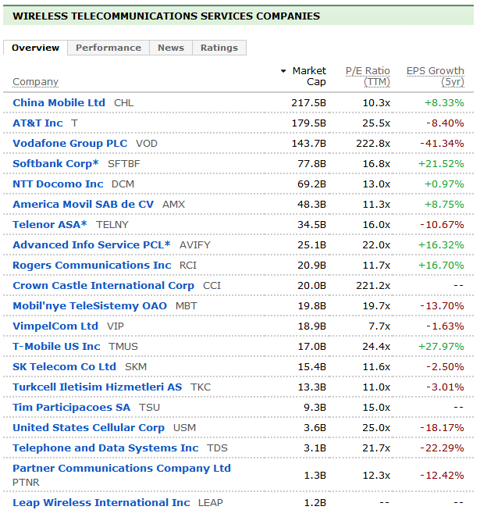 The table shows that Rogers scores 3rd in the 5yr EPS CAGR and trades just outside the first quartile (11.6X vs. 11.7X):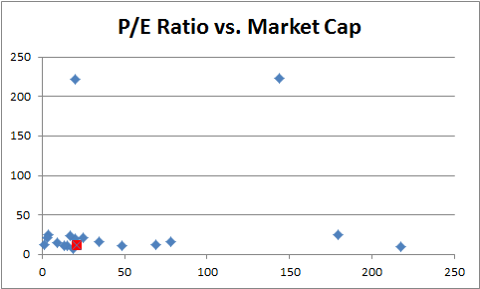 The red dot indicates Rogers's position on the scatter plot. Here is a reconstruction of the historical representation of the more comprehensive value multiple, EV/EBITDA: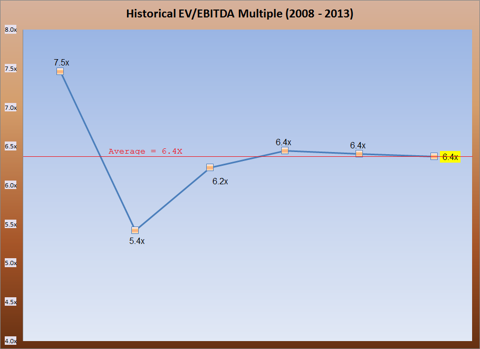 Rogers's has been trading at around the average of 6.4X EBITDA for the last 2.5 years, having stabilized from the volatility of the 2008 - 2009 period.
Risks: Verizon's Entry
In my previous article on BCE Inc., I made a mistake of not stressing enough the importance of the latest news about Verizon's potential entry into Canada. The comments below the article were polarized between the believers of Verizon's future success and Verizon's future failure after the company's entry into the Canadian marketplace. The fate of Canadian telecoms is to be determined after January 2014 when Canadian Government will be auctioning off crucial infrastructure. This news has caused the basket of the three equities drop between 10% and 20%: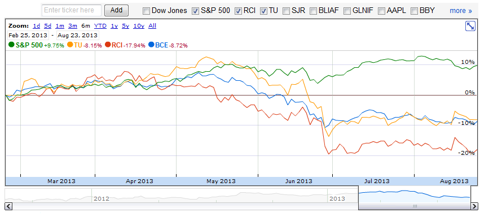 From the graph, we can see that the prices started plummeting in the first half of May 2013, while the S&P 500 continued its steady rise. Rogers has been hit the hardest by investors: the company's equity has lost twice the percentage amount as its closest competitors and has delivered 30% less than the market. The price seems to have stabilized in the end of June 2013 and has remained in the same range for the past 2 months.
The Big Three did not sit helpless but launched an Anti-Verizon campaign trying to convince Canadians that the American entrant will serve to the detriment of the established telecom experience. In fact, this propaganda has been utilized by all media sources: radio, Internet, newspapers, and, maybe, TV (I have not watched it for the past 3 years). Under the current rules Verizon will be able to buy two of the four prime blocks of spectrum (radio waves that operate cell phone networks) in 2014, while Canadian telecoms can each have one.
These upcoming events have also made a division among analysts. Iain Grant, a technology analyst at Seaboard Group, believes the government is doing the right thing by introducing more competition into the marketplace. However, Dvai Ghose of Canaccord Genuity recently called the government's spectrum policy "narrow minded" and said it is based on "populist slogans over facts."
As I mentioned in the responses to readers' comments, I am unable to quantify the impact of Verizon's entry on the future earnings and market share of existing Canadian telecoms. With this in mind, I will conduct valuation of Rogers Communications Inc. as is. Readers, keep in mind that the stock is to see quite some volatility in the next 6 months or so.
Historical Financials and Forecasts
Rogers's consolidated revenues have grown 2.5% CAGR since 2008 (including LTM data, not included here), a rate akin to inflation. One of the major value drivers has been growth in EBITDA: this comprehensive earnings figure grew from about a 30% margin to a 38.8% slice of consolidated revenues (both LTM and 2012) since 2007. Below is given Rogers's historical income statement: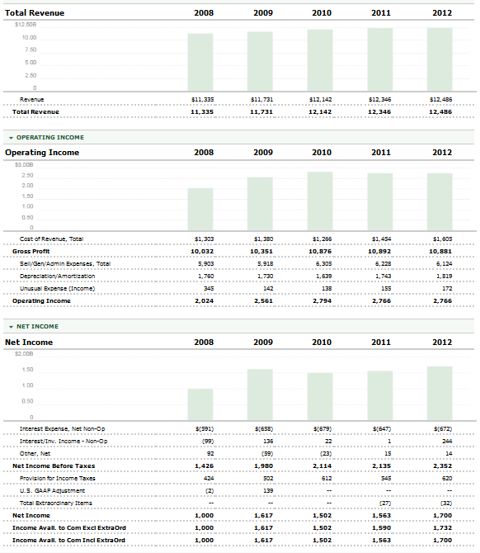 Earnings Per Share estimates have been provided by a number of analysts; the data is found on the TD Waterhouse's trading platform: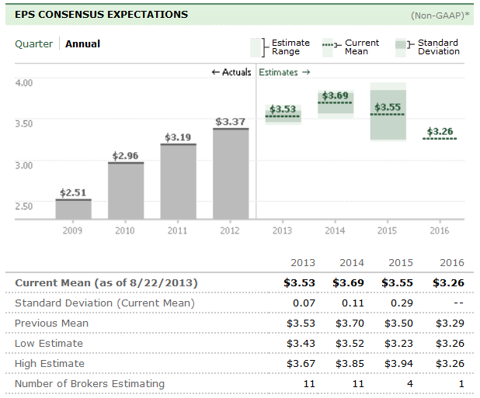 We can see that the EPS estimate for 2015 has the highest standard deviation figure, while the one of 2016 has the lowest. In fact, the latter figure was determined by just one broker. This may imply that analysts are waiting for January 2014 in order to get a clearer picture of the Canadian telecoms market.
Let us take a look at the dividend history, which flows perfectly after EPS projections: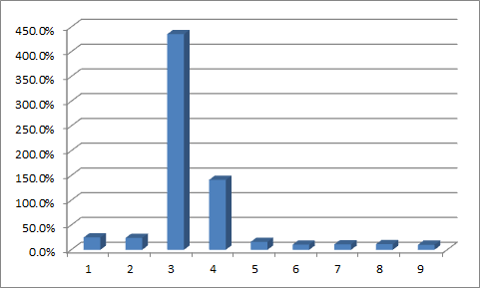 For valuation purposes, I will grow dividends in the model at a rate of 8% CAGR for the next 5 years.
Rogers Communications Inc. has one of the highest Return-on-Equity (ROE) figures in the market: in 2012 the figure was 46% (Profit Margin of 14.83% x Sales/Assets of 62.75% x Assets/Equity of 5.05X). This is comparable to BCE's figure of 21.4% and TELUS's score of 17.1% in the same fiscal year.
Currently, Rogers has an Enterprise Value of above $32B and an LTM EBITDA of $4.9B. Implied multiple is 6.4X. Now let us look at the composition and capital structure of the EV: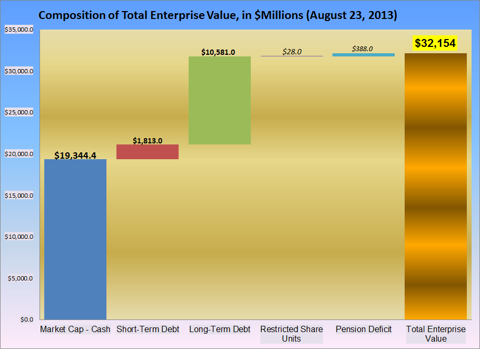 Key Ratios:
Debt-to-Equity is at 291%, Debt-to-Assets is 0.58, Interest Coverage stands at 7.2X, Debt/EBITDA at 2.52X, Return-on-Equity was 46% in fiscal 2012, and Return-on-Assets was 15%.
Valuation
The Valuation "chapter" consists of two parts: fundamental and technical. I always take the responsibility to perform the calculations and do a little bit of modeling. On the other hand, the technical analysis is always freshly minted by Recognia Inc. and provided by TD Waterhouse. All calculations are available in the downloadable workbook. In some of my last publications, I did not "share" them with the public in the online data storage by mistake.
Fundamental Analysis
The analysis consists of two parts: DCF and P/E Sensitivity Table. DCF is really a model that combines both the Sum-of-the-Parts projections and the actual DCF (approximately, 30-70). P/E Sensitivity Table was built using other analysts' EPS projections (discounted when necessary by the Cost of Equity) and current multiples.
DCF Model
The entire model is in the workbook and the output is provided below: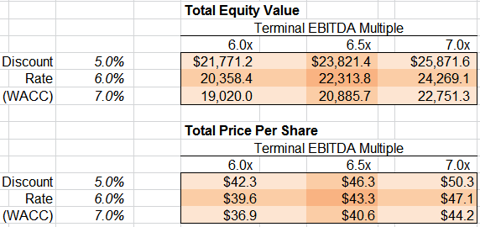 Here is the graphical representation: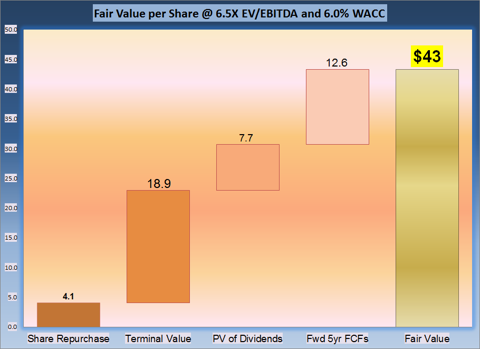 Distribution of value drivers: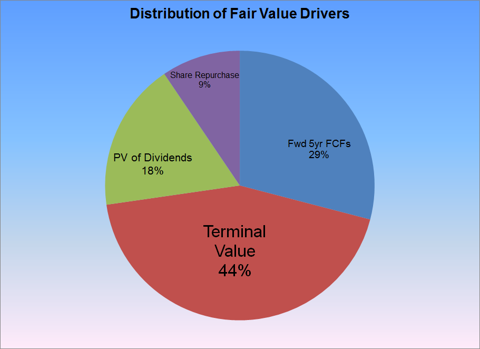 Observations
- Terminal Value represents less than half of the share's fair value. This is a good indicator of the company's ability to deliver Free Cash Flows and relative cheapness in terms of EV/EBITDA
- Contrary to BCE's distribution, where it was impossible to find a trend in the share buyback program, Rogers has committed to spending approximately $500M in 2013. I used this figure to project buybacks for the next 5 years at the current market price
- Present Value of dividend streams is a respectable 18% of the total value spectrum. Dividends are discounted by the Cost of Equity figure
- Projected Free Cash Flows take up almost a third of the total fair value estimate. This is a more "hard" estimate than Terminal Value which should give investors a margin of confidence
P/E Sensitivity Table
I used figures from the above analysts' EPS projections to construct the following table:

For the end of 2013, the range of target prices is quite tight and lies between approximately $40 and $43 per share. Variability expands sharply for the next two years, especially, 2015. Analysts see more concern about Rogers's ability to generate decent cash flow growth in the New Year and onwards.
Technical Analysis
Below is given the output of Recognia's technical analysis: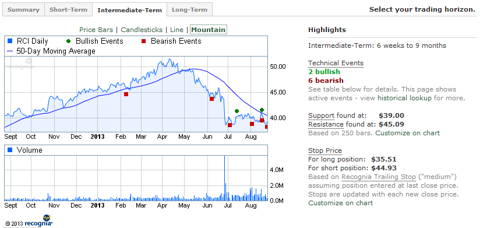 The last market price of Rogers's share was $39.28. In the intermediate-term, a good buying opportunity is found at $39.00 (support level). Buyers should be ready to take a ride down to ~$35.5, where the Stop Price for long positions is located. The price is currently below the 50-Day Moving Average but seems to be closing the gap. In terms of trading volumes, there was hype in trading activity the first time the stock went below the $40.00 level.
Summary
Rogers Communications' stock currently trades within the fair value range and offers a compelling dividend yield. The company generates strong cash flows and grows revenues modestly, while maintaining position in the wireless market in Canada. Verizon does pose a threat in the medium-term, and the fate of Canadian telecom market will be determined early next year.
Conclusion
I issue a "HOLD" recommendation on Rogers's stock. Current stockholders may want to utilize covered call/put option strategies. For example, pessimistically-inclined investors may decide to sell some call options at the support level, while optimists may choose to sell put options at resistance levels. Either way, keep Rogers Communications on your watch list.
Analyst Ratings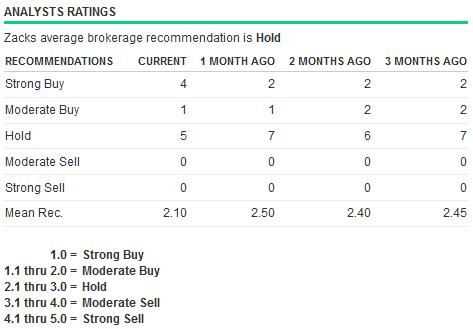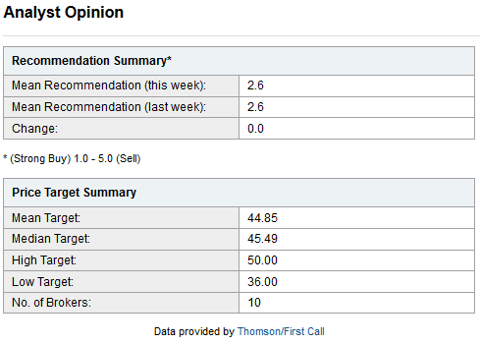 Disclosure: I have no positions in any stocks mentioned, and no plans to initiate any positions within the next 72 hours. I wrote this article myself, and it expresses my own opinions. I am not receiving compensation for it (other than from Seeking Alpha). I have no business relationship with any company whose stock is mentioned in this article.