The ProShares UltraShort 20+ Year Treasury ETF (NYSEARCA:TBT) is a leveraged fund that targets a day-by-day return of -2x (negative two times) the daily return of the Barclays U.S. 20+ Year Treasury Bond Index (NYSEARCA:TLT). TLT currently holds treasury bonds with an average time to maturity of 27.2 years. Because TBT targets a daily return, over time, it tends to under-perform the target. This process represents what I like to call the friction of the fund; it involves the costs of turning over futures and SWAPs on a daily basis. This friction makes good timing all the more imperative than regular ETF products.
Back on March 14, 2012, I called a bottom for TBT that lasted all of a week. For the next four months, TBT ground lower, sometimes swiftly, before coming to its true bottom. Retests in November and early May of this year succeeded. Now, TBT is experiencing one of its strongest rallies in the short life of the fund. It is up 33% since the May 1st close. TBT has even climbed back to the point where the breakout occurred that convinced me a bottom was finally in.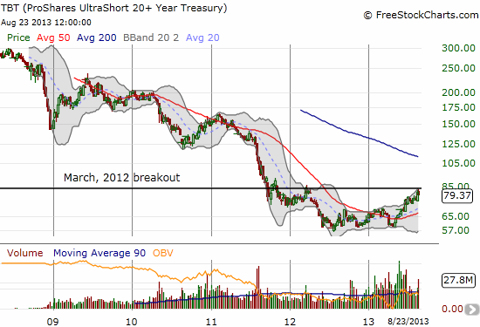 Click to enlarge
The long, hard road for TBT
Source: FreeStockCharts.com
I consider this overdue "vindication" quite tenuous. The fear of deflation that has given the Federal Reserve a free pass still runs thick. Every poor economic number sends buyers quickly scurrying into bonds. Case in point is Friday's 2.3% drop in TBT as bond prices surged on the surprisingly poor new home sales numbers. Nevermind that housing has so far contributed little to the overall economic recovery since 2009. The market quickly forgot a swath of encouraging numbers from Europe, China, and the U.S. just a few days earlier: manufacturing at highs not seen in many months and more growth than expected in the eurozone. If the Fed is tapering its bond purchases soon, there is nothing yet to stop that train. Let's first see the jobs numbers for August.
TBT may still be topped out for a while because the market seems to have very rapidly priced in an end to the Federal Reserve's bond purchases even as the Fed has insisted it will remain accomodative well into 2015 (and beyond if warranted by inflation and jobs numbers). The Fed is far from raising short-term rates, and the threat of more interventions to manipulate long-term rates is always looming.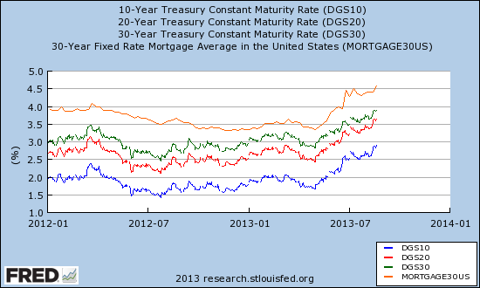 Click to enlarge
A rapid rise in rates. How much longer will the Fed tolerate a run in rates at this pace?
Source: St. Louis Federal Reserve
Going forward, it seems to me that a bet against bonds must remain a long-term bet. If you cannot (or do not) want to short funds like TLT, buying TBT remains one of the better options. Long-term put options (LEAPS) are an alternative, but the current episode has demonstrated that TBT can actually beat out the time decay in puts over the long haul. For example, on March 14th, 2012, TLT closed at $111.02; it is now at $104.29. A January 2014 put option with a $110 strike sold in mid-March, 2012 for around $1500. It is now trading at $880 with five months left until expiration: a 41% loss. The January 2014 put options with a $105 strike sold at the same time around $1200. It has lost about 55% since then.
On the other hand, the January 2015 put option with a $105 strike is up 49% year-to-date. (All options data from Etrade.com). So clearly timing is everything. Going forward, I am looking to fade any significant rally in TLT with long-term put options expiring in 2015 rather than adding to the TBT holdings. I think the two will be good complements under different timing scenarios assuming I am correct that the era of the secular bull in bonds is finally winding down.
Be careful out there!
Disclosure: I am long TBT. I wrote this article myself, and it expresses my own opinions. I am not receiving compensation for it (other than from Seeking Alpha). I have no business relationship with any company whose stock is mentioned in this article.