Last Friday, shares of cigarette giant Altria (NYSE:MO) jumped after the company raised its quarterly dividend and expanded its share buyback program. This news sent shares of Altria and other cigarette names higher, stopping the downward pressure these names saw thanks to rising interest rates. Today, I'll cover the latest news for Altria, which is sure to please shareholders. For those that missed it, here was my dividend raise preview for Altria.
Dividend raise and recent history:
Altria announced a four-cent raise to $0.48 per quarter. The first payment at this rate will be paid October 10th, to shareholders of record as of September 16th. The ex-dividend date provided by the company is September 12th. Based on Friday's close, the $1.92 annual payment represents a 5.60% annual yield.
This was a 9.09% increase over the prior payment, and was at the upper end of my 46 to 48 cent expected range. I was expecting 47 cents, which would have been a 6.82% raise. The last two raises were 7.89% and 7.32%, respectively, so a 6.82% raise would have followed that trend. However, Altria decided to give investors more.
The following chart shows Altria's recent dividend history, since the Philip Morris spin-off in 2008. The year's dividend below represents the rate that year before the raise, so for instance, the 2013 value was the $0.44 rate being paid before the raise, and the 2014 value is the new one.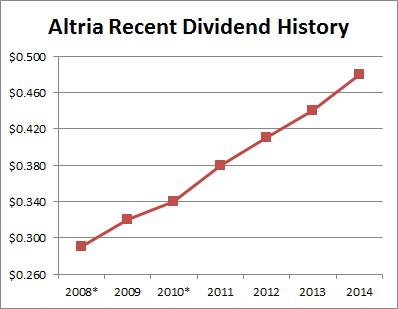 *The first value of $0.29 includes an adjustment for the PM spin-off. Altria paid a $0.29 dividend after the spin-off, but then raised it in the second half of the year to $0.32, the value you see above for 2009. The 2010 value presented is the $0.34 that was paid after the raise, but the first two payments during the 2010 calendar year were $0.35, as the company raised it again. For the second half of calendar 2010 (presented as 2011 above), it was raised to $0.38, and they have not had any other non-standard payments since then.
Comparing yields to the sector:
There are four cigarette names I discuss regularly, including Philip Morris (NYSE:PM), Lorillard (NYSE:LO), and Reynolds American (NYSE:RAI). I mentioned above that these names have seen their stock prices come down as higher interest rates have made their dividend yields less attractive. The following stock price changes are since my Altria dividend preview article, with the corresponding yield increase.
Altria: 2.50% decline, 60 basis point increase in yield. Without dividend raise, 13 basis point increase in yield.
Philip Morris: 3.32% decline, 13 basis point increase in yield.
Lorillard: 0.37% decline, 2 basis point increase in yield.
Reynolds: 4.04% decline, 21 basis point increase in yield.
Even without the dividend raise, Altria would have been the yield leader as of Friday's close. However, the dividend raise obviously boosted the yield, and now Altria has a huge advantage, as you can see in the chart below.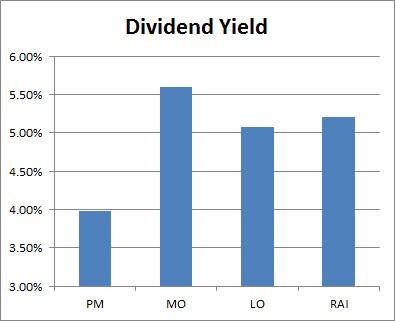 As of Friday's close, these are the yields for these names:
Altria: 5.60%.
Philip Morris: 3.98%.
Lorillard: 5.07%.
Reynolds: 5.20%.
Increasing the buyback:
The dividend raise was not the only big piece of news from Altria on Friday. Here's another item they announced:
Additionally, Altria announced that its Board of Directors authorized a $700 million expansion of Altria's current April 2013 share repurchase program from $300 million to $1 billion. Altria expects to complete the program by the end of the third quarter of 2014.
The buyback increase was a bit of a surprise. The $700 million added to the plan represents just over 1% of the company's market cap, which stood at $68.6 billion as of Friday's close. Getting the share count down a little should improve earnings per share by a couple of pennies over the next year or so. Additionally, the reduction of shares may have been the reason why the dividend went to $0.48 per quarter and not $0.47 or maybe $0.475.
Bouncing back:
These four names have been under pressure a little lately, along with the overall market as well. The following 3-month chart shows how these names have started to rebound in the past couple of days.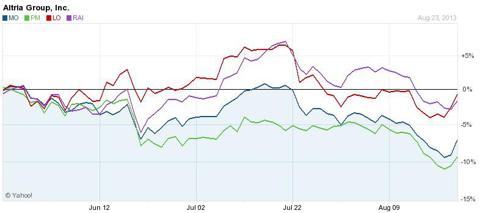 (Source: Yahoo! Finance)
Some of these names had seen their lowest points in several months. Altria was at its lowest point since March. Philip Morris was at its lowest point since January, cracking the 4% yield level. Lorillard was at its lowest point since April. Reynolds has held up fairly well, with it only being at a two-month low. Could Altria's dividend raise and buyback increase be the start of something? It may be if interest rates track lower and the market rebounds in the short term.
Final thoughts:
Altria announced a solid dividend raise, at the high end of my expected range. The company also raised its stock buyback plan by $700 million. This was very positive news for shareholders, and shares rallied by more than 2% on Friday. Altria won't be a growth machine anytime soon, but with a 5.6% yield, investors aren't exactly in this name for growth. Altria's news helped to wake up a sleepy sector late last week. Philip Morris is now on the clock, expected to raise its dividend within the next couple of weeks.
Disclosure: I have no positions in any stocks mentioned, and no plans to initiate any positions within the next 72 hours. I wrote this article myself, and it expresses my own opinions. I am not receiving compensation for it (other than from Seeking Alpha). I have no business relationship with any company whose stock is mentioned in this article.
Additional disclosure: Investors are always reminded that before making any investment, you should do your own proper due diligence on any name directly or indirectly mentioned in this article. Investors should also consider seeking advice from a broker or financial adviser before making any investment decisions. Any material in this article should be considered general information, and not relied on as a formal investment recommendation.