Overview
Viscofan (OTC:VSCFF) is the world leader in artificial casings for the meat industry. It has been a listed company since 1986 and a constituent of the IBEX 35 Index since January 2013.
Artificial casings are used for stuffing sausages and other meats and include different products like Cellulose (hot-dogs), Fibrous (pepperoni), Collagen (bratwurst, salami) or Plastic (black pudding).
Viscofan is the only company in the market able to produce all these segments and enjoys a global share of 27%, followed by its main competitors Devro (OTC:DEITF), Viskase (OTCPK:VKSC) and Shenguan (OTCPK:SHGXY).
The company makes 85% of its revenues from producing and selling casings to food processors, with the extra 15% coming from its smaller tinned food division. Its revenues are geographically diversified although, being a Spanish company, it has some relevant exposure to its domestic market.
Despite depressed consumer demand in Spain, Viscofan has been able to still grow revenues there.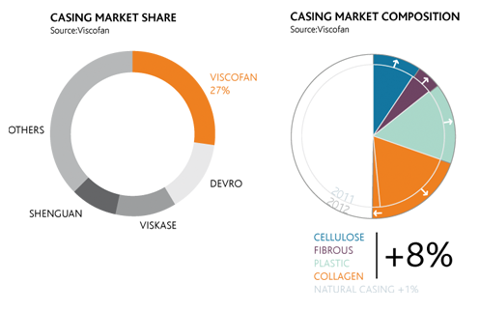 Source: Viscofan
Market trends
Artificial casings have been historically replacing natural casings made of intestines or bladders. This has been and continues to be a source of growth for the industry.
However the biggest driver for growth comes from changing food habits, especially in emerging markets, which are quickly accelerating global demand for meat in general and artificial casings in particular.
Annual demand is growing at a mid-single-digit rate, but it is expected to move further up in the short term. Most notably, China drives global markets with double-digit growth and is expected to continue to see that rate of increase for Western-style chilled processed meat in the years to come. Urbanization, rising disposable incomes and adoption of western habits are all supporting this rising demand for meat. The trend is not limited to China but happens as well in other emerging markets.
Revenue
In response to the opportunity that rising demand brings, Viscofan is embarked in a strategy to deploy new production capacity in Asia and South America through new facilities in China and Uruguay. It targets to achieve a 20% share of the Chinese market, which should allow the company to capture high growth from the region and boost its revenues.
Revenues have increased steadily along the last 5 years, with an 8% annual growth in the period and are expected to increase by 6% in 2013 according to management guidance.
The company plans to install new equipment in China and start production tests in Uruguay during the second half of 2013, so revenues from these facilities will start to be noticed most likely along 2014.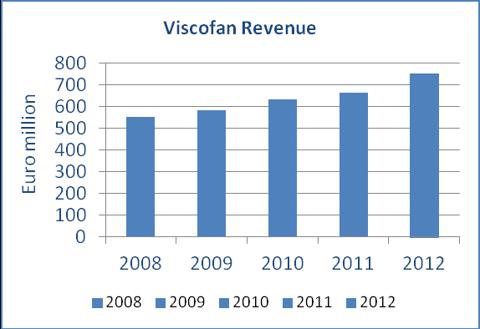 Source: Viscofan
Balance sheet
The company has a solid balance sheet with only residual debt. Debt net of cash was €65 ($86) millions in a total balance sheet of €778 ($1.034) millions by the end of 2012.
During 2013, Viscofan plans to deploy Capex worth €100/$133 millions, roughly in line with its cash-flow from operating activities in 2012. The company is in good shape to finance this expansion by slightly increasing leverage while sustaining dividends.
Earnings and dividends
Current yield is around 2.75%, but Viscofan has steadily increased total dividends in the last 5 years by a whopping annual compound rate over 20%
Payout has increased over the period but remains rather stable and below 50%, which is a good sign of sustainability, together with the solid balance sheet position discussed above.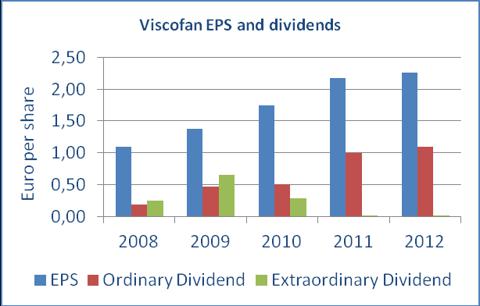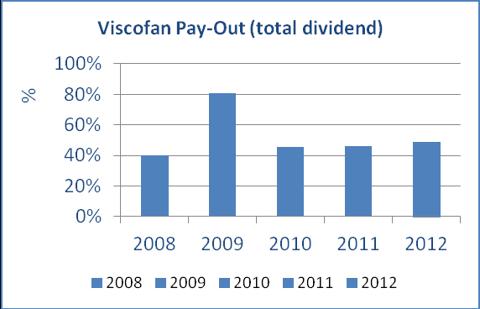 Earnings and dividend growth slowed down in 2012 to 4% and 10% respectively. Neither did the first half of 2013 bring good news, with earnings growing only 1.3%.
As a consequence, prospects for 2013 dividends are not flattering. Reduced earnings growth is combined with the additional effort that the company is making to expand its operations. This makes dividends really a question of how much leverage Viscofan is willing to take along 2013.
Viscofan is committed to improve dividends in line with its operational results and has nearly a decade of sustained or increased distributions. A stable dividend for 2013 seems a reasonable move for the company in the current situation.
In 2014 patient shareholders may see additional rewards, as the new facilities in China and Uruguay start to pay. This requires Viscofan to capture new sources of revenue, but success is not only a question of volume and the company needs to prove that it can add volumes without damaging its current margins. There is where the main risks lie ahead for Viscofan.
Risks
Despite all the hype about China, exposure to the Asian country does not imply and increased return for shareholders, as noted by The Economist.
The opportunity for volume in China is vast, but competition is steep and margins are low. These challenges are taking for example Devro to re-asses its strategy for Asia. Viscofan will need to deal with the added complexity of multiple production centers and the additional resulting costs (for example in salaries for mobile workers). On top of this, the cost for raw materials has seen double digit increase as demand for collagen soared, putting additional pressure on margins, a trend that can well continue in the short term.
Currency risk partially explains the weak results of Viscofan in the first half of 2013, as the euro appreciated against other currencies. Currency risk grows as revenues diversify, however, part of this risk is offset by the deployment of facilities abroad. This will allow having salaries and raw material inputs in the same currency as revenues.
Aside from the risks in foreign operations, Viscofan can also face additional pressures from the domestic situation in Spain, whether through weak demand or increased taxes or regulations. A good example of the latter is the €2 ($3) millions downside impact on earnings that Viscofan expects from new electricity regulation, according to management guidance. Viscofan uses an efficient co-generation power plant facility to supply electricity, hot water and steam for its operations in Spain. Excess electricity is then sold to the grid at a regulated price. But new regulations are expected to cap certain subsidies to this kind of electrical production therefore impacting Viscofan negatively.
Conclusion
Viscofan is a solid company leading a particular industry niche with high demand growth expectations for the next five years. The company is scarcely leveraged and well positioned to embark itself in the expansion needed to cope with demand and maintain its current leading position.
Viscofan has rewarded shareholders with increased dividend distributions during a decade and has shown its commitment to continue to do so in the future.
The company is expected to achieve significant growth in volumes from 2014 onwards. However, margins will face pressure from increasing raw materials costs, rising competition and potential changes in domestic regulations.
A fair value for Viscofan taking into account all this would be somewhere around €42 ($56). At the current prices, this leaves little hedge to the potential investor. However, given the defensive nature of this stock, it can make a good buy below those levels and provide a solid source of rising income in the future.
Disclosure: I am long OTC:VSCFF. I wrote this article myself, and it expresses my own opinions. I am not receiving compensation for it (other than from Seeking Alpha). I have no business relationship with any company whose stock is mentioned in this article.
Additional disclosure: I have no positions in DEITF.PK, SHGXY.PK or VKSC.PK