We continue to be impressed with the movement in oil prices and the oil and natural gas E&P names. Some of this strength in recent sessions has been due to the tragic events in Egypt and Syria, but we also have to look at the positive news which has been driving traders to invest in the space and that is the improving results from new plays and the continued improvement in older plays as it relates to infrastructure, costs and production. This is a story more should be paying attention to, but the fact that they are not simply indicates to us that profits are still to be had in the space.
We came across an article of importance this morning on the pipelines and how hard it is to move production from the wellhead to market these days. Take a moment to read it (located here) as it is well worth the read.
Chart of the Day:
Gold prices are trading just below $1400/ounce, the level where one would be inclined to go bullish the precious metal. Watch the resistance and see how long it holds. We expect one of the epic bull/bear fights here.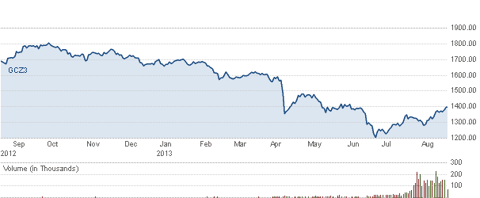 Source: CNBC
Commodity prices this morning are as follows:
Gold: $1396.20/ounce, up by $0.40/ounce
Silver: $24.21/ounce, up by $0.472/ounce
Oil: $106.15/barrel, down by $0.27/barrel
RBOB Gas: $2.986/gallon, down by $0.0212/gallon
Natural Gas: $3.498/MMbtu, up by $0.013/MMbtu
Copper: $3.314/pound, down by $0.0345/pound
Platinum: $1541.10/ounce, down by $0.50/ounce
Oil & Natural Gas
Anadarko Petroleum (NYSE:APC) continues to make all of the right moves and reward investors who have held on through all of these gains. The company announced that they would be selling their East Africa natural gas assets for $2.64 billion in cash to India's Oil & Natural Gas Corp. ONGC has a history of purchasing African assets and this further bolsters their position on the continent while allowing Anadarko to monetize a portion of one of their big finds and invest the cash in their hugely successful domestic plays. It also provides a measurement for the value of the remaining stake the company has which is bullish. Look for Anadarko to continue to be among the leaders in this move higher in E&P names.
We expect Anadarko to hit fresh new highs over the next couple of weeks on the back of this news. The company might even add some drill rigs (over what one would expect) to their shale plays over the next quarter because of this deal.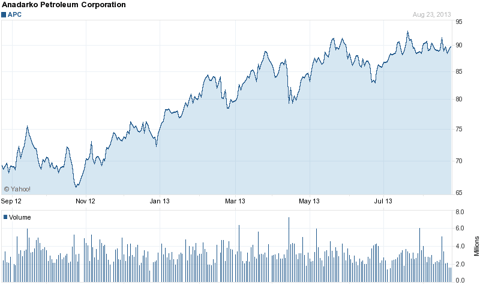 Source: Yahoo Finance
Speaking of leaders in the E&P names, we also want to point out the strength at Kodiak Oil & Gas (NYSE:KOG) and Chesapeake Energy (NYSE:CHK). Kodiak has quietly been moving higher and broke above $10/share on Friday with decent volume. The company continues to build upon their successes in the Bakken and it is still our belief that the company will ultimately get taken over because of their success. The company has a rich valuation but we continue to see costs fall as drilling techniques are standardized and the company gets to do more 'infill' drilling as opposed to exploration drilling to lock in leased land via held-by-production rights. Remember, as more infrastructure is built to take production out of the Bakken we will see transportation prices decline further (see article from above for more on this) and should see realized prices for that production increase as well. One should continue to be bullish here.
Transportation is an issue, but Kodiak's stock breaking out is an even bigger issue. If shares can hold the $10/share level this might be the breakout that many have been waiting for.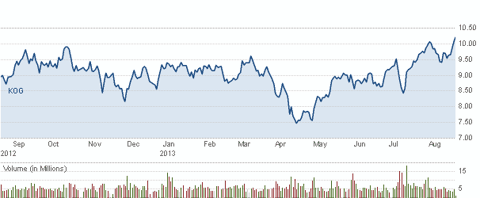 Source: CNBC
Chesapeake also continues to outperform and actually hit a new 52-week high on Friday. The news that Carl Icahn increased his stake to just below 10% was a plus but the company has shown considerable improvement in results which we think was already underway before the new management team came in. The difference is that this management team has the confidence of the market and appears willing to do nearly any deal which enables the company to monetize assets that can lower debt and allow the continuation of developing their leases. We have looked over the recent results and think that based upon what has been announced to the market that the stock could hit $35/share over the next 12-18 months assuming oil, NGL and natural gas prices remain stable. A hiccup in Europe could create problems for the company due to their debt and reliance upon debt, but Chesapeake is most certainly headed in the correct direction.
Dry Bulk Shipping/Transportation
We have received an increasing number of questions over the past week or two regarding the dry bulk shippers and whether one should be looking to those names now. To be honest we pay little attention to the names these days as the entire industry is awash in excess capacity and many great companies were turned into awful companies during the most recent boom-bust cycle. One could look to the index for guidance, but no longer does that even give the real story of the economy as the industry has so much capacity any time a rise occurs it seems to be quickly lost as competition increases. So for those readers who want to go long DryShips (NASDAQ:DRYS), please refrain.
Day trading gains could be had, but if you want to own names with exposure to shipping the goods which power, feed and build the economy a better option would be to focus on Union Pacific (NYSE:UNP) which is part of the heartbeat of America. It is still a great company, whereas DryShips is not due to its capital structure and debt.
Disclosure: I have no positions in any stocks mentioned, and no plans to initiate any positions within the next 72 hours. I wrote this article myself, and it expresses my own opinions. I am not receiving compensation for it (other than from Seeking Alpha). I have no business relationship with any company whose stock is mentioned in this article.