The thing about a falling knife is, once it hits the kitchen floor you get to pick it up reasonably safely. At least if you haven't left the kitchen entirely. Of course, you don't want to try to grab it by the sharp end.
Apologies for beating that tired old cliché so hard, but I've been investing some new money from a roll-over and rebalancing my assets recently. Not surprisingly, real estate is way out of balance on the down side right now. My preference is to be in real estate as an asset class at about 7.5% which is where I was only a few month ago. Now, with Real Estate ETFs generally off 14-24% from their 52 week highs and individual REITs off as much as 40%, there's a lot of rebalancing to do if I follow the discipline I've set out for myself and bring the asset class back up to 7.5% So, I'm looking at real estate and trying to make some decisions.
The big question for me is: How close is the asset class to a bottom? Should I wait a bit or get on with it? On one hand, I know better than to try to time the market. That, and my inner MPT guru is whispering in my ear: "It doesn't matter. Follow the path, grasshopper." On the other hand, I cannot erase from my mind an image of a bloody right hand -- wait, let's make that my bloody right hand -- grabbing those falling knives. Why not wait and pick them up as they hit the floor? Or, have they hit? There's a hint in the air that they may have.
There have been several articles here at Seeking Alpha in the past few weeks from authors much more knowledgeable than I expressing the opinion that the time is ripe to get back into the class. Something of a cautiously bullish, contrarian consensus may be emerging (although there are certainly many, many naysayers which is obvious to anyone perusing the comments). Regardless of the presence or absence of a consensus, I am coming to the conclusion that the time is, if not right, at least not dangerously wrong. And after all, my portfolio management strategy is grounded in what's supposed to be a disciplined maintenance of asset-class allocations that will, over time, keep me buying low and selling high. I knew when I started along this path that maintaining the discipline would be the challenge. To do so means accepting the challenge of buying into real estate now.
So, with that decision made, I've asked myself where to go from here? In the interests of keeping diversified, I've been in ETFs exclusively. Recently I've been trying to educate myself about the class and I've decided to move into a few individual holdings as well. What I want to do here is lay out a case for some of my candidates. They may not be everyone's favorites. This is my thinking alone. My priorities, requirements and expectations are uniquely mine. I'm not offering advice by any means. Anyone thinking about following these ideas should, without question, explore all the options and details for themselves, especially since there are numerous alternatives, I've not laid out here.
REITs
Let's start by jumping in the deep end of the pool. I like American Capital Agency Corp. (NASDAQ:AGNC). AGNC invests in agency-backed mortgage securities. These investments consist of residential mortgage pass-through securities and collateralized mortgage obligations for which the principal and interest payments are guaranteed by the Federal National Mortgage Association (Fannie Mae), the Federal Home Loan Mortgage Corporation (Freddie Mac), or by a U.S. Government agency. The company may also invest in agency debenture securities issued by Freddie Mac, Fannie Mae or the Federal Home Loan Bank.
Sounds pretty good, right? Especially that part about guaranteed. But, even with essentially no risk of default, it's down nearly 40% from its 52-week high. And, because much of its past success has come from the historically low interest rate environment of the QE period, it's very much on the wrong side of the taper-fear trend still. Many would say there is worse coming as interest rates move higher. It has cut its dividend from $1.25/share to $1.05/share, and I doubt many will be surprised if it cuts still more when it announces next month.
But, let's look at that dividend. At $1.05/share quarterly the annual yield at yesterday's close ($21.58) is a whopping 19.5%. Is this sustainable? I agree with those who say-not unreasonably--that it cannot be. But, if they cut the dividend by 25% it's still yielding 15%; cut it by 50% and it's 10%, painful for sure, but it's still 10%. I haven't seen any solid predictions, but I'm not inclined to worry about a dividend cut as high as 50% this time around. If you have thoughts on this, I'd love to hear your comments. Of course, if they do cut dividends, there will be a run for the exits and we could end up well below that 40% off the 52 week high. As I said, it's the deep end.
AGNC is trading at a P/E of 5.1 and P/B of 0.75. P/E may not be the most appropriate measure of valuation for a mortgage REIT, but if it gets back to the company's recent average ratio (about 6.6) the share price will be $28.30. At a not unreasonable P/E of 7 it's at $30.37. So one can reasonably hope for some upside over time. Finally, free cash flow is positive, unlike the situation with many of its peers.
Some charts from ychart.com on mREITs:
Free cash flow
Total assets: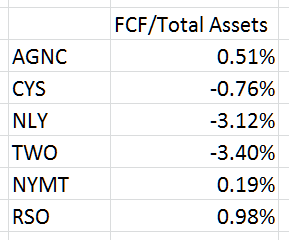 My next choice is Omega Healthcare Investment (NYSE:OHI). OHI invests in healthcare related real estate properties. As of Dec. 31 2012, the company's portfolio of investments consisted of 478 healthcare facilities located in 34 states and operated by 46 third-party operators. This portfolio was made up of: 418 skilled nursing facilities, 16 assisted living facilities and 11 specialty facilities; fixed rate mortgages on 31 long-term healthcare facilities; and two facilities and one parcel of land held-for-sale. A search of Seeking Alpha will turn up dozens of very good articles on this REIT.
OHI is up 17.1% in the last 12 months, but down -23.7% for past three months and -15.8% in the past month. It's 24.3% off its 52 week high. Dividend yield is a juicy 6.5% at Friday's closing price, and looks to be much more sustainable than, say, AGNC's distribution. Dividend growth has been steady with dividend increases for each of the past 9 years. I do not think I'm exaggerating if I say it's widely considered to be the blue chip of the healthcare REIT sector.
ETFs
Obviously, one doesn't want to hold only two stocks in an asset class. The most straightforward course for diversifying is ETFs. One interesting candidate is Powershares KBW Premium Yield Equity REIT Portfolio (NASDAQ:KBWY). It is unique in being the only dividend-yield weighted fund in a universe filled with cap-weighted peers. The fund invests in securities of small- and mid-cap equity REITs in the United States according to its dividend-yield weighted index. It does not hold mortgage REITs. The result is a fund that has the highest annual yield (5.01%) of equity REITs. This comes at the cost of a 1.03 beta vs. a peer average of 0.78. It is up 11.4% for the past year. None of its peers with the exception of the small-cap ROOF is in positive territory for the year (average decline = -2.28%). KBWY is down -13.9% for the past three months which is consistent with the peer group average of -13.3%.
A second intriguing ETF is IQ U.S. Real Estate Small Cap (NYSEARCA:ROOF). The fund invests based on a rules-based, modified cap-weighted, float-adjusted index intended to track the overall performance of the small cap sector. Its portfolio contains 27.6% mortgage REITs. Although it's down 10.55% for the past 3 months, ROOF is the one other ETF that is still up this year, returning 6.02% YTD. It is yielding 3.29% at its current price.
The 3 big kids on the real estate ETF block are iShares U.S. Real Estate ETF (NYSEARCA:IYR), which I currently hold, Vanguard's REIT ETF (NYSEARCA:VNQ), and SPDR DJ Wilshire REIT ETF (NYSEARCA:RWR). Each is down for any recent measure from 2 weeks to 1 year, but both had a decent week, gaining just short of 2.5% on the real estate bounce. The top 10 holdings for each are identical. The top holding for each is the global giant Simon Property Group (NYSE:SPG), which accounts for about 7.1% , 11% and 9.8% of their holdings. By way of comparison, KBWY holds only 36 positions with its largest stake at 4.3%. While they provide broad exposure to the field, if you're looking to real estate as an income-producing asset class in your portfolio, these are probably not the best places to be. IYR has a dividend yield of 2.10%, RWR is 2.3% and VNQ is 2.85%. Compare KBWY at 4.14%.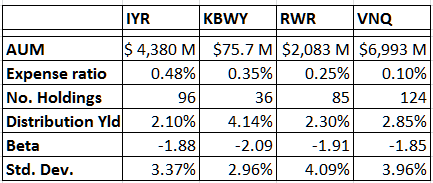 Price chart (1 yr.) from Ycharts.com
CEFs
Yet another option is Closed End Funds. Seems like there are as many real estate CEFs as there are ETFs, and the choices are a bit bewildering. According to cefconnect.com all but 2 of the real estate CEFs use leverage, ranging from 20 to 32%. This generates some nice distribution yields (5.5-9.3%), but may not be the wisest path with looming increases in interest rates on the near horizon. Real estate's recent woes have been largely attributable to worries over rates. Does it make sense to add leverage to that mix at this time? My every instinct tell me not to go there. Of the two that eschew leverage, one (NYSE:PGZ) is too new for me to consider. The other, Cohen & Steers Total Return Realty (NYSE:RFI), holds up fairly well against its leveraged peers.
The leveraged funds are currently priced with an average discount to NAV of -10.3%. RFI has a current discount of -2.25%. Consider, though, that its 52-week average is a premium of 3.88%. One of the things I look for in a CEF is for the fund to be selling below its 52-week average premium/discount; a 6% differential is quite attractive for this metric. RFI is paying a 7% distribution yield and has not reduced its distributions for at least the last five years.
Two of the leveraged CEFs that may be worth a hard look: Cohen & Steers REIT & Preferred (NYSE:RNP) and Nuveen Real Estate Income (NYSE:JRS). As the name implies RNP invests in REIT common and preferred stocks. It has a discount of -13.75% (compared to its 52-week average discount of -6.66%) and a yield of 7.76%. JRS is alone among real estate CEFs in continuing to sell at a premium to NAV (2.58% vs. 52-week average premium at 7.79%). Its 9.4% yield, which leads the pack, is undoubtedly the engine driving that premium valuation.
Mutual Fund
There's one final path to consider. It's one that doesn't get a lot of respect here at Seeking Alpha, but could be worth a look. I'm talking about Mutual Funds. Without going into any real detail, I will put in a nod to Baron Real Estate Fund (MUTF:BREIX) which has weathered the storm quite well: Up 27.73% (52 weeks), 13.13% (YTD); down -2.84% (3 months) and -2.17% (1 month). I hold this one in my workplace accounts that limit my investment options.
Summing Up
My choices? I bought AGNC at $21.50 and OHI at $30.23 last week. I had a bid in on KBWY but missed on that; will be watching over the coming days for an entry point. I passed on ROOF. The yield and return potential seem low for a fund that carries the risk of a nearly 30% mREIT position. I'll continue to hold onto IYR for a while, but if I were opening a new position I think it would be in VNQ instead. When the dust settles on my portfolio building, I may make that move. When all is in place I should have a 7.5% allocation to real estate with 33% of that to IYR, another third to KBWY, and the remaining third equally weighted to OHI and AGNC.
To some extent, I'm inclined toward the picking-up-the-fallen-knives move right now, so I'm considering going overweight here. If I do, I'll probably go with RFI, the unleveraged Cohen and Steers CEF, probably at a bit less than a half position bringing my allocation to real estate to about 8.5%. One could argue that the AGNC holding is more of a financial sector play than a real estate asset, so I'm not too concerned about going over right now.
Maybe I'm unreasonably optimistic, but I suspect that when it's time to rebalance next, I'll be taking some profits from this asset class. Of course, if that does happen, I'll just be looking at some other class full of fallen knives.
Disclosure: I am long AGNC, IYR, OHI. I wrote this article myself, and it expresses my own opinions. I am not receiving compensation for it (other than from Seeking Alpha). I have no business relationship with any company whose stock is mentioned in this article. I expect to open a long position in KBWY over the next 72 hours.