Over one year has passed since the passage of the 2012 Food and Drug Administration Safety and Innovation Act (FDASIA) on July 9, 2012, which authorized the new Breakthrough Therapy Designation (BT). Since then, BT has turned into a hot commodity in the sector, and companies receiving BT designation for their therapies have received significant positive press and interest. A total of 77 applications have been received and 25 approved so far. But what does all this mean for investors?
Background - Breakthrough Therapy Designation is intended to bring promising new therapies (monotherapy or combination) for serious or life-threatening conditions to market sooner by expediting their development and review. BT designation provides a number of benefits to sponsors, including timely advice and significant interaction with FDA officials, collaboration on trial design to ensure efficiency and speed, and a more efficient and rapid review process. Companies applying for BT will hear back within 60 days from the FDA. Sponsors can apply at any time.
Now, BT designation is not to be confused with the FDA's other special mechanisms to approve drugs, which include Fast Track Designation, Priority Review and Accelerated Approval. Accelerated Approval is used when a sponsor shows a benefit with the use of a surrogate endpoint that is predictive of clinical benefit. Priority Review is a goal to shave approximately 4 months off the timeline compared to the standard timeline under PDUFA for an NDA or BLA and decision is made at the time of filing. Fast Track Designation is quite similar to BT designation but there are a few subtle differences. BT designation is for a drug with preliminary clinical evidence potentially demonstrating a substantial improvement on a clinically significant endpoint(s) over available therapies. Fast Track is for a drug with either nonclinical or clinical data demonstrating potential to address an unmet medical need. Fast Track is also used for infectious disease products (e.g. antibiotics). However, BT designation conveys all of the fast track program features as well as more intensive FDA guidance on an efficient drug development program.
The Score - As of August 9, 2013, a total of 77 BT requests have been received and 25 approved. 27 have been denied and 25 are still pending (source: FDA, Orphan Druganaut Blog).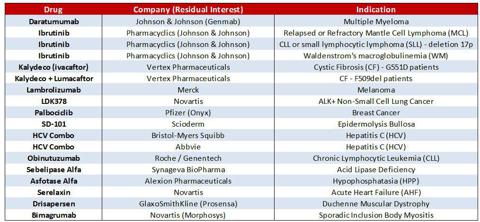 Clearly, Pharma and Big Biotech (Vertex (NASDAQ:VRTX), Alexion (NASDAQ:ALXN) I consider large biotechs given their high market capitalizations) is winning the battle for BT designation, with Novartis (NYSE:NVS) taking the lead with a total of 3 BT designations (I'm not counting Pharmacyclics (NASDAQ:PCYC) as 3 since the drug is still Ibrutinib, but readers may disagree). Johnson & Johnson (NYSE:JNJ) has 1.5 assets, since it will recognize half the revenue and profit from the asset upon commercialization. Merck (NYSE:MRK), Pfizer (NYSE:PFE), GlaxoSmithKline (GSK) and Roche (OTCQX:RHHBY) all make appearances on the list.
This also raises some intriguing questions, what are the companies that have received breakthrough designation but haven't disclosed it? I hypothesize the answer to this question is big Pharma and / or small private companies with no obligation to disclose and no need for public financing in the near future. So, where are all the clinical stage biotechs (<$ 1BB market cap)? Which did not receive breakthrough designation? Unfortunately, we may never know the answers to these questions; from the FDA's own FAQ, the regulatory agency does not need to release the company names. Although in a refreshing move of transparency, Ariad pharmaceuticals (NASDAQ:ARIA) took the unusual step to announce that AP26113 had not received BT designation. Most likely the reason behind the rejection is that Novartis' (NVS) next-generation ALK inhibitor (LDK378, think Xalkori follow-on) had just beaten Ariad to the punch bowl. Relative to this comparator, Ariad's own next-generation ALK inhibitor was not significantly better, even though it showed excellent promising data in a similar population.
Implications for Investors - What does all of this mean for investors? A couple thoughts:
1) Do not underestimate pharmaceutical companies or their business development teams
Clearly large, fully-integrated biotech and in particular pharmaceutical companies are winning the majority of BT designations. Every company on the list is above $8 BB in market capitalization, with the exception of Synageva (NASDAQ:GEVA) ($1.3 B) and Scioderm (private). My perception of the retail investment community - there is the tendency to overstate the quality of biotech's assets versus their big pharma counterparts. The above table appears to refute that notion. Following the multiple reports of Pharma's declining R&D productivity; perhaps this is a reason to consider purchasing Big Pharma stocks, in particular Novartis.
Pharmaceutical companies have also highlighted their ability to opportunistically in-license or partner assets. They have opportunistically partnered with Genmab (OTC:GNMSF) and Morphosys (OTCPK:MPSYF), successful platform technology developers. Johnson & Johnson, Pfizer, and GlaxoSmithKline also successfully licensed drugs that have received BT designation.
2) Not much; everyone knew the assets were good, and this does not guarantee commercial success
Ibrutinib, Kalydeco, Palbociclib (ONXX, PFE) and Abbvie's (NYSE:ABBV) HCV combo are only a few of the drugs that have all been on investor's radar for quite some time. While BT designation may serve to increase the NPV of these programs by shaving off clinical development costs and bring the drug to market earlier (longer useable patent life as well), these assets may have received priority or accelerated review anyways and reached the market in the same amount of time. To use Ariad Pharmaceuticals again as an example, Iclusig (Ponatinib) entered the market a mere 4 years (approximately).
BT designation may not guarantee commercial success. In the case of Abbvie and BMS (NYSE:BMY), while their HCV combinations have received BT designation, they may not achieve commercial success. Gilead Sciences currently has a very efficacious combination therapy currently under review by the FDA, and it has received Priority Review. I do not wish to handicap that race at this time, but I do not believe that Abbvie and BMS will "win" because of BT designation.
3) Orphan diseases remain a hot subset of the life sciences / healthcare sector
While HCV, breast cancer and acute heart failure (Abbvie / BMS HCV combos and Pfizer's / Onyx's palbociclib, respectively) affect large numbers of patients, the majority of drugs in the above table target orphan diseases or diseases with few patients but not quite orphan. Orphan diseases are generally ones affecting less than 200,000 patients in the US. There are a few reasons why orphan disease development has been popular. First, there are generally no approved treatments, so the approval bar is lower. Second, trials can be run with smaller patient populations and are thus less expensive (sometimes it is difficult to recruit enough patients, though). Finally, and one of the more important reasons from a commercial perspective, is the ability to charge extremely high prices for treatment and target the prescribing physicians and patients with only a small safesforce. Genzyme, BioMarin (NASDAQ:BMRN), Alexion, Vertex, among others, are masters of this strategy. Synageva looks to potentially join the club. Now, these companies may have a potential weapon to justify high prices moving forward BT designation.
Conclusions
In many cases, breakthrough designation has served to tell investors what they already know, i.e. this is a great asset and will likely fulfill significant unmet needs in the intended diseases. On the other hand, there is still a large amount of uncertainty, and unanswered questions remain: Will any of these drugs receive CRLs? What kind of trials will be required? How much shorter will the development pathway be? Furthermore, as investors know, regulatory approval does not guarantee commercial success, which is the more critical factor for long-term investors. However, based on the lack of smaller biotechs receiving BT designation, perhaps the value lies in some of the larger, fully-integrated biotech and pharmaceutical companies and orphan drug companies.
Disclosure: I am long ONXX, OTCPK:MPSYY. I wrote this article myself, and it expresses my own opinions. I am not receiving compensation for it (other than from Seeking Alpha). I have no business relationship with any company whose stock is mentioned in this article.