Introduction
This piece covers my analysis of three major oil giants, Exxon Mobil (NYSE:XOM), Royal Dutch Shell (NYSE:RDS.A) and Chevron (NYSE:CVX), to find which one is the "BEST BUY" for the year 2013. My article covers recent developments in the oil sector and the impact on each company's earnings. Existing and potential stockholders are more interested to see the long term sustainable growth of these regular dividend paymasters.
Business Updates
Over the last 3 years these companies have faced numerous challenges due to the economic slowdown and geopolitical risks in oil rich countries that led to the curtailment of their expansions into new geographical regions and the decision to survive on existing resources. Recent data on manufacturing announced by China kindled hope for increased demand. Let's analyze China's data and see its demand for oil.
Brent climbed from $109 to $110 soon after China released the data on manufacturing activities for year 2013-2014. The data reveals China's demand for oil will grow in a few months while growth numbers in the euro zone was better than expected, diverting investor attention to increased exposure in the oil sector.
Top five net oil importing countries
In million barrels per day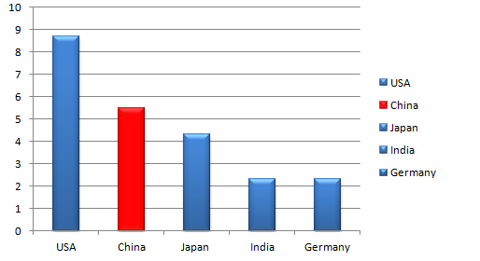 Click to enlarge
According to the graph, China is a net importer of 60% of its total oil consumption. Improvement in manufacturing would lead China to increase its imports further and they are estimated at another 4% adding 0.4 to 0.5 million barrels per day.
Considering the demand for oil in China, I will analyze which company will reap the greatest benefit out of this opportunity and make the best choice for investors to make a BUY call decision.
Net proved developed and undeveloped Oil reserves
In billions of barrel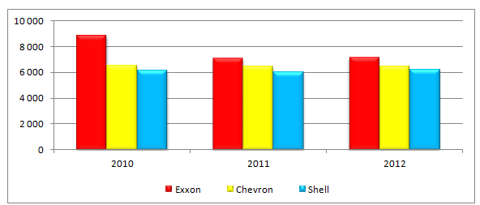 Click to enlarge
Source: Company's Financials
Exxon Mobil
In the chart above, Exxon's oil reserves depleted by 24% on an aggregate basis from 8.9 billion barrels in 2010 to 7.1 billion barrels in 2012, whereas, in the last 3 years, the company increased its capital and exploration expenditures mentioned below by 21% on an aggregate basis. Exxon was also holding inventory levels of $10.8 billion in year 2012, which showed a decrease by 8% from the same period a year earlier. Exxon still ranked on the top in terms of oil reserves compare to its competitors mentioned in this article.
The figures are evidence that the weak demand for oil suppressed the company's earnings for the past 3 years, and also piled up the inventory levels, disturbing the company's inventory turnover ratios against its competitors. On the other hand, if demand rises and prices increase upon China's news, Exxon books the revaluation gain on its inventory that supports its bottom line in the future.
Chevron
Chevron's proved net oil reserves were marginally down by 0.34% since last 3 years. However, the percentage of capital and exploration expenditures showed an increase of 57% on an aggregate basis for the same period. The company witnessed increases in its inventory levels by 11% to $6.1 billion from $5.5 billion in last 3 years, against revenues of $283 billion in 2012. The company's performance in the span of last 3 years has remained under pressure.
Shell
Shell is the only company among its competitors that increased its oil reserves, but by a very low margin of 0.8% (6.19 in 2012 from 6.14 in 2010 billion barrels). Shell also maintained its Capital and Exploration Expenditures in the acceptable range, which increased by 21% compared to its competitors in this article. The point of concern here is that Shell is heavily loaded with inventory, which stood at $30.87 billion in 2012 compared to its revenues in that corresponding year, which were reported at $519 billion. Piling up large inventories has had no impact on the company's financing cost, which is a vigorous sign of the company's strong cash flows to support its mammoth inventory levels. Shell will have a significant positive impact on mark to market revaluation gains on inventory if the oil price rises.
Capital and Exploration Expenditure
In million U.S. Dollar
Click to enlarge Source:
Total inventory levels for last 2 years
Billions of US Dollar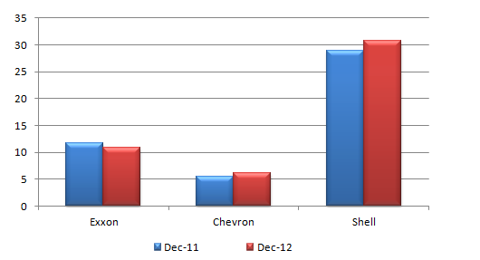 Click to enlarge
In the above mentioned graph, Shell is sitting on heavy inventory levels in all segments combined, followed by Exxon and Chevron. A plus point for Shell to note is that carrying such inventories had put no strains on the company's financial costs and, surprisingly, Shell reduced its debt by 26% in year 2012 compared to the previous year. This shows Shell has strong operating cash flow.
On the other hand Exxon also reduced its debt by 32% coupled by financial costs reduced by the same proportion.
Chevron carries the lowest level of inventories, but the company's borrowing has increased by 20.1%, putting an additional burden on its earnings in these weak economic times.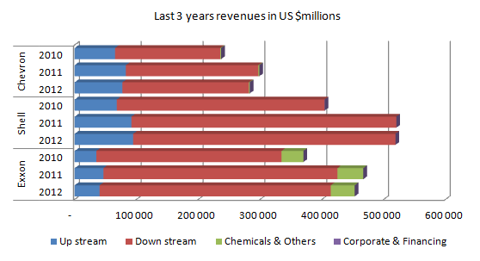 Click to enlarge
Despite holding heavy inventory levels, Shell remained the leader in terms of revenue during the last 2 years compared to its competitors. Shell's major revenue contributor was its downstream segment that contributed 81% to the total.
Exxon has diversified its business in the chemical segment as well, which contributed 8% to the total revenue in 2012. Diversification into the chemical segment will provide an edge over the competition, however, I see less impact in that segment and still see it being under pressure.
Chevron comes at third in terms of revenues and the major segment of Chevron was its downstream segment. Chevron's chemical segment showed consistent growth in revenues over the last 3 years, but due to low volumes in the segment, I see a low impact on company's earnings.
Conclusion
With the above analysis, I conclude that SHELL is the "BEST BUY" for the year 2013 due to the fact that Shell may account for mark to market gains on its inventories worth $30.71 billion reported in the annual report 2012, and, if oil prices spike, will provide a one-time gain but would have a significant positive impact on company's EPS.
On the other hand, Shell's diversified geographic presence in several Asian and African and European regions would be an edge over competitors in fulfilling China's and other regional demands if estimates hit the bull's-eye. Moreover, the company's oil reserves and inventories may also allow frequent supply without any additional resources or Capital Expenditures required. Augmented by strong dividend yields and attractive multiples, I maintain BUY Stance on SHELL stock.
Disclosure: I have no positions in any stocks mentioned, and no plans to initiate any positions within the next 72 hours. I wrote this article myself, and it expresses my own opinions. I am not receiving compensation for it (other than from Seeking Alpha). I have no business relationship with any company whose stock is mentioned in this article.