Without going into a long history of the financial crisis and resulting fallout in the banking industry, suffice it to say that Citigroup (NYSE:C) has improved the fundamentals of its business tremendously over the past several years. In fact, the company's business has improved so much that the government approved the company's capital plan, which includes a sizeable share buyback.
Despite the improvement in Citigroup's business, shares remain at relatively low levels. In fact, Citigroup is trading for just 50% more than where it ended the year in 2009 (split-adjusted). While that sounds like a pretty nice gain, I feel very confident in saying that Citigroup's business has improved by well over 50% since then.
Citigroup's current state
Since 2009, Citigroup has divested several major parts of its business including Nikko Asset Management, Diners Club NA, The Student Loan Corporation and Smith Barney. The segment of Citigroup's business known as Citi Holdings has drastically reduced its assets from about $360 billion at the end of 2010 to about $130 billion currently. This is the division that includes the brokerage, asset management and local consumer lending units, all of which Citigroup is trying to distance itself from in order to focus on its core business.
Even now, Citigroup continues to improve at an impressive pace. As of the last quarterly report, Citigroup's net revenues were growing at an 11.4% year-over-year pace. Of Citigroup's divisions, Global Consumer Banking, which makes up almost half of the company's business, posted just a 2.1% improvement from the previous year. Securities and Banking (about 35% of revenues) saw revenue rise 25% over the past year, as this is the area of the business that Citigroup is focusing on the most. Transaction Services (about 14%) actually posted a revenue decline of just over 1%, and Citi Holdings, the smallest segment, grew about 16% from last year.
Let's talk numbers
As a whole, the company is producing more revenues and writing off less bad debt, as the credit quality of the company's asset portfolio has improved dramatically as toxic assets continue to be worked off of the balance sheet. As a result, Citigroup's earnings are expected to increase by about 28% from 2012's to $4.94 per share. In other words, Citigroup is growing at a double-digit rate and shares are trading for just over 10 times the current year's earnings.
According to the consensus, earnings are expected to continue to rise as poorly performing assets continue to be eliminated and the company's core businesses continue to improve. Earnings of $5.57 per share are projected for next year, rising to $6.15 in 2015, for annual earnings growth of about 11% annually on average going forward.
The company continues to focus its efforts on controlling personnel costs and increasing its capital levels, and the improving economic environment should help the company over the next few years as well.
The potential if Citigroup becomes a "healthy" bank, and when it could happen
Another thing to consider is Citigroup's valuation relative to its book value. Since the financial crisis, shares have traded in a range of about 0.7 to 1.1 times tangible book value, with the current multiple being 0.94. However, before the crisis, when Citigroup was considered a healthy bank, it was a very different story. Even ignoring the peak mortgage bubble years, Citigroup has traded at significantly higher premiums to where it is now.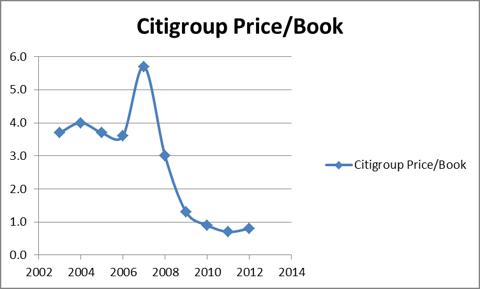 Click to enlarge
Admittedly, I don't see financial stocks trading at their pre-crisis valuations anytime in the immediate future, but that doesn't mean they never will again. The date that I have in mind is 2018 when the new stricter capital laws will go into effect. In short, the FDIC approved a proposal that would raise leverage requirements to 5% (currently 3%). I think that by the time the laws go into effect that the market will have a similar, confident view of the banks as they did about a decade ago (well-capitalized, strong credit quality, etc). Once the perception changes, and it will come gradually, bank stocks will begin to creep toward their historic valuation level, which seems to be around 3.5 times tangible book value in the case of Citigroup.
Summary
To sum things up, over the past few years, Citigroup has made tremendous strides in making up for its shenanigans during the housing bubble. As long as the company keeps up the good work, Citigroup should be a long-term winner. Oh, and I wouldn't be surprised if the Fed were to approve the reinstatement of a decent dividend when Citigroup submits its 2014 capital plan early next year.
Disclosure: I have no positions in any stocks mentioned, but may initiate a long position in C over the next 72 hours. I wrote this article myself, and it expresses my own opinions. I am not receiving compensation for it (other than from Seeking Alpha). I have no business relationship with any company whose stock is mentioned in this article.