Editors' Note: This article covers a micro-cap stock. Please be aware of the risks associated with these stocks.
There has been much buzz recently on Dr. Phillip Frost and his "midas touch" so to speak when it comes to selecting investments. I just wrote an article earlier this month highlighting one of Frost's overlooked investments in Tiger Media (IDI). IDI is up 70% in the two weeks since then. Then I saw Jim Cramer raving about Frost in general and Opko specifically on Mad Money again last night. Cramer has been a proponent of Frost and Opko for quite some time now and has recommended both several times on his show. Any viewers who followed Cramer's advice in this particular company have since been rewarded handsomely. Opko is up nearly 75% in 2013 alone, and has more than doubled from Cramer's first recommendation.
People seem to be picking up that Frost is someone you want to follow closely and look to for investment ideas, and, historically, investing alongside him as led to exponential profits for fellow investors. This article on Seeking Alpha by fellow contributor Charles Fox last week discussed a few of Frost's more speculative investments. Most of the companies mentioned have already led to large returns for investors able to spot them early enough to invest at an average near where Frost purchased stock. The article leads off with Safestitch, which is up 140% since another contributor Markus Aarnio first discussed it here on Seeking Alpha May 2nd as a possible takeover candidate for Opko. This theory was in the right ballpark, as Frost recently orchestrated the acquisition of another private company through Safestitch and further showed his support by joining the board of directors.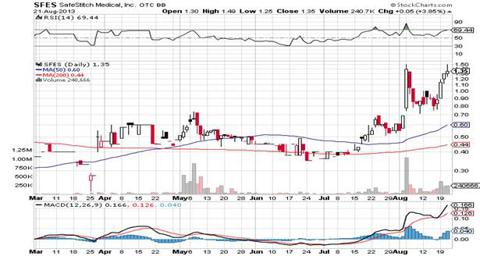 Musclepharm is another investment of Frost's that I highlighted in my last article. Musclepharm has gone from $4 at the time of Frost's initial investment to $10.95 today for a potential gain of 175% in 7 months. Frost also just invested again in Musclepharm this month at $10.50/share in restricted stock, demonstrating his continued commitment to every company he invests in. Opko is the prime example of insider buying on Wall Street today, as is clear to see from even the quickest glance at Opko's insider purchases on the SEC.gov website.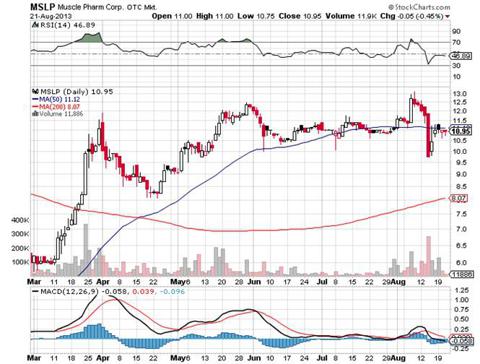 Frost's Large Investment in a Company Outside of Biotech/Healthcare
It is easy to go on about Frost and his phenomenal investing track record, starting from when he sold IVAX Corp, which he founded, for $7.6 billion in 2005 to Teva Pharmaceutical (NYSE:TEVA). It is also apparent from looking at Frost's portfolio that his primary focus is in his area of known expertise: biotech and healthcare. One company that stands out from looking at Frost's other significant holdings from his filings on SEC.gov is a company outside of this known area of expertise for Frost, and one in which Frost currently owns 53,031,350 shares. This company is Pershing Gold. The fact that Frost has made such a large investment in a company seemingly outside of his area of expertise is what first caused PGLC to stand out at me. Upon digging deeper, it became even clearer to me how Frost plans on striking gold with this junior gold exploration and development company.
Relentless Insider Buying by Honig Reminiscent to Frost and Opko
Looking at the insider buying on Pershing Gold is very reminiscent to me of what has been seen in regards to the insider buying with Opko. Persistent and repeated insider buying both on the open market and through direct investments into the company by Barry Honig. Honig most recently invested another $5 million into the company in the financing that was announced last week. In this financing, Honig also converted the last $645,000 of debt in the company into equity, leaving Pershing Gold debt free. This is very rare in the gold space and resource space in general, as most resource companies face large capEx to build mines and ever get into production. This is not the case for Pershing Gold, as it already has a built and near fully permitted mine at its Relief Canyon project. What I think is worth pointing out here is that Honig's relentless insider purchases of millions upon millions in stock in Pershing Gold (NASDAQ:PGLC) could signify an even stronger signal than Frost's similar activity in Opko. Frost is a multi-billionaire and #190 on Forbes 400. Honig is not on this Forbes 400 list, but he is still making a similar assertion as to his belief in this particular company.
Taking a look at some of Honig's other investments, it is very clear that investors investing alongside him have become generously accustomed to similar exponential returns as those that have invested alongside Frost. Here were a couple that stood out:
On October 5, 2011, Honig filed his acquisition of beneficial ownership in Broadvision (NASDAQ:BVSN). The stock soon soared 600%: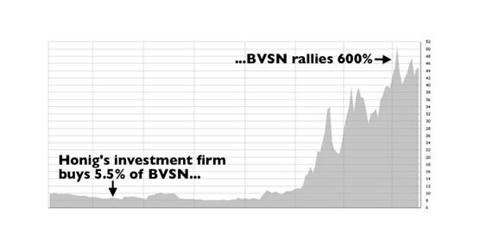 On August 22, 2012, Honig filed that he had purchased 5,375,000 shares of Neuralstem (NYSEMKT:CUR). The stock is up 220% since.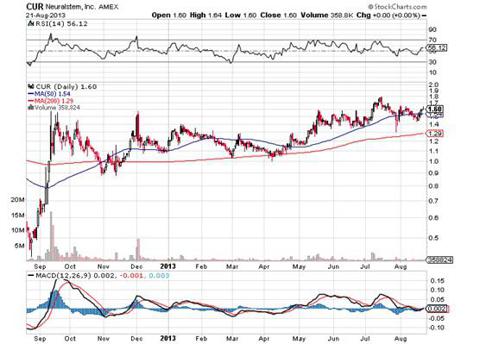 Honig also served as Co-Chairman of Interclick, which was sold to Yahoo for $270 million.
Following these two prime examples of investment prowess in both Frost and Honig appears to be a recipe for exorbitant returns.
Good Time to Buy Pershing Gold?
Pershing Gold's share price is back at a place where the large upside return versus limited downside risk is very present. The downside risk appears limited because the company just completed a $9 million financing, in which Honig invested an additional $5 million personally, at $0.33/share. The stock closed yesterday at $0.34/share, so investors are currently able to buy in the open market without any restrictions at a similar price as investors in the financing.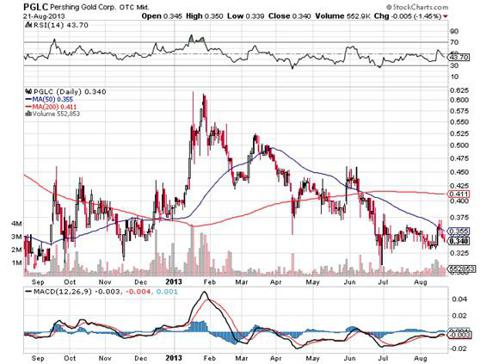 Even more intriguing about the timing of this financing, is that just two weeks before it took place, Pershing Gold announced that it had just started a new drill campaign. This could be signaling the type of preliminary results the new drill campaign could be producing. Two weeks after the drilling starts one of the largest insiders writes another big check, and several other investors put money into the company at a near-the-market price in this beaten down resource market. The man with the best pulse on what is happening at the company, CEO Steve Alfers, also invested in the financing. These appear to be very positive indicators for what the insiders see happening at this junior gold company.
Some fundamental characteristics causing Pershing Gold to stand out as well include:
· Pershing Gold (NASDAQ:PGLC) has consolidated 39 square miles in mining-friendly Lovelock, NV, neighboring significant current and past producing mines. Nearby producing mines include Coeur d'Alene's (NYSE: CDE) bordering Rochester mine which has been producing for 30 years. Coeur d'Alene Mines , the largest U.S.-based silver producer with a market cap of ~$1.5 Billion, has a current strategic investment in PGLC.
On February 10, 2012, Steve Alfers signed on as Executive Chairman, President and CEO. Mr. Alfers was the former Chief of U.S. Operations for Franco Nevada (NYSE:FNV), a $6.5 billion company. Prior to accepting this position with PGLC, Alfers was part of the team that discovered the Long Canyon asset, which was sold to Fronteer Gold. Fronteer was then acquired by Newmont for ~$2.3 billion.
On November 26, 2012, Alex Morrison, former Vice President and Chief Financial Officer of Franco-Nevada, joined the board. He is also on the board at Detour Gold (DGC).
PGLC is a low cost producer. Peter Epstein estimates here a $770 all-in cost of production. In comparison, the average cost for gold producers worldwide is $1,200/oz. Pershing will not be affected by profitability issues with a fluctuating gold price like many other gold companies. This makes it a much safer play, especially as the price of gold has strengthened recently.
Location is key: Nevada is one of the most mining friendly jurisdictions in the U.S., and just being in the U.S. eliminates the geo-political risk that has been a major concern for many miners recently. An example of this causing a significant impact was Barrick's recent $5.1 billion writedown.
Investing Early is Key to Outsized Returns, but Risks do Follow
I emphasized in my article on Tiger Media how I love getting in at prices near where investors like Frost get in. The stock is up 70% since then. Pershing Gold is another clear opportunity to get in at prices near where successful investors Frost and Honig both have invested. This makes it seem like a clear opportunity to strike gold in your portfolio betting alongside them.
There are clear and present risks to investing in a company of this size, particularly in the resource space where the stock price can be subject to the whim of the changing gold price. This can work both for and against the company. For a complete list of risk factors related specifically to Pershing Gold, you may see them fully defined in their most recent 10-Q on SEC.gov here.
Disclosure: I am long PGLC. I wrote this article myself, and it expresses my own opinions. I am not receiving compensation for it (other than from Seeking Alpha). I have no business relationship with any company whose stock is mentioned in this article.