On Friday, August 23, it was announced that a number of strategists at Barclays became the latest in a long line of bond-market pundits to raise their Treasury yield forecasts to catch up with the reality that rising Treasury yields have already surpassed all of their earlier forecasts. Barclays upped its 10-year Treasury yield forecast to 3.1% by the end of this year and 3.75% by the third quarter of 2014, from its earlier forecast of 2.9% by mid-2014.
From a personal standpoint, I still think Barclays is a bit behind in its forecasting and strongly believe that the 10-year Treasury yield will be somewhere between 3.15% and 3.39% by the end of the year, and in a range of 3.75% and 4.25% by the end of the third quarter of 2014. As a result of Barclays revised 10-year Treasury yield forecast, I wanted to take a closer look at one particular agency-based mortgage REIT and highlight several of the catalysts that are driving my decision remain bullish on American Capital Agency (NASDAQ:AGNC).
Company Profile
Headquartered in Bethesda, Maryland, American Capital Agency Corp. operates as a real estate investment trust [REIT]. It invests in residential mortgage pass-through securities and collateralized mortgage obligations for which the principal and interest payments are guaranteed by government-sponsored entities or by the United States government agency. The company funds its investments primarily through short-term borrowings structured as repurchase agreements.
A majority of AGNC's assets consist of mortgage-backed securities and debentures issued by such entities as Fannie Mae (OTCQB:FNMA), Freddie Mac (OTCQB:FMCC) or Ginnie Mae, and it is because of investments in the mortgage-backed securities of those particular entities that American Capital Agency is considered to be an "Agency mREIT".
When it comes to AGNC, there are two very important catalysts which are intended to drive the company's profitably higher, and they are the shape of yield curve (which demonstrates the spread between returns on assets owned and the interest paid on amounts borrowed to purchase these assets) and the amount of leverage the company currently possesses.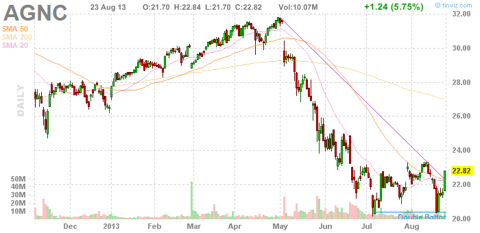 Performance and Trend Status
On Friday, shares of American Capital Agency -- which currently possess a market cap of $9.05 billion, a P/E ratio of 2.90, a forward P/E ratio of 6.67, and a forward yield of 18.40% ($4.20) -- settled at $22.82. Based on Friday's closing price, shares of American Capital Agency are trading 2.40% above their 20-day simple moving average, 2.17% above their 50-day simple moving average, and 15.69% below their 200-day simple moving average.
These numbers indicate a minimal short-term and mid-term uptrend for the stock as well as a long-term downtrend for the stock, which under normal circumstances, translate into a selling mode for most traders, however, these circumstances aren't normal, and I strongly believe a buying opportunity exists at these price levels.
Examining AGNC's Book Value
As of August 23 the stock was trading well below its current book value of $25.51/share, and based on Friday's close of $22.82/share, shares were still trading 10.54% below book value per share. Given the fact the company is still trading a fair amount below its current book value, I'd look to accumulate shares up to a price of no more than $24.23/share, which still gives investors about a 5% discount to the company's present book value.
From a comparative standpoint, and in an effort to see how well American Capital Agency shapes up against Annaly Capital (NYSE:NLY), Christopher F. Davis put it best when he said, that in order
to declare a winner, I think it is best to look at the relative decline in book value. NLY lost $2.16 from $15.19 to $13.03 for a 14.2% decline. AGNC on the other hand, lost $3.28 from $28.79 to $25.51 for an 11.4% decline. In this case, hands down AGNC was the better performing, losing far less book value in absolute percentage values.
If American Capital Agency can continue to outpace Annaly Capital over the next several quarters in terms of its current value, I think that AGNC should be placed at a much higher consideration level than that of Annaly Capital.
Conclusion
For those of you who may be considering a position in American Capital Agency, I'd keep a watchful eye on a number of catalysts over the next 6-12 months. These catalysts include but are not limited to the near-term behavior 10-year Treasury Yield, any indication by the Federal Reserve that QE3 spending may be reduced or ended completely and lastly any upward movement in the company's annual dividend as market conditions become a bit more favorable.
When it comes to finding an entry point relative to the company's book value, I'd personally prefer buying shares at a 10% to 15% discount to book. However, I'd consider accumulating shares up to a level no closer than 95% of the company's current book value of $25.51/share.
Disclosure: I am long AGNC. I wrote this article myself, and it expresses my own opinions. I am not receiving compensation for it (other than from Seeking Alpha). I have no business relationship with any company whose stock is mentioned in this article.