The concerns about "tapering" by the Federal Reserve has sparked a significant sell-off in bonds which has spilled over into other "bond-proxies" including dividend stocks, closed-end funds and exchange traded funds. Remember when investors were overly concerned about the "Fiscal Cliff" at the end of the year and more recently, the budget "sequester?" Those pullbacks turned out to be solid buying opportunities. Well, now it seems that "tapering" fears are providing investors with a chance to buy high-yielding stocks on the cheap.
Interest rates have already moved significantly in the past several weeks and tapering is probably only going to entail a reduction in the Federal Reserve's bond buying program, if it even happens in September. This means that interest rates might already be too high and investors might see a relief rally when September comes and goes with just a small amount of tapering, or perhaps nothing at all. A recent CNBC article points out that some investment analysts believe the 10-Year Treasury Bond yield is poised to drop significantly in the next couple of months. It states:
But Lawrence McDonald of Newedge says investors are getting the bond trade all wrong. In fact, he boldly claims that the 10-year yield will finish the year at 2.35 percent, and "maybe even 2.20."
Regardless of whether the 10-Year Treasury Bond yields 2.5%, or a bit more or a bit less, many investors still need income and higher yields than what the 10-Year offers. That is why the current pullback in many high yielding stocks and closed-end funds could be a great buying opportunity. With this in mind, here are 3 picks that offer yields of about 10% or more and also have rebound potential:
Dreyfus High Yield Strategies Fund (NYSE:DHF) is a closed end fund or "CEF" that primarily invests in high yielding bonds. This fund's share price has dropped in recent weeks due to the sell-off in the bond market. This appears to be a significant buying opportunity because this fund has limited duration risk and a yield that is about 10%.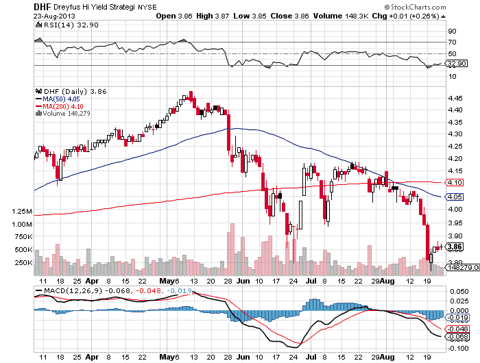 As the chart above shows, this fund is now trading at the low end of the recent range. It is also trading below the 50-day moving average of $4.05 and the 200-day moving average of $4.10. With the Relative Strength Index or "RSI" at just around 32, these shares are oversold and could be due for a solid rebound. This fund invests primarily in high yield or "junk bonds" and that is another reason why it could be poised to rebound. First of all, junk bonds are typically shorter in duration and also benefit when rates rise due to an improving economy since the credit quality usually improves as well. Take a look at the chart below for the SPDR Barclays Capital High Yield Bond (NYSEARCA:JNK), and you can see the rebound in high yield bonds. The SPDR Barclays Capital High Yield Bond fund is an exchange traded fund with an average maturity of about 6.82 years. This ETF offers a monthly dividend of about 20 cents per share which provides a yield of 6.2%.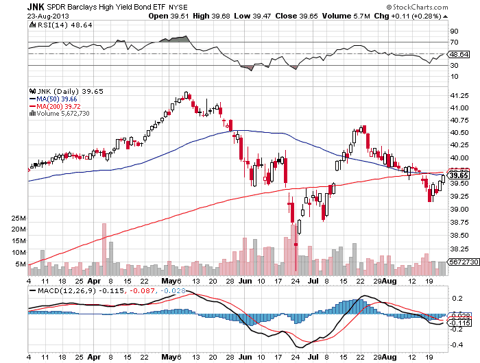 If this Junk Bond ETF is rebounding, then the Dreyfus High Yield Strategies Fund should also eventually be playing "catch-up" and heading higher as well, especially since it offers a much higher yield and has less duration risk.
This fund has around 219 holdings which lowers risks for investors thanks to diversification. Investors who own long term bonds that mature in 20 or 30 years could be impacted in a rising rate environment. However, this fund has an average duration of just 4.54 years, which means duration risk is limited. Another potential downside for investors in high yield bond funds includes the risks of a recession, as well as liquidity risks. However, investors who have accepted these potential risks have done very well in recent years. For example, this fund has returned an average of nearly 16% annually over the past 5 years, and just over 9% annually over the past 10 years.
Over the past year, the Dreyfus High Yield Strategies Fund has traded (on average) at a 6.24% premium to net asset value or "NAV." However, a rare buying opportunity has been created which allows investors to buy at a discount of more than 2%. As such, if the fund rebounds to its historical average, investors could capture gains of about 8%, in addition to a very generous yield. This fund pays a dividend of just over 3.2 cents per share on a monthly basis or 75 cents per share on an annual basis and that provides a yield of roughly 10%. Investors who want diversification in the high yield sector, a generous monthly dividend and limited duration risks should consider this fund at this time.
Here are some key points for DHF:
Current share price: $3.90
The 52 week range is $3.75 to $4.61
Earnings estimates for 2013: not applicable
Earnings estimates for 2014: not applicable
Annual dividend: 38.4 cents per share (or 3.2 cents per month), which
yields 9.95%
Here are some key points for JNK:
Current share price: $39.47
The 52 week range is $38.21 to $41.95
Earnings estimates for 2013: not applicable
Earnings estimates for 2014: not applicable
Annual dividend: about $2.40 or (20 cents monthly) per share which yields 6.2%
Resource Capital Corp (NYSE:RSO) is a mortgage real estate investment trust. It primarily invests in real-estate related assets such as commercial mortgage-backed securities, residential mortgage-backed securities, syndicated bank loans, equipment leases and other investments. Like many high-yielding stocks, these shares have declined significantly: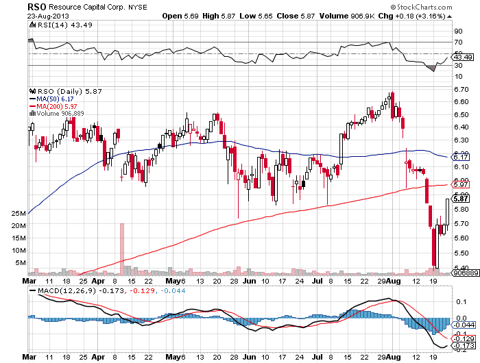 As the chart above shows, this stock was recently trading for more than $6.60 per share. However, a recent pullback has given investors a chance to buy the stock for much less. It now trades below the 50-day moving average of $5.97 and the 200-day moving average of $6.17 per share. While the stock has already started to rebound from recent lows, it could have more to offer investors in the long-run, especially with a yield of about 14%.
This company recently reported solid financial results. It announced adjusted funds from operations of 16 cents per share, and book value of $5.55 per share. It also reaffirmed dividend guidance of 20 cents per share on a quarterly basis for the remainder of 2013.
Investors in stocks like Resource Capital should consider a number of potential downside risks including rising rates, management execution and the fact that companies in this sector are more frequently prone to secondary offerings. In fact, Resource Capital sold a total of 18.7 million shares during April 2013, at a net price of $6.14 per share. Notwithstanding these potential downside risks, with the shares trading for close to book value and offering a generous yield of 14%, this stock looks appealing for investors seeking income.
Here are some key points for RSO:
Current share price: $5.87
The 52 week range is $5.21 to $6.96
Earnings estimates for 2013: n/a
Earnings estimates for 2014: n/a
Annual dividend: 80 cents per share which yields 14.2%
Chimera Investment Corp. (NYSE:CIM) is another mortgage real estate investment trust. This stock has held up remarkably well during the recent sell-off in this sector and there might be a number of reasons why it could continue to outperform.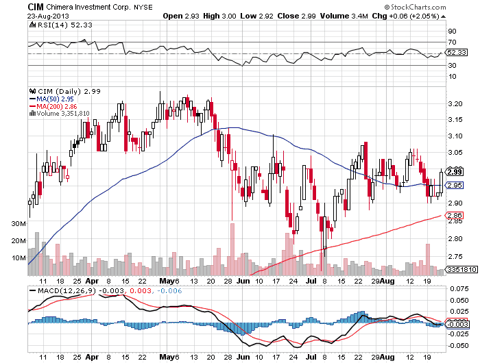 As the chart above shows, Chimera shares have been trending higher since hitting lows of about $2.80 in July. It is now trading just below $3 and it could be poised to head back towards the $3.20 level, which is where it was trading in May.
Chimera invests primarily in mortgage securities and it is managed by Annaly Capital Management (NYSE:NLY) through a subsidiary which is called the "Fixed Income Discount Advisory Co." This means management execution risks could be limited, however, there are other downside risks that investors should consider. A significant move up or down in interest rates could lead to volatility for stocks in this sector and cause this stock to decline. Other various risks include Federal Reserve policy, regulations on the status of REIT's, and the fact that when earnings drop, dividend cuts can come swiftly for stocks in this sector. However, investors with a longer term horizon could do well by owning a small position in this stock since it yields just over 12%.
Investment billionaire Leon Cooperman has selected this stock as one of his top ten picks for the rest of the year. Mr. Cooperman has an impressive long-term track record and his top ten picks at the "Delivering Alpha Conference" for last year have all performed well.
Chimera recently announced that it would pay a quarterly dividend of 9 cents per share on October 31, 2013, to common shareholders of record on October 4, 2013. (The ex-dividend date is October 2, 2013.) In addition, it stated that book value was $3.52 per share which is significantly higher than the current share price.
Analysts estimates are at 42 cents for 2013 and 38 cents per share for 2014. Since the dividend is 36 cents per share annually, the payout could be safe for the next couple of years. With a share price that is about 20% below book value, a dividend payment coming in about 5 weeks, and a yield of over 12%, it makes sense to consider a small position in Chimera, especially on any sector pullbacks.
Here are some key points for CIM:
Current share price: $2.97
The 52 week range is $2.44 to $3.34
Earnings estimates for 2013: 42 cents per share
Earnings estimates for 2014: 38 cents per share
Annual dividend: 36 cents per share which yields 12.2%
Data is sourced from Yahoo Finance. No guarantees or representations are made. Hawkinvest is not a registered investment advisor and does not provide specific investment advice. The information is for informational purposes only. You should always consult a financial advisor.
Disclosure: I am long DHF. I wrote this article myself, and it expresses my own opinions. I am not receiving compensation for it (other than from Seeking Alpha). I have no business relationship with any company whose stock is mentioned in this article.