The talk of the town continues to be if BlackBerry (NASDAQ:BBRY) will make it or not, if BlackBerry will be taken over or not, and if BlackBerry has a future or not.
As for the question if BlackBerry is a going concern or not, I continue to be amazed at all the negative rhetoric by analysts. Even if the company's assets are not worth what I think they are, does that mean that the company should be sold for scrap? Because $10 a share is scrap.
Analysts at Scotiabank think BlackBerry's patent portfolio is worth at least $2.25 billion, marked at a discount of over 40% to Motorola patents and over 60% to Nortel patents.
Scotiabank says that if you figure the value of the patents, and the $3 billion in cash and investments, it comes out to about $10.16 a share. Given the stock is trading around $10.50 a share, "you basically get a free company included on the side."
Well I will agree with that, even if I think the patents are really worth more. But I want to focus on the gift horse factor a little (free company included on the side).
While every company that trades for its cash or assets does not always reward investors, in my experience it's always worth taking a chance on such a company, because on the one hand you buy the assets at fair value and on the other the company is included free.
Like I said, not all distressed companies end up being a home run, but at the very least buying a stock for the mere assets is in most cases a worthwhile investment. Let me show you a chart of such a company.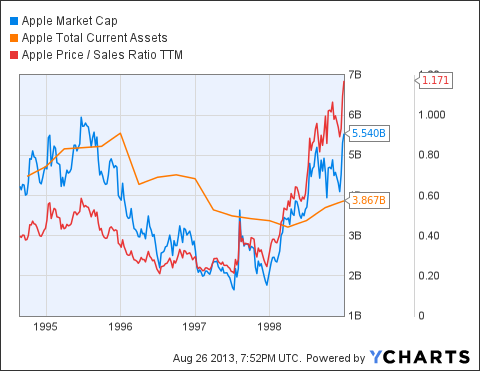 AAPL Market Cap data by YCharts
As you can see, at one time Apple (NASDAQ:AAPL) was valued less than its current assets. That's right, the market had so much thrown in the towel on Apple, that it thought it was a goner.
I remember this period very well. I tried to convince people Apple was a buy back then, but I heard the same arguments that I hear about BlackBerry today, such as:
The products are no good, Microsoft (NASDAQ:MSFT) has won the PC wars and no one buys Apple PCs
The Apple ecosystem has no future
Apple has no enterprise customers
Yes the company has cash, but it will burn it
These are the kind of arguments I heard about Apple back then and I hear the same for BlackBerry today. Granted Apple had a lot of problems back then -- and that was the reason for the stock price -- but is there anyone today who thinks the market did not overreact back then?
Bottom line
Whenever a stock trades for scrap -- as BlackBerry is today -- it's always worthwhile taking a chance with the stock, because the downside is very limited, plus you get the business for free. This excludes stocks that have serious cash burn or balance sheet issues.
However these are not problems BlackBerry is facing at the moment. BlackBerry has other problems, but a balance sheet issue is not one of them.
While there is no guarantee that BlackBerry will recover to its old glory days, buying BlackBerry at today's prices is probably as good of a deal you will ever get, because not only are you buying the assets at fair value -- if not at a discount -- you are also getting the company for free, as was the case with Apple years ago.
And just like investors who looked the Apple gift horse in the mouth years ago, and regretted not buying the stock in the mid 90s, investors who look the BlackBerry gift horse in the mouth today will also end up having the same regrets several years down the road.
Disclosure: I have no positions in any stocks mentioned, and no plans to initiate any positions within the next 72 hours. I wrote this article myself, and it expresses my own opinions. I am not receiving compensation for it (other than from Seeking Alpha). I have no business relationship with any company whose stock is mentioned in this article.