General Dynamics (NYSE:GD) satiated its investors' hunger in last two years by surpassing the benchmark index, Dow Jones, in terms of investment returns. In this period, the company gave a return of around 45%, while investors generated a return of only 14% from Dow Jones. General Dynamics' stock is currently trading at a trailing twelve month PE of 12.98 and a forward PE of 11.58, against the industry average PE of 14.63. We expect this stock's bullish run will continue, and there is still ample room for an upside. We are also bullish on the company's individual business segment, especially combat and aerospace.
Combating revenue
General Dynamics has a balanced product portfolio divided into four main categories: aerospace, combat systems, marine systems, and information technology systems. In the second quarter of 2013, analysts were expecting its revenue to decline by 12%, but it slid down by around 28%, year over year.
This negative growth rate in the combat segment was due to lesser number of new orders. However, in July 2013 the Defense Security Cooperation Agency, or DSCA, gave notification to the U.S. Congress regarding three military deals with Iraq, in order to provide military aid and logistical support to the country. In the proposed deal, DSCA is planning to give 50 eight wheeled combating vehicles, M1135 - Stryker, to Iraq for around $900 million. These Stryker vehicles are under General Dynamics' combat segment, and this defense deal would enhance the company's deflated sales.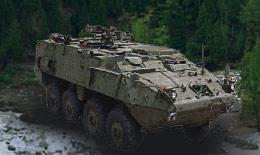 Source: Wikipedia
Competition
Meanwhile, General Dynamics recorded revenue of $2.05 billion in the second quarter of 2013, up 29% year over year in the aerospace segment. In this period, production of the newest Gulfstream G650 aircrafts accelerated, and it delivered 36 aircrafts. In the Gulfstream aircraft family, the G650 aircraft is a luxurious, spacious plane with rich look that is becoming popular among the ultra-rich class. General Dynamics is positioning this aircraft to rising millionaires in emerging countries and senior company executives. The company has an order backlog of around 200 aircrafts for the G650 business jet. General Dynamics plans to deliver around 142 aircrafts in this fiscal year. General Dynamics will leverage the Gulfstream G650's popularity, and it is expected to over perform other aircrafts in this range. As a result of better performance in its aerospace segment, analysts expect that this segment's revenue will increase by 15% this year to $8.01 billion.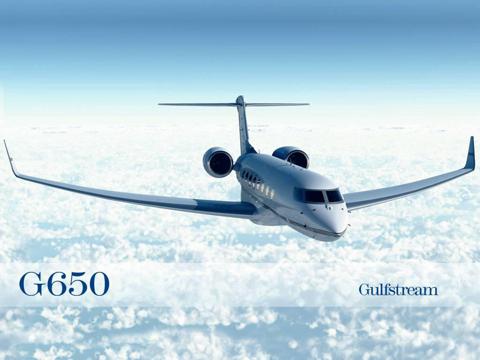 Click to enlarge
Source: l-lint.com
In the same commercial aerospace segment, General Dynamics's competitor Boeing (NYSE:BA) reported a net profit of around $1.1 billion in the second quarter of 2013, up 13% year over year. Boeing is betting on the 787 series aircraft, which has more passenger capacity that helps air-carriers control costs. There were safety concerns raised by various regulators around the world due to the Lithium batteries used in Boeing 787s. These batteries were emitting smoke and sometimes erupting into fire when over-heated. However, the company resolved this issue by replacing the batteries in 787 aircrafts. Even though there were concerns, airlines are purchasing the Boeing 787 due to its unmatchable features and usefulness. Boeing recorded new orders of around $40 billion in its commercial aircraft segment, and with these developments, the company's revenue in this segment will surge from $49 billion last year to $52 billion in this fiscal year.
General Dynamics and Lockheed Martin (NYSE:LMT) compete in space equipment, and in July 2013, General Dynamics bagged a $900 million contract for 15 years from the Space and Naval Warfare Systems Center. It will provide enterprise solutions to manage operational efficiency, flexibility, and cost reduction. Lockheed Martin also received a $107 million contract from the U.S. Air Force for supplying space fence radar systems. Space fence radar systems will replace the Air Force Space Surveillance System, which was used in earlier space operations. The company has several other contracts with the Department of Defense, NASA, and the Department of Homeland Security in this segment. However, since the U.S. government stopped its space shuttle programs, Lockheed Martin's revenue remained flat, and in this year it is expected to drop by 8% to $7.8 billion in this segment.
Conclusion:
The declining revenue of General Dynamics from its combat system segment is expected to rise, as it will secure a $900 million contract from DSCA. Moreover, the company's revenue is set to further increase as a result of its Gulfstream G650 aircrafts and the new contract for space systems. Considering these factors, we recommend a "buy" for this stock for long-term gains.
Disclosure: I have no positions in any stocks mentioned, and no plans to initiate any positions within the next 72 hours. I wrote this article myself, and it expresses my own opinions. I am not receiving compensation for it (other than from Seeking Alpha). I have no business relationship with any company whose stock is mentioned in this article.