By David Russell
Knight Capital Group (NITE) has spent the last month consolidating around an eight-year high, and now the bulls are looking for another push.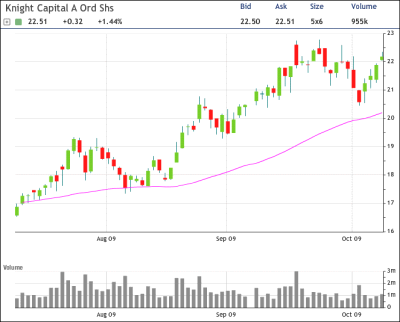 optionMONSTER's Heat Seeker tracking system detected unusual activity in October and November call contracts. The October 22.50 strikes traded 2,984 times against open interest of 1,774 contracts, with institutional-sized purchases for $0.50 to $0.55.

NITE rose 1.44 percent to $22.51 in early afternoon trading, and at one point climbed above $22.90 for the first time since February 2001.

The provider of electronic-trading services crushed analysts' sales and earnings forecasts the last time it published results on July 22. NITE, up 35 percent in the past three months, needs to climb about 2 percent by expiration next Friday for the October 22.50 calls bought today to turn a profit.

Other investors purchased the November 25 calls for $0.45 to $0.55. Volume in the strike totaled 1,490 contracts, almost 19 times existing open interest. The October 25 calls were also active, with more than 1,900 contracts changing hands, although the transactions were mixed between purchases and sales.

Overall options volume in the name is six times greater than average today. Calls outnumbered puts by 8 to 1.
(Chart courtesy of tradeMONSTER)