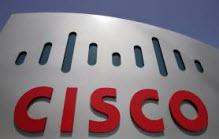 Executive Summary
Cisco Systems, Inc. (NASDAQ:CSCO) is one of my favorite stocks. I made my initial call to buy the stock in December of last year at $20. The stock had just broken out of a long-term downtrend. Cisco's stock was up over 30% until the recent quarterly earnings were reported. John Chambers, Cisco's CEO, reported record current quarterly results yet reduced guidance for the upcoming quarter.
Chambers stated next quarter revenue would be down a mere 1% and he was laying off 5% of the workforce. Afterwards, the stock sold off approximately 10%, shaving somewhere around $10 billion in market capitalization from the company. This was an obvious major overreaction, consequently, a major opportunity now exists. Lost in the noise was the fact that EPS guidance was maintained by Chambers. This isn't the first time it has happened either. Nearly every pullback related to his guidance has been a great buying opportunity. This time will be no different. In the following sections I will perform a current analysis on the stock and lay out my bullish case going forward.
Recent Earnings Results Quick Recap
On 8/14/2013, CSCO reported fourth quarter 2013 earnings of $0.52 per share. This result was in-line with the consensus of the 34 analysts following the company and beat last year's fourth quarter results by 10.64%. Highlights were revenue guidance was reduced by 1% due to weakness in Asia, 4,000 jobs will be cut and the EPS estimate was maintained.
Market Comparison

Cisco looks strong in comparison to the industry, sector and the S&P 500. The big stand out is the huge discount in Cisco according to P/E ratio comparisons. The stock is trading for a 30% discount to the S&P 500 even though Cisco's growth rate is expected to be nearly 30% higher next year. Another major positive is the PEG Ratio. Cisco's is 1.4, this is about a 50% discount to the average PEG ratio of stocks in the S&P 500 and Technology sector specifically. Not a bad deal. The question is - can they keep it up?
Fundamental Peer Comparison
Please review the following analysis of key fundamentals regarding Cisco vs. its peers and industry averages. The tables were provided by Scottrade.
Profitability

Across the board, Cisco is outperforming the industry and its peers with regard to profitability. With gross margins slightly better than its peers and the industry average Cisco is performing well and beginning to gain traction. Moreover, when it comes to net profit margins Cisco is doing considerably better than its peers and the industry average. This tells me Cisco is doing a good job of managing overhead and fixed cost. This is good news.
Valuation

Cisco looks good when it comes to valuation. The P/E comparisons have Cisco trading substantially lower than its peers and the industry average. Cisco's P/E ratio being below the industry average signals that investors are not willing to pay a premium for this stock, so, if you're looking for value, Cisco has it, just hope it doesn't turn out to be a trap.
Cisco is trading for 10 times free cash flow. The company is a massive cash cow. The cash flow more than makes up for the price to tangible book value. Efficient and effective use of this cash flow is one of the keys to success for Cisco.
Sales Growth

Sales growth is meager and dividend growth is lacking. Nevertheless, EPS growth is up 25% and much better than its peers at negative 3% yet on par with the industry average of 26%. EPS leads the way. This is a good sign the company can continue to accelerate growth. Moreover, during the past year, earnings growth has outpaced its historical five-year growth rate.
Financial Strength

As you can see, Cisco is not highly leveraged. Cisco has plenty of liquidity and cash reserves. The issue for Cisco is how to use the cash wisely and stay on a path to increased profits. You can see how one could get distracted with all the evolving opportunities in the marketplace. Therefore, not every acquisition is going to be a home run. Finally, a 33% payout ratio regarding the current dividend is for the most part inline with peers and the industry average. Cisco has been steadily buying back shares on plan as well.
Management Effectiveness

Management's effective use of company profits and assets is probably the most important data to analyze when deciding to invest in a company. Chambers runs a tight ship. Cisco's management is doing a good job regarding ROA, ROE and ROI, but there is always room for improvement. Cisco has almost caught up to its peers regarding ROE. This is a good sign. It shows although it is a huge company it is becoming as nimble as smaller competitors. Another big positive is the ROI comparison. Cisco's ROI blows the industry average away by nearly 100%. Cisco's is 13% while the industry average is only 7%. The main point is I expect these numbers to continue to improve.
Insider Activity
I like to check the insider activity to see if there is any unusual activity going on with insiders - vast amounts of sells or buying. Cisco's insider report seems benign to me, neither bad nor good. According to Scottrade, Cisco has not reported any insider buys through the SEC in the past year. It may have reported transaction activity through other regulatory bodies. As a result, the activity reported may not reflect the complete activity by the company's insiders.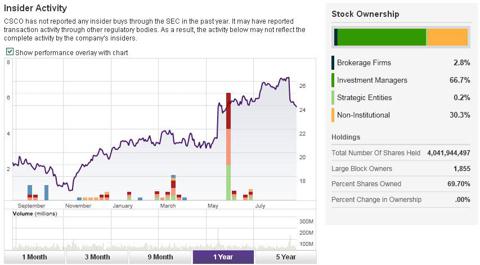 Positive Catalysts
Financial Strength
Cisco has an enormous amount of firepower. It can move into a new industry and start making profits in short order by acquisition and expansion. Cisco's strong financial position allows the company to do a high level of R&D which leads to opportunity for profits.
Well Managed
The calls for Chambers' head were heard again on Wall Street after another earning conference call debacle for Cisco regarding forward guidance. Some feel he has not learned from previous times when he spooked investors. Chambers is just really good at pointing out all the potential risks, but that is why I like him. Moreover, where there is great risk there is great reward. Chambers will keep Cisco's eye on the prize.
Growth Focus
The positive growth in certain areas fell victim to the headline of 4,000 job cuts. The Data Center division was up 43% followed by Wireless at 32%, Video at 23% and Switching at 5%. Cisco saw a 6% increase in revenues from the Public Sector and Europe. Cisco is constantly in the process of redeploying capital and employees to areas of higher growth.
Downside Risks
Competitive Pressures
The industry is subject to cyclicality and abrupt fluctuations in pricing for products and services. Fortunately, Cisco is often the one applying the pressure. The company has done a great job of addressing the big picture for its clients. In doing so, Cisco can maximize profits by delivering turnkey operations.
Production Cost Risk
Companies are always looking for ways to cut costs. Sometimes hidden or unexpected costs occur during the process which results in less-than-expected unit cost reductions. This will also have a negative effect on profits.
Macro Market Exposure
The month of August has been one of highs and lows. It seems the summer doldrums may finally be taking effect as the performance of the major averages have turned south. The market looks frothy to me. The latest Bull Run looks extremely long in the tooth at over four years. Why not lock in some profits now? A rising tide lifts all boats, but it can sink them just as easily. Stocks tend to take the stairs up and the elevator down. Watch over your profits.
Execution Risk
The fact that Cisco is so formidable regarding to size and strength is both good and bad. With a company of this size, the constant redeployment of personnel and assets can become a money drain if not managed closely. Cisco will need to stay on track regarding the streamlining of operations to be successful.
Conclusion
I posit Cisco may have some more downside near-term given the recent softness in global markets and Chambers' guidance. I see the stock moving sideways to slightly lower in the near-term. Nevertheless, this sell off is a huge buying opportunity for market participants. I see the stock hitting $30 within the next twelve months. This implies a greater than 30% upside for Cisco's stock. What I like most about Cisco is its focus on growth. While the stock sold off due to next quarter's sales being light, significant expansion in certain groups were noted and EPS estimates were maintained.
Chambers has a penchant for causing overreactions by shareholders. His forthright nature and matter of fact style often leaves people running for the exits. Chambers does not cherry coat issues or play the blame game. No punches get pulled. He tells it like it is. The issue materializes when shareholders attempt to interpret him. Chambers is sure to fully disclose any and all risks. With Chambers' intelligence and thoroughness, he often thinks of concerns others never even contemplated. This may account for a portion of the sell off. Chambers' actually just gave everyone a 10% off coupon on the stock.
The bottom line is Cisco will continue to effectively execute a strategy of deploying assets and redeploying funds and personnel into its growth businesses. I have faith Cisco will continue to improve EPS from here and return even more wealth to shareholders. I plan to layer into a position over time to reduce risk. I think the macro market sell off isn't over just yet and Cisco's stock will not be immune to a macro market selloff.
Disclosure: I have no positions in any stocks mentioned, and no plans to initiate any positions within the next 72 hours. I wrote this article myself, and it expresses my own opinions. I am not receiving compensation for it (other than from Seeking Alpha). I have no business relationship with any company whose stock is mentioned in this article.
Additional disclosure: This is not an endorsement to buy or sell securities. Investing in securities carries with it very high risks. The information contained within this article is for informational purposes only and is subject to change at any time. Do your own due diligence and consult with a licensed professional before making any investment.