Hanger Orthopedic Group, Inc. (HGR) recently made three acquisitions totaling $10.7 million in annual net revenues. These acquisitions are: Creative Orthotics & Prosthetics, Inc.; Custom Orthopedics of Wyoming; and certain orthotics and prosthetics assets from the Hospital of the University of Pennsylvania. These acquisitions will enable Hanger to add patient care centers to its existing markets in New York, Wyoming and Pennsylvania.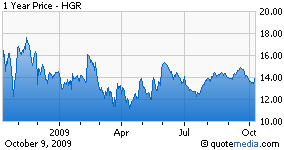 Hanger will fund these acquisitions from internally generated cash flows. It is estimated that the acquisitions will be accretive to Hanger's earnings once the integration process is over.

The acquisitions strengthen Hanger's leadership position in the orthotic and prosthetic (O&P) market and bolster its top-line. Hanger Orthopedic Group, based in Bethesda, MD, provides orthotic and prosthetic patient care services through its 671 patient care centers in the U.S. The company operates through four business units: patient care, distribution, Linkia and Innovative Neurotronics.

Patient care consists of orthotic and prosthetic practice centers throughout the nation. Distribution comprises distribution centers dealing with the supply chain of orthotic and prosthetic components to Hanger and third party patient care centers. Linkia is the first and the only network management provider for the orthotics and prosthetics industry. Innovative Neurotronics provides emerging neuromuscular technologies developed through independent research in a collaborative effort with industry suppliers worldwide.

As the market leader, Hanger has economies of scale unmatched by other competitors. To further drive awareness and market share in a 1-2% volume growth market, the company's field force provides extensive education to physicians. To build relationships, the company is attempting to become a one-stop shop by offering a comprehensive total care package to patients that physicians can rely upon.

Hanger competes with Orthofix International NV (OFIXt), Conmed Corporation (NASDAQ:CNMD), Exactech Inc. (EXAC) and Owens & Minor Inc. (OMI) in the orthotic and prosthetic space.