Urban planning research has been my focus for the past several years. As an associate of the Urban Futures Lab at the University of Colorado, I have published material on topics ranging from urban development in China to sustainable, multi-modal transportation systems. I have had the opportunity to lecture in China while teaching an urban spatial design studio in Yunnan Province. The time I have spent studying growth in China has given me an appreciation for the dynamic urban setting that is emerging and the unique relationships that people are forming with the urban environment. I understand that affordable, effective and clean transportation is a fundamental component of a modern city. The majority of developed cities are influenced by massive road infrastructure and are increasingly dependent on passenger vehicle transportation. The resulting traffic congestion is a significant contributor to air pollution as well as other social and economic problems. On a global scale, approximately 23% of CO2 emission is caused by the combustion of fossil fuels. In order to respond to the emerging demands of climate change and resource scarcity, cities across the globe are adopting transportation systems that accommodate compact travel, maximize fuel efficiency and reduce harmful emissions. Many businesses are also developing a new approach to urban transportation. One of only two US listed relatively pure play EV companies that is set to provide a great example in Chinese cities is Nasdaq listed Kandi Technologies (NASDAQ:KNDI) based in Zhejiang Province. Upon observation during the past several months, Kandi is proving to have an effective combination of advanced technology and business strategy to supply an innovative and sustainable electric vehicle transport option.
The electric vehicle is an emerging technology that retains the character of passenger vehicle travel without emitting the pollution generated by fossil fuels. Recently many investors witnessed the only other listed pure electric vehicle company, Nasdaq listed Tesla Motors Inc. (NASDAQ:TSLA) price per share climb as the company turned profitable on a non-GAAP basis in the first half of this year. This followed the release of the Model-S, which won several major awards, including Motor Trend Car of the Year 2013. Tesla's success reflects an emerging trend in sustainable transportation. Increased popularity and understanding of electric vehicles can be a significant driver of charging infrastructure development and government incentives. It is important for planners to understand the social and economic viability of this emerging technology in order for it to gain significant policy and planning support. Urban planners constantly attempt to understand and accommodate popular interests in the planning process. When significant economic interest is demonstrated for a sustainable technology, it is likely that relevant infrastructure and policy will be supported during the planning and design process. Tesla also announced entry into the Chinese marketplace and is positioned to supply electric vehicles to upper-middle class citizens in Beijing and Hong Kong. Tesla has an opportunity to promote its high end electric sedans to a certain niche, but with a luxury vehicle price, it will not be accessible to the vast majority of Chinese citizens. Hong Kong rather than Beijing seems more likely to embrace Tesla Motors with higher demand for luxury vehicles and extensive charging infrastructure. Majority Chinese consumer demand reflects a need for affordable, convenient and compact transportation. The Chinese electric vehicle manufacturer, Kandi Technologies Group, is poised to respond to this demand by initiating a major electric vehicle operation with advanced disruptive technology and support from private investors, State Grid, and multiple levels of government.
In February, Kandi Technologies Group Inc. formed a joint venture with a subsidiary of China's #1 manufacturer of passenger vehicles, Geely Holdings (OTCPK:GELYF) (HK.0175) to form Zhejiang Kandi Electric Vehicles Investment Co. in Zhejiang Province, China. The combination of Kandi Chairman Xiaoming Hu's experience with electric vehicle technology dating back to the 1980s and the business presence of Chairman Shufu Li of Geely present formidable leadership for this new JV operation. While Kandi's recent Q2 results may have been disappointing to some as it primarily reflected the operation of the company's legacy recreational vehicle business, it also indicated some monumental achievements. Kandi broke through the pack of electric vehicle companies' reliance on subsidies by introducing the presence of private investors who support Kandi's car share business model. Private interests, combined with the Geely joint venture, provide a wealth of financial and technological support for the initial development of infrastructure and facilities. In addition, State Grid of China continually expresses its interest in developing electric vehicles and battery swapping infrastructure to improve the dynamics of their smart grid capability.
A recent publication by Chairman Liu Zhenya of the State Grid Corporation of China describes an energy outlook for China. State Grid is responsible for over a billion populace and approximately 85% of power generation and distribution in China. Chairman Liu reserved a section in his book for the development of electric vehicles in which he describes some of China's technological capabilities and advantages in the electric vehicle industry. He mentions battery technology and swapping facilities are crucial components to China's "leapfrog development of electric vehicles." (Liu 2013). In addition, The Municipal Economic Commission Director of the Auto Industry in Hangzhou, He Xiulin, has repeatedly expressed his support for Kandi's Chairman Hu, citing Kandi's patent quick battery exchange technology as a perfect fit to the battery swap approach promoted by Hangzhou Power Authority and State Grid. Xiulin also recently confirmed the construction of 67 battery swapping stations with 17 currently operating. These battery swapping stations support a fleet of electric vehicles including buses, taxis and Kandi private lease vehicles. In March, Kandi initiated a private vehicle leasing pilot program that delivered 30 for-trial Kandi JNJ6290EV compact electric vehicles to consumers in Hangzhou. Kandi is scheduled to provide 20,000 vehicles valued to Kandi at about 800,000,000 yuan ($136 million) for the leasing program in Hangzhou alone and there is evidence that those vehicles are currently being assembled in Kandi's Changxing facility. The leasing pilot is utilizing the existing State Grid battery swapping and charging infrastructure. A local Hangzhou news broadcast described the lease program and estimates that approximately 9,000 customers have pre-signed up for the program and await government subsidies before the official launch.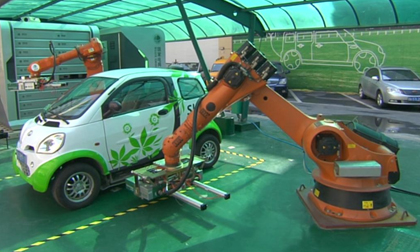 Kandi Proprietary Quick Battery Exchange with State Grid Developed Robots
(Click Here for Demo Video)
The announcement of highly anticipated subsidies has been projected throughout this summer and is now expected to be introduced in late August or early September. The most recent speculation is that competing local interests in Beijing may be delaying the national announcement of electric vehicle incentives. There is, however, strong evidence of support for electric vehicle market penetration at all levels of government, from the Hangzhou Urban Planning Bureau to the PRC State Council. The Hangzhou Urban Planning Bureau gives priority to public transportation and supports the development of compact cars in its Overall Master Plan spanning to 2020. In 2012, several major departments of the PRC State Council developed the New Energy Automotive Development Program. Participants including the Ministry of Industry and Information Technology, National Development and Reform Commission, Ministry of Science, Ministry of Finance and other departments drafted the New Energy Vehicle Industry Development Plan 2012-2020. The intention of the plan is to support new energy vehicles that reduce fuel consumption, ease fuel supply and demand, reduce emissions, and promote China's emerging automobile industry. The plan projects China will have 500,000 electric vehicles on the road in 2015 and up to 2 million by 2020 due to technological advancements and fiscal policy.
The World Bank has taken notice of China's new energy vehicle plan and aligns it with some of the World Bank's goals in the region. The limited supply of fossil fuels available within China has been described by the World Bank as the primary driver for the development of electric vehicle transportation throughout the country. China surpassed the United States this year as the world's largest importer of oil and shares a common anxiety of relying on imports for greater than 50% of oil consumed. On the other hand, China controls more rare earth metals than any other country and is the second largest supplier of lithium batteries and related technology. One study completed by the World Bank estimates that urban transportation energy consumption and GHG emission are increasing by 5% or more per year in major Chinese cities. Rapidly developing countries, such as China, face the challenge of expanding vehicle oriented infrastructure while preserving the safety and mobility of many non-car owners.
In addition to Kandi in China, electric vehicles are being incorporated into innovative public transportation models in several cities across the globe. One major employer of electric vehicles in the United States and Europe is Car2Go, a subsidiary of Daimler AG. Car2Go operates in many cities and has deployed 300 electric vehicles each in San Diego, Austin, Amsterdam and Stuttgart. Another popular EV car share program is I-GO, which is located in Chicago, IL and deploys 36 electric vehicles through 18 solar charging stations. Tesla has also deployed 100 Model-S vehicles to a car share program in Las Vegas named Project 100. Strong economic support was demonstrated for gas powered car share business when Avis Budget Group (NASDAQ:CAR) purchased Zip Car for nearly $600 million including existing debt (roughly five times Kandi's current market cap). While not yet profitable, Zip Car is currently the largest gas powered car share operation in the world and its potential for growth was magnified by the purchase in January. So far these existing operations are receiving plenty of positive feedback. However, limited vehicle availability, long charging times and the occasional lack of customer support remain concerns for electric vehicle sharing customers. Most electric vehicle sharing operations have been limited to 300 electric vehicles or less because extensive charging infrastructure and battery technology is not available. It is becoming apparent that advanced technology, private investment and government support are major factors leading to the establishment and maintenance of a large scale EV car sharing operation.
In Kandi's case, the combination of advanced multifaceted technology, private interest, State Grid collaboration and State Council policy create a dynamic and solid foundation for its large scale operation to develop. Chinese urban development, land use intensification and issues associated with vehicle transportation set the stage for such an operation to thrive. The existing population density provides a surplus of consumers. It also presents an adequate labor force for customer service and vehicle support. In a recent video of a press conference in Hangzhou, Kandi Technologies' Chairman Hu expressed that his primary concern for the operation was being able to supply enough vehicles to meet the demand created by driving restrictions in Hangzhou. Kandi and Geely have responded to the projected demand by developing the current multi-use facility in Jinhua to accommodate manufacturing of 30,000 expandable to 300,000 electric vehicles and establishing additional large manufacturing facilities in several cities throughout China in the provinces of Zhejiang, Shandong and Hainan. Kandi is set to perform adequately with three or more expandable facilities producing 100,000 vehicles annually, each expandable to an annual capacity of 300,000 vehicles. It seems that for Kandi, government subsidies are not the only business catalyst as several beneficial private and governmental relationships have also recently emerged to finance the construction of charging infrastructure.
The Kandi-Geely joint venture company, Zhejiang Kandi Electric Vehicles, launched a pilot operation of its car share program in the Xihu District of Hangzhou. Currently, 100 Kandi vehicles are available for rent for about $3.25 per hour. The first high rise "stereo" charging garage is now operational in Gudang Technology park and managed by a quasi-related third entity named ZuoZhongYou Electric Vehicle Service Co. (ZZY), a minority owned subsidiary of Zhejiang Kandi Electric Vehicles currently comprised of the Company and two China based private venture capital firms, Jiaxing Jiale Investment Partnership and Jiaxing Jiazheng Investment Partnership Enterprise. The latter will provide all capital necessary to build stereo charging garages and purchase the fleet of vehicles. The development and operation of this project does not require subsidies and demonstrates Kandi's solid foundation. On August 8, 2013, Xihu District Mayor Dangqi Zhu visited the facility in Gudang Technology park and commented on the positive effect it will have on the urban commute in the area. Mayor Zhu stated, "our government will continue to provide the best support to Kandi to ensure the successful execution of the Hangzhou public EV sharing system. We hope Xihu District becomes a national model of 'Green Transportation, Intelligent China.'"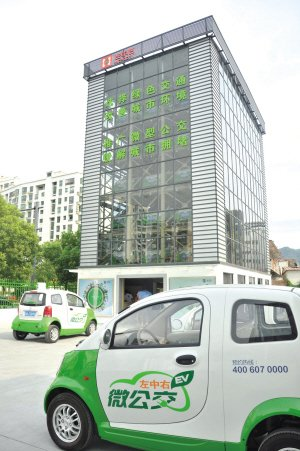 First Operational Hangzhou ZZY CarShare Garage with 100 Kandi Cars Dedicated
(Click Here for Demo Video)
On August 9th, Kandi announced the construction of four additional stereo charging garages is on schedule to be completed in September. Incorporated into the municipal transit system as a microbus last mile solution, the City of Hangzhou expects completion of between 30-40 garages in Hangzhou before the end of 2013, as does the General Manager of ZZY. The garages are expected to accommodate 5,000-10,000 vehicles during this first phase of this project. Subsequent development of the car share network in Hangzhou is expected to reach 100,000 vehicles by 2017. Upon this build-out, Kandi would be operating the largest purely electric vehicle sharing program in the world. Agreements to develop facilities and operations in other provinces such as Chengdu in Szechuan Province, Wanning in Hainan Province, Changxing in Zhejiang Province and Shanghai (which expects to be operational by the end of this year) indicate that Kandi's success will not be constrained to Hangzhou. Once proven, Kandi's EV leasing and car share programs will have the potential to occupy a significant portion of the growing market share that is projected for new energy vehicles in China. Please refer to the following link for a map of Kandi's facilities, operations and relative source info.
Spatial Analysis of Kandi Technologies
I understand that Kandi has been the subject of a spirited debate during the past several months. Many investors have read significant accusations regarding the company's financing, management and relationship with Geely. It was this strong discussion that led me to further analyze Kandi's operation in China. The track record of certain Chinese companies have given investors an uneasy feeling about growth stocks in China. This uneasiness is magnified by the difficulty in receiving and translating information, which allows for the creation of assumptions and supposition. I prefer not to play into the discussion of conjecture and would rather take a look at facts as they are revealed. Instead of relying on market opinions to form my argument, I have decided to view this situation from an operational and policy perspective. Upon studying Kandi's operation as an urban planning researcher, I am increasingly confident and interested in its subsequent growth. My experience visiting Chinese cities and studying their development, combined with evidence from press releases and Chinese media has led me to recognize Kandi's near-term growth potential and the exceptional long-term investment opportunity that it provides. Kandi Chairman Hu's battery technology and Geely's business prowess should realize a significant niche in the energy and urban transportation industries of the near future. The company will provide great social, economic and environmental benefits to residents of Chinese cities while setting a technological example for electric vehicle charging systems and business models around the world. In order to increase my understanding of the company, I plan to travel to Hangzhou in the coming months and will take a closer look into Kandi's operations. I plan to prepare an in-depth analysis of the operation in Zhejiang Province in order to shine a light on a few existing controversial topics. As both an urban planner and investor, I look forward to observing a great concept being realized and recording the short-term implications of a modified public transportation system. Certainly, the Kandi story is just beginning.
Resource:
Zhenya, Liu. State Grid Corporation of China. (2013) Electric Power and Energy in China. © China Electric Power Press. John Wiley and Sons Singapore Pte. Ltd. Singapore.
Disclosure: I am long KNDI. I wrote this article myself, and it expresses my own opinions. I am not receiving compensation for it (other than from Seeking Alpha). I have no business relationship with any company whose stock is mentioned in this article.