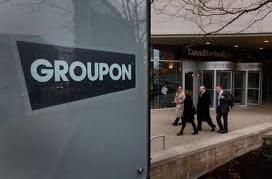 Executive Summary
Groupon, Inc. (NASDAQ:GRPN) has doubled this year. The stock is up 103% year-to-date, yet has waned in recent weeks after hitting a 52-week high in early August based on earnings. The stock is down around 15% since. I say starting a position in Groupon anywhere close to $10 a share is a great buy.
In my article published in November of 2012, I suggested buying the stock. The stock was trading for $4.14 at the time. Since, the stock is up approximately 138%. In the article, I stated the stock was starting to look cheap as it was down 85% from its IPO price. Furthermore, the announcement of significant involvement by shareholder activists Tiger Global Investments, George Soros and Paul Tudor Jones seemed like a talent pool with pretty good odds of creating value. Well, this dream team of talent has proved me right. The team has provided the extra push to get the company firing on all cylinders, fueling the appreciation in the stock. See chart below provided by Finviz.com.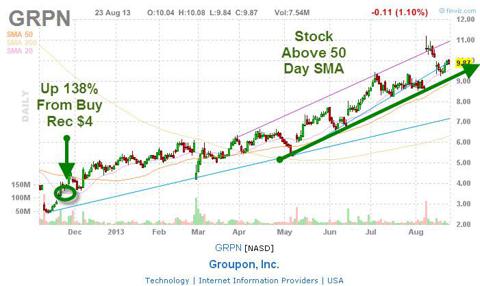 Click to enlarge
The fact of the matter is I don't think the run is over, this is just the beginning. In the following sections I will lay out my bull case regarding Groupon's stock going forward.
Recent Quarterly Earnings Quick Recap
On 8/7/2013, Groupon popped 25.9% after beating second quarter revenue estimates on the back of strong North American growth. Moreover, the company announced a $300 million share buyback and ended its CEO search. New full-time CEO Eric Lefkofsky didn't lack for confidence during his CNBC talk. "Groupon should be one of the great e-commerce companies in the world."
Market Comparison

Click to enlarge
Groupon looks richly priced when compared to industry, sector and the S&P 500. Groupon is not currently profitable. Where Groupon shines is in the EPS growth category, which just so happens to be the most important as well. A one-year EPS growth rate of 89.95% is very good. The growth rate is much higher than Groupon's peers or the S&P 500 in general.
Fundamental Analysis
Please review the following analysis of key fundamentals regarding Groupon. The tables were provided by Scottrade.
Profitability

Click to enlarge
Groupon is not currently profitable. This is one of the factors that make this a speculative stock. I'm bullish on the stock due to the trajectory of the growth rate and the improving profit margins. Groupon is fast approaching the breakeven point, has plenty of cash and no debt. The company is on the right track.
Sales Growth
The stand out statistic was North America revenue. North American revenue, 62% of total revenue, was up 45% year-over-year. North American billings were up 30% year-over-year as well. The take rate rose in North America, but fell overseas.
Financial Strength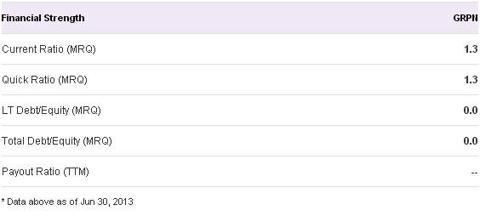 Click to enlarge
Somewhat out of the norm, Groupon is in good shape regarding the balance sheet. The company has no long term debt and the current and quick ratios look fine. This puts Groupon a good position strategically. The company does not have to make any desperate moves to stay solvent. This is what you want to see as a shareholder.
Management Effectiveness

Click to enlarge
Management's effective use of company profits and assets is probably the most important data to analyze when deciding to invest in a company. Groupon's management is behind the curve regarding ROA, ROE and ROI. The good thing is these ratios are all improving. The company is in the midst of restructuring as well. As the company matures, synergies will be uncovered and exploited at the same time wasteful operations will be identified and eliminated.
Insider Activity
According to Scottrade, there have been no insider stock purchases in Groupon. I like to check the insider activity to see if there is any unusual activity going on with insiders. Vast amounts of sells or buying. Groupon's insider report looks good to me.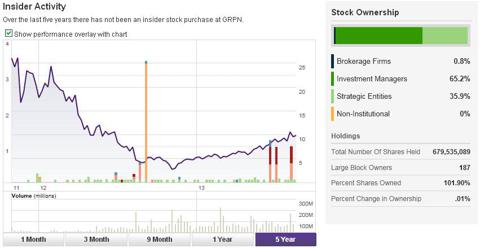 Click to enlarge
Positive Catalysts
CEO Selected
Groupon has named interim chief executive, Eric Lefkofsky, as the company's leader. Lefkofsky has proven himself. He delivered higher revenue for his first full quarter in charge. Lefkofsky has pushed Groupon's mobile strategy. The company said 50% of its North American transactions came through smartphones and tablets, against 30% a year ago. It appears they have the right person for the job.
Repeat Customers
According to a research note from Piper Jaffray, a July survey of buyers showed that 65% of respondents who had purchased a Groupon deal planned on making another such purchase in the next three or six months. The survey was of 200 Groupon purchasers, and the results are said to reflect the company's recent strength in North America. This is very promising data. This means customers are finding value in the service. Satisfied customers are the most important asset a company can have.
Online Marketing Strategy
Groupon Inc. is borrowing an online marketing strategy from Google Inc. (NASDAQ:GOOG), Yahoo Inc. (NASDAQ:YHOO) and others. Groupon plans on paying bloggers a commission for bringing consumers to its deals. The Groupon Partner Network announced Monday gives a restaurant blogger, for example, access to ads for Groupon offers that feature local eateries. This kind of Internet advertising puts Groupon into competition with Google AdWords and Yahoo Bing Network which have proven to be lucrative platforms.
Downside Risk
Competitive Pressures
Groupon is competing in a highly volatile industry with supposedly low barriers for entry. Who knows where people will go to get a good deal next. Will Groupon be able to keep up with the fickle nature of the buying public? At this point it seems they have the right stuff. Needless to say, this could change on a dime.
Execution Risk
The fact that Groupon has done so well so far is a testament to management. Groupon has made in out of the intensive care unit, now it is in the rehabilitation center and will need to perform. The company will need to stay on track to be successful.
Conclusion
I remain bullish on Groupon going forward. Even though the stock has more than doubled over the past year, the stock still has much more room to run. Furthermore, the recent pullback is actually a great buying opportunity. With Lefkofsky now in full control, the company is definitely on the comeback trail. Groupon is focused on increasing growth and expanding profit margins. I believe it will continue to be successful. If you chose to start a position, I would definitely layer in to reduce risk.
Disclosure: I have no positions in any stocks mentioned, and no plans to initiate any positions within the next 72 hours. I wrote this article myself, and it expresses my own opinions. I am not receiving compensation for it (other than from Seeking Alpha). I have no business relationship with any company whose stock is mentioned in this article.
Additional disclosure: This is not an endorsement to buy or sell securities. Investing in securities carries with it very high risks. The information contained within this article is for informational purposes only and is subject to change at any time. Do your own due diligence and consult with a licensed professional before making any investment.