Micros (NASDAQ:MCRS) is a US$3.2bn EV company (US$3.8bn market cap, just over US$600m net cash) that many of you - as you are reading this - are probably scratching your head and thinking 'I have heard of the name, but what do they do?' It may or may not help to know that Micros is an acronym for Modular Integrated Cash Register Operating Systems.
It is likely that you have come into contact with the company at a hotel or a restaurant. Here is how Micros themselves describe their range of operations:
MICROS Systems, Inc. provides leading enterprise-wide applications, services and hardware for the hospitality and retail industries. Serving an extensive portfolio of clients worldwide, MICROS solutions are utilized in over 567,000 hotels, casinos, table and quick service restaurants, retail, leisure and entertainment, fuel and convenience, cruise, and travel operations in more than 180 countries, and on all seven continents
They additionally described 'Our MICROS payment gateway as a highly secured global payment platform, which we are using as a primary connector from our enterprise applications to regional and global payment networks'. This sounds potentially a high barriers-to-entry area as once installed clients would be slow to change them.
Cutting and dicing the business a bit further gives the following factual insights -
Industry split (by revenue) - 38% restaurants, 37% hotels, 25% restaurants
Revenue split (by type) - 45% recurring, 23% services, 21% hardware, 11% software
Geographic split (by revenue) - 45% Europe/M East, 38% North America, 17% emerging
The company reported their full year numbers late last week. So what were the highlights? Here are the headline numbers:

In summary, revenues up (consolidated organic revenue growth up 0.2%) but operating incomes/EPS up less (implying lower margins which the company said was due to an acquisition during the year - of the UK company Torex). Geographically sales were up in Asia and Europe (weak UK but strong elsewhere) but fell in North America (which the company blamed on tough comparisons).
The 2014 guidance is a revenue range of US$1.295 billion to US$1.32 billion, so up a few percent year-on-year. Non-GAAP EPS is estimated at $2.46 to $2.50 up a similar percentage to revenues (margins up but the tax rate up too).
Additionally, here are a few key thoughts from the transcript, first division-by-division:
Restaurants - 'This verticals revenue grew 2.9% on a fiscal year basis and 5.4% quarter-over-quarter, and we are seeing increased demand in fiscal 2014'. Continued new client wins accompanied by deeper usage by existing customers (the company specifically name checked the 'successful release of the inMotion smartphone application') was behind this.
Hotels - 'revenue grew 0.8% on a fiscal year basis, with a 2.5% decline quarter-over-quarter. We think that this segment will grow modestly in fiscal year 2014 and accelerate its growth in fiscal year 2015'. The company notes that particularly in North America new hotels are now starting to be opened (so new business opportunities for them). During the year the company won a new high profile Marriot hotel chain contract and also continued to push out to customers its new Opera 9 product to assist with reservations and other requirements. Product upgrades not only tie in customers but also tend to lead to higher recurring fees and revenues.
Retail - 'On an organic basis, retail grew 3.5% for the fiscal year and 4.9% quarter-over-quarter'. The company notes in its other comments that it is only active in 40 countries versus 180 countries for the restaurants/hotels divisions. That sounds like a good growth opportunity.
Geographically the comment on the conference call that was most striking was this one:
'The toughest challenge for us going into this upcoming year is going to be Europe, where I think we are well positioned competitively, but the market is still not what we would like to see'
This is important because, as noted above, Europe is an important geographic region for the company.
Thinking more deeply about the business opportunity, the company noted continued growth in their technology/software solutions for customers (with associated hosting - the company calls many of these solutions 'Simphony', where they have nearly 11,000 sites active, 9000+ of which are Starbucks). They were also excited about a link-up with Paypal (part of Ebay) which makes huge sense given Micros' aforementioned global payments platform:
'We will be integrating PayPal into our widely deployed food and beverage and retail point-of-sale platforms. This collaboration will allow our clients to offer their customers the ability to pay via PayPal's mobile application. We will also work closely with PayPal to jointly develop new applications to optimize merchant and consumer experiences'
The company continued to generate net cash (3-4% free cash flow yield) although they paid out more than this in share buybacks (at an average share price of just over US$43 a share). Given the net cash position of the company there is not a balance sheet issue. The company still has US$167m in its repurchase authorisation.
What else to know about the company?
Well the CEO Peter Altabef took over at the turn of the year from the long-standing A.L. "Tom" Giannopoulos who had been CEO for about 20 years. Giannopoulos moved solely to the Chairman role until June 2014, when he will retire, and a new independent Chairman will be appointed. I think these changes give an opportunity for new thinking.
On the conference call Altabef was asked about potential M&A action. I thought his response was suitably prudent (i.e. the net cash on the balance sheet is not burning a hole in his pocket):
'I would say we will be careful and prudent. I do believe, as I said in the last quarter, that we will be an acquirer. I think that this is a consolidating market, but we're not rushing to it. We're not overly eager to it. We're going to take our time and make sure that as we do it, we purchase companies that we think will be helpful for us strategically and that will work for us economically'.
Beyond management, the market is focusing on two potential contract wins (Tim Hortons in restaurants and Hilton in hotels) which could be influential. I note that the announcement of the Marriot win did not hugely impact the share. Nevertheless these contract wins would further lengthen Micros' market share lead.
So what is the valuation and how has the share performed? The share price graph over the last year is below. The first observation is that the company has done well to buy back shares at an average price of US$43 over the last year. The second is that during macroeconomic / market stress points the company's shares have a strong low US$40s support.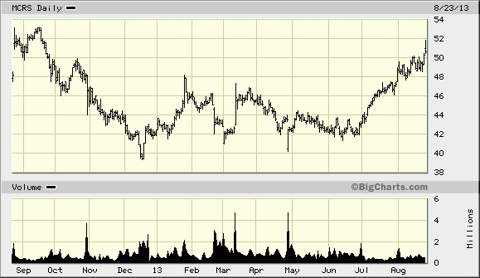 Using company guidance, the shares are trading on a June FY14 EV/ebit multiple of x12.8. This is not super cheap although the proprietary software and strong client base with recurring revenues does lend itself to a higher multiple than an average company. It is also the reason why I would want to own the shares.
So what price to buy? Well to me for company's with a strong strategic position like Micros a sub x12 EV/ebit multiple is one level. This would be imply a sub US$48 level.
Given the high European exposure and continued dullness in that region (impacting some of the forward divisional comments above), a second level would be sub US$44, followed by sub US$40.
Micros is not the highest profile company in the overall market although most consumers would have bumped up against them in hotels, shops and restaurants. It is definitely a share worth watching.
A final thought - would the positive attributes noted above be attractive to a larger software company concern? I don't buy shares for this reason but it strikes me that this is a medium-term possibility.
Disclosure: I have no positions in any stocks mentioned, and no plans to initiate any positions within the next 72 hours. I wrote this article myself, and it expresses my own opinions. I am not receiving compensation for it. I have no business relationship with any company whose stock is mentioned in this article.