Enterprise Products Partners (NYSE:EPD) has increased distributions to unitholders for 39 consecutive quarters. Since 2009, distributions have experienced a 5.45% CAGR, and the stock price has subsequently followed as MLP investors have chased this growing yield. The real attraction seems to be EPD's DCF coverage ratio, as it has remained well over 1.0x, with a most recent reading coming in at 1.4x for Q2 2012. Consequently, EPD's distribution is often considered one of the safest in the midstream MLP space.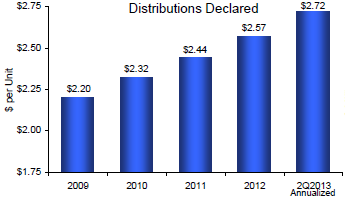 Examining EPD's impressive performance over the past may be reassuring, but what does the future hold? Is EPD becoming too large to increase distributions at this same rate going forward? Will the now- comfortable DCF coverage ratio become lower in the future as a result of slower growth? Let's examine the company's future projects to determine whether EPD's future seems as promising as the past.
Project Pipeline:
EPD has an impressive book of projects due to come online in the near future. These additions will be the primary source of additional FCF. At Citibank's recent midstream MLP conference, EPD highlighted their project pipeline for 2014, which totals $5.1 B in value: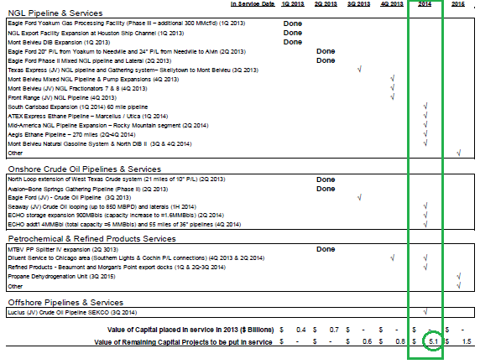 Funding Sources:
Notice 2014's $5.1 B huge increase over 2013's $2.5 B total project estimate. In total, EPD has roughly $8 B in new projects under development through 2016. Wondering how does EPD pay for these expensive expansions? Because of a healthy distribution coverage ratio stemming from GP IDR ownership, EPD can retain much of their cash flow for future investments. In the conference call, management stated:
We retained $318 M of DCF this quarter and $621 M through the first six months of the year, we also raised $214 M through at the market for our ATM program and $135 million from our distribution rate investment plan or DRIP and our employee unit purchase plan in the first half of the year, when adding to the $487 M of proceeds - from our equity offering in February, we have raised to retain approximately $1.5 B of cash this year is available to reinvest in growth capital projects reduced our debt and decrease our reliance on capital markets.
To summarize, EPD's YTD funds came from the following sources: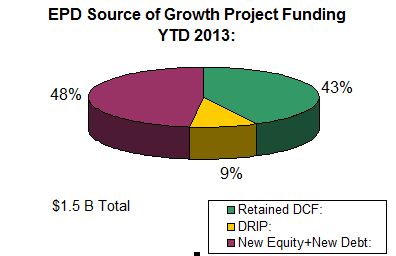 As I summarized in the past, tapping of the equity markets is normal for the MLP business model to be successful. However, relative to other MLP's, EPD's large percentage of funding derived from retained DCF (43% 2013 YTD) is impressive and a true strength.
High Profile Projects in the Pipe:
Front Range Pipeline, completion ~ Q4 2013
Partnering with Anadarko (NYSE:APC) and DCP Midstream (NYSE:DPM), a 435 mile NGL pipeline connecting the Dj basin in Colorado to Texas.
One of the world's largest propane dehydrogenation units, completion ~ Q3 2015
Located on the Texas Gulf Coast, will the capacity to consume up to 35,000 BPD of propane and produce 65 B pounds/year of polymer grade propylene ("PGP"). EPD will gain access to export opportunities and fee based contracts.
SEKCO pipeline, completion ~ Q3 2014
Reaching south nearly 150 miles into the Gulf, this 50/50 JV with Genesis Energy (NYSE:GEL) will have a 115,000 BPD capacity and will supply nearby Gulf refineries with oil from big name drillers including Anadarko, Apache (NYSE:APA), Exxon Mobil Corp (NYSE:XOM) and others.
Atex Express ethane pipeline, completion ~Q1 2014
The 1,230-mile project will connect parts of the Marcellus and Utica shale deposits to Texas. The pipeline can connect up to 190,000 barrels/day of ethane a liquid from natural gas drillers to Gulf Coast chemical companies and storage facilities. Ethane is a key element in plastics. Propane might also be added to the pipeline in 2015, under one proposal being studied by management. Construction of the pipeline is expected to create 4,000 jobs in these areas.
Summary:
EPD's asset base is still rapidly expanding, as retained cash flows combined with attractive equity/debt markets are permitting these efforts in the booming shale fields of the US. EPD has more than 19 projects scheduled though 2016 totaling $8 B in value. If EPD's current market cap is about $54 B, this is indeed meaningful. In my opinion these additions will increase cash flows and the overall scope of operations, providing continued distribution growth and thus safety in the stock at these levels.
The past has been impressive for EPD, as DCF has grown despite challenging NGL prices:

I see no reason to question the future, as EPD's scope of expansions are sure to make it a strong performer. EPD is a buy in the mid 50's.
Disclosure: I am long EPD, KMI, OXY, SD, SN. I wrote this article myself, and it expresses my own opinions. I am not receiving compensation for it (other than from Seeking Alpha). I have no business relationship with any company whose stock is mentioned in this article.