As I continue to transition a portfolio once made up of only growth stocks over to investment in an amalgam of total return and dividend growth equities, I find myself somewhat surprised by some of the volatility I'm finding. At the beginning of the year, I opined that REITs, a sector I considered rather mundane at the time, presented an attractive total return opportunity, given group fundamentals and tame interest rates. That turned out to be a decent call up until May, as many names in the sector traded substantially higher. Realty Income (NYSE:O) gained 40%, healthcare landlord HCP, Inc. (NYSE:HCP) moved better than 20%, and even shopping mall behemoth Simon (NYSE:SPG) gained about 15% before the group started to collectively collapse in May.
The Total Return Angle
Though my old trading instincts told me to sell a majority of my REIT holdings back in May as the REIT rally seemed unreasonable, in my quest to become a more disciplined and yield oriented investor, I merely trimmed back my exposure to the group. The "yellow flag" I raised in an article back in May was appropriate, yet while I saw the ensuing correction brewing, I did not anticipate the depth of the market's reaction to hawkish Fed commentary. Currently, from a total return perspective, I think the forward price appreciation outlook has become broadly less compelling. I still see opportunity, however, the negative sentiment prevailing here will be a difficult obstacle for constituent REIT equities to overcome.
Even if the Fed embarks upon a less hawkish forward route, the perception has become that REITs will struggle or perhaps even suffer with rising short-term rates. Since I'm in the camp that sees just a struggle and not a bloodbath, I'm content holding some exposure here, but in an underweight and closely monitored fashion.
The Dividend Growth Angle
Let's turn our attention to the crux of this article, the wisdom of buying and holding REITs primarily for their ability to grow income in the years ahead. Part of my conclusion here is predicated on how REIT stocks have performed as dividend growth entities in the past. Since it is well thought that interest rate risk is a potential major headwind to this sector, let's take a look at the Ten Year Treasury over the past twenty years and dividend growth charts for O, HCP, and SPG and see if we find them instructive or not.

click to enlarge images
10 Year Treasury - 20 Years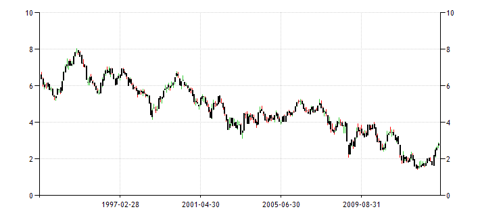 Though the slope is down to the tune of 600 basis points over two decades, there have been several instances where rates moved quickly to the upside by around 200 basis points on an interim basis:
1993-early 1995
Late 1998- early 2000
Late 2008- early 2009
Now let's take a look at historical dividend charts for the aforementioned REITs:
Realty Income DG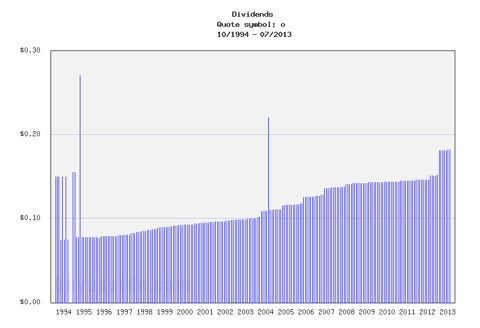 HCP DG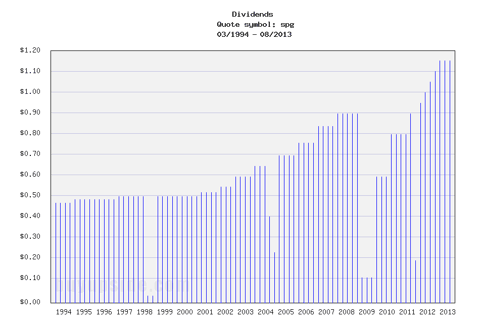 SPG DG
Now let's take a look at the charts of two non-REIT dividend growth companies with storied payout histories: Procter & Gamble (NYSE:PG) and Coke (NYSE:KO).
P&G DG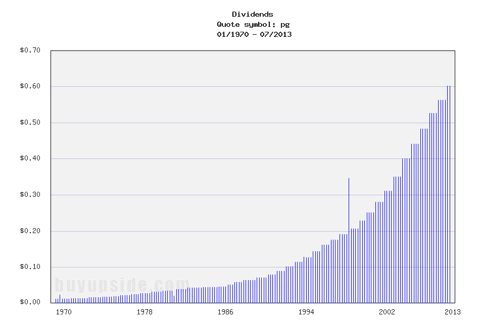 KO DG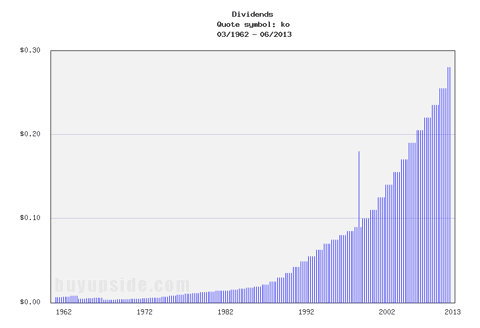 While the dividend growth of the three REITs illustrated here could certainly be considered healthy long-term, there have been some blips, leveling out periods, and less than consistent behavior as compared to the impressive charts of both P&G and Coke. Meanwhile, given the fact these companies have a relatively short history and that rates have been going down for several decades now, there doesn't appear enough data to postulate that REIT dividends or overall business models are necessarily in jeopardy during a tightening spree.
Explaining Erratic REIT Dividends
There seems one major reason why, in all likelihood, a REIT will never have a chart as smooth and elegant as what we see from P&G and Coke. This is because REITs are required to pay out 90% of all taxable income to shareholders. This mandate creates a forcible situation where REITs have virtually no margin for error in their business model from a dividend perspective. With payout ratios of AFFO, a non-GAAP measure of cash flow, usually in the 80% range and sometimes higher, a small near-term stumble could force management to jostle current policy.
A Coke, P&G or another long-term dividend growth stock has a margin of safety in its model as it generally possesses a lower payout ratio, meaning less cash from earnings and/or cash flow actually streams to investors. If the company has a bad year or two, it can raise the dividend at historically normal amount with little problem. Obviously if the dividend growth rate is persistently higher than free cash flow for an extended period of time, then the company would have to rethink policy. REITs don't' have the same luxury of going several years with cash flow disruption. However, a REIT could conceivably "cover" its distribution with a return of capital component to compensate for short-term problems, but that would not generally be considered a healthy long-term solution. There are some REITs today that are paying out more in dividends than they are generating in cash flow.
The lack of a safety mechanism in the REIT business model was made quite evident in 2009 when capital markets basically closed due to the banking crisis. Given the need to pay dividends and the tight constraints of their leveraged profiles, investors feared REITs might be on the verge of collapse. While such a scenario does not seem repeatable near-term, global economic crises do rise from time to time, and given the dependency of REITs on capital markets, a 2009 repeat performance should not necessarily be discounted looking forward.
So Adam, Are REITs Good Dividend Growth Ideas?
I think the answer to this question is "yes," but with some friendly admonition. Considering the industry's near disaster of several years ago, an uncertain history to predict what will occur with a tightening rate bias, and forced dividend mandate, forward REIT dividend growth seems potentially less dependable than other industries. I'm more confident in the dividend growth that consumer products companies and a plethora of other industries can provide in the years ahead as compared to most REIT entities.
The real investment value of many REITs today, especially those with muted capital growth potential rests in their elevated comparative yields. I can buy 5.4% today from Realty Income, and 6.7% from my favorite triple net, American Realty (ARCP). The more "dependable" dividend growth companies Coke and P&G yield only 2.9 and 3 percent, respectively. With 8% compound dividend growth, it will take seven years to get to 5.4% yield on cost and 10 years to get to 6.7% YOC. While consumer product names may present a "safer" dividend growth profile going forward, many impatient dividend investors may need or prefer something juicier on the yield end right now. From that perspective, and keeping one eye on what long rates are doing, I think the recent REIT sell off provides a nice risk-adjusted yield buy opportunity.
Disclosure: I am long ARCP. I wrote this article myself, and it expresses my own opinions. I am not receiving compensation for it (other than from Seeking Alpha). I have no business relationship with any company whose stock is mentioned in this article.
Disclaimer: The above should not be considered or construed as individualized or specific investment advice. Do your own research and consult a professional, if necessary, before making investment decisions.