This year's University of Wisconsin E-Biz Consortium Emerging Technologies Conference included many interesting presentations worth a look/listen for anyone curious about current technology and Internet trends. The UWEBC Conference focuses on "best practices and actionable insights from superior thought leaders" in the sector and archived Mediasite presentations are available. In addition to e-commerce, a wide range of other topics were covered, including Cloud Computing: Types, Levels of Virtualization and Other Challenges by Kevin Leahy of IBM Global Services (IBM, $125.93) , and How Cisco Manages Supply Chain Uncertainty and Risk by C. Kevin Harrington of Cisco Systems (CSCO, $24.03).
Although we look at all types of companies and sectors, we have a slight bias toward asset light, cash generating Internet companies such as Youbet (UBET, $2.26), PetMed Express (PETS, $19.41), and Bidz (BIDZ, $3.32) that should have secular tailwinds for years to come (*so long as the Internet doesn't go away, which only happens in a Mad Max Thunderdome scenario, in which case all companies are in trouble). Accordingly, we appreciated data and insights included in Emerging E-commerce Trends and Practical Insights by Mark Brohan, VP of Research, Internet Retailer. We recommend watching the presentation, but include a few key points/slides here: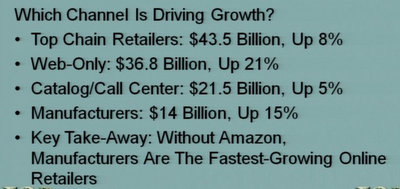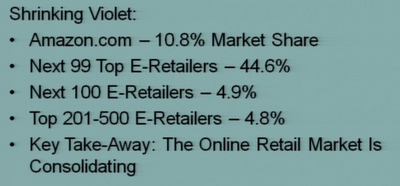 YTD 2009 (through 2Q09) trends:

Still a tough consumer market: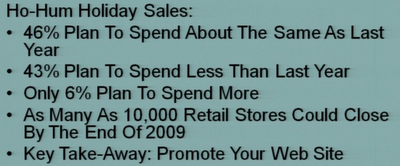 Companies looking to spend more for online tech platforms: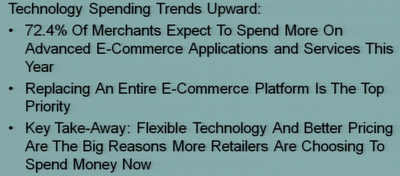 To summarize, the strong get stronger as e-commerce becomes increasingly ingrained in our lives and companies across many sectors (including manufacturing) are investing to build out online merchant capabilities.
Disclosure: long UBET, PETS, BIDZ.