ZAGG Inc. (NASDAQ:ZAGG) $5.94: I expect the rest of October to be very busy for ZAGG. NASDAQ listing and new production introductions should give the company and stock plenty of catalysts this fall. I'm most excited about ZAGGskins which are expected to be released within the next few weeks. The product will be similar to SkinIt.com but on steroids, offering Invisible shield protection while also giving customers complete customization.
An overlooked ZAGGskin advantage over the Invisible Shield is the "dry installation". No spraying, no wetness, no mess-ups. Where a full Invisible Shield installation can take 15 minutes, ZAGGSkins take 30 seconds. ZAGGskins will be initially sold online thus boosting ZAGG's high margin website sales. ZAGGbox, ZAGG's first entrant into the high end consumer electronic market, is set to debut in Q1 2010. ZAGGbox has already been recognized as an iStage Consumer Electronics Association Finalist. The company is very hush hush on ZAGGbox, but obviously it caught the CES's attention.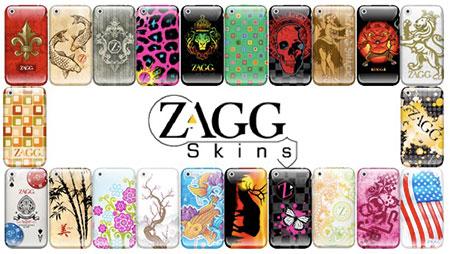 ZAGG announced a potential "game changer" a couple weeks ago. They made an investment in HZO, a water proofing technology that is set to launch in 2010. The waterproofing technology can be applied as an inline (OEM) production process or after market sell. The deal itself was set up brilliantly with very little P/L risk upfront with the obvious end goal of ZAGG acquiring HZO at a later date. ZAGG has first rights to purchase the remaining ownership in HZO, and I would assume they will once HZO reaches break even as a standalone entity. I saw two separate demos of products that were submerged in water. One was an ipod shuffle with a speaker and another was a document from the 1600's that was submerged and completely protected. The technology is not limited to the consumer electronics industry, as there is vast potential demand from medical device/equipment manufacturers, hearing aids, documents etc. I am excited about HZO because it rids ZAGG of the "One Trick Pony" status many like to place on the company.
ZAGG will release other ZAGGaudio accessories such as ZAGGsparq, ZAGGrock, and ZAGGfoam over the next couple of months. ZAGGsparq is a small, portable charging device that will work with most consumer electronics. ZAGGsparq uses a Lithium polymer battery which has many advantages over Lithium Ion. A fully charged ZAGGsparq will be able to charge an iphone 4x and a Mac book 2x, which is twice as good as the competition. The ZAGGsparq will be initially sold on Zagg.com. The ZAGGrock will be a speaker docking station for the iphone or ipod. ZAGGrock is a second generation product for ZAGG as the company sold many 1st generation "Rocksticks" a couple years back. ZAGGfoam will be sold as an antibacterial cleaner for your consumer electronic devices. It is often said that a cellphone/pda has more germs on it then a toilet seat, so ZAGGfoam will lend itself well to the germaphobes. This product was actually brought to ZAGG's attention by some of their big box clients who are looking for this type of thing, so one could assume you could see this in big box stores pretty quickly.
Best Buy (NYSE:BBY) continues to increase invisible shield SKUs. A little over a year ago ZAGG had 3 SKUs in 300 BBY stores, and now ZAGG has almost 40 SKUs in all 1000+ stores with dedicated wall space (very rare) and installations. The product must be selling very well for BBY to aggressively rollout SKUs. The Shack (NYSE:RSH) started selling Invisible Shields in late August/Early September in their 3500-4000 corporate stores, with the remaining 2000 licensed stores picking up the product soon after. It is said that a lot of the licensed stores are already up to 9 SKUs. With over 6000 stores, ZAGG analysts predict the Shack will outsell Best Buy by the end of 2010. ZAGG is also entering more MediaMart (the Best Buy of Germany) and Carphone Warehouse stores in Q3/Q4 2009.
Wireless stores remain a very large market that has yet to be tapped by the Invisible Shield. ZAGG and wireless stores will be a match made in heaven as ZAGG looks for more distribution and as wireless stores look for supplemental revenue streams. Verizon (NYSE:VZ), AT&T (NYSE:T), Sprint Nextel (NYSE:S), and T- Mobile remain the Holy Grail for the Invisible Shield. I think it is only a matter of time until ZAGG penetrates this untapped market and once you get in one of the big four, you usually get the rest. I believe that a single major wireless account alone could add $15 million in revenues annually, so these wireless store accounts remain highly coveted.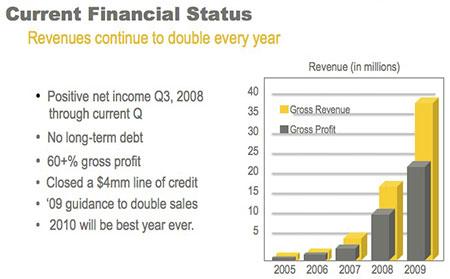 Analysts on average expect ZAGG to earn 0.23 EPS on $40 million in revenues for FY 2009. In the most recent ZAGG investor presentation the company made it known that they could double revenue yet again in 2010. If ZAGG can double revenues, one could also assume that net income could also double. With four additional revenue contributors (ZAGGskins, ZAGGbox, HZO, and ZAGGaudio accessories) set to launch over the next 12 months, and with the Invisible Shield continuing to add SKU's in big box retailers worldwide, the company is running on all cylinders. As fall turns to winter ZAGG will likely start to trade off multiplies to analysts 2010 EPS estimates. In an analyst research note in mid September, Merriman Curhan Ford gave potential revenue ($64.5 - 106 million) and EPS ($0.38 – 0.79) ranges for 2010. The Robins Group analyst, Marc Robins, has $83m revenues and $0.50 EPS figure for 2010, so you can see that even the professionals feel fairly confident ZAGG could double revenue and net income next year. What type of PE do you put on a company looking to double revenue and net income for a fourth straight year with many new products in the pipeline? 30-40-50x. The answer is probably somewhere in the middle which makes the potential reward from current prices quite enticing.
You can view the ZAGG Investor Presentation here (.pdf).
Disclosure: LONG ZAGG and I'm an advisor to ZAGG. http://iancassel.com/disclaimer/