Genco Shipping & Trading (NYSE:GNK) stock has increased about 60% in the last six trading days and about 160% from its May lows. This run-up was probably caused by the recent surge of the Baltic Dry Index by about 45% in the last three months.
Although the stock has moved a lot, the convertible bond of the company has been steadily falling in price as shown below and no trade has been posted since 8/15/2013.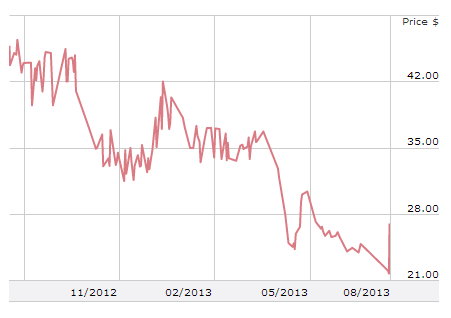 Genco Shipping & Trading 5% 8/15/2015 convertible bond price 1 year graph (Source: Finra)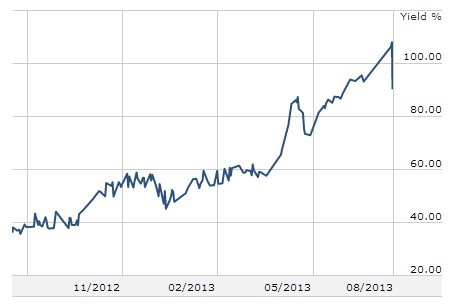 Genco Shipping & Trading 5% 8/15/2015 convertible bond yield 1 year graph (Source: Finra)
Note that the last trade that caused a bump in prices was a very small one which I don't think is representative.
The big part of the company's debt is not the convertible bond but bank term loans. In an article titled "Genco's Lenders Poised to Torpedo Bonds" in Bloomberg Brief Bankruptcy & Restructuring dated 03/15/2013, the bank loans are quoted at a price of 77.8 cents. This suggests that not only the stock is worthless but the convertible bonds also can't expect much of a recovery. I wasn't able to find a quote for the bank loans.
In one of my previous articles which is similar in nature I have written:
"Corporate bond prices that remain stubbornly at such low levels signal that a company may be in trouble."
"This discrepancy in price movements between stocks and bonds can be explained by the different type of investors in the two markets. Bond investors are known to be a lot more shrewd and analytical than equity investors who at times make decisions without much analysis and driven by price momentum. Bond investors are correct, more often than not, on their assessment about the future prospects of a company as reflected by low bond prices."
The case of Overseas Shipholding Group
Overseas Shipholding Group (OSGIQ.PK) which is also a shipping company but in the tanker sector has filed for Chapter 11 bankruptcy on 11/14/2012. The movement of the company's stock and bond prices is shown below.

Click to enlarge
Overseas Shipholding Group stock price 1 year graph (Source: Yahoo)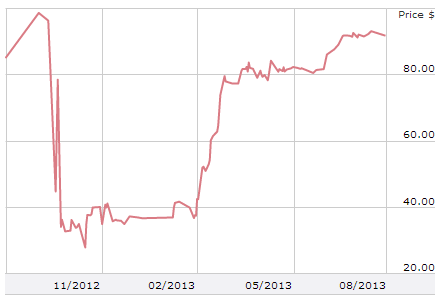 Overseas Shipholding Group 8.75% 12/01/2013 bond price 1 year graph (Source: Finra)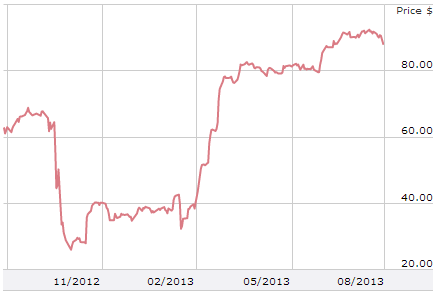 Overseas Shipholding Group 8.125% 03/30/2018 bond price 1 year graph (Source: Finra)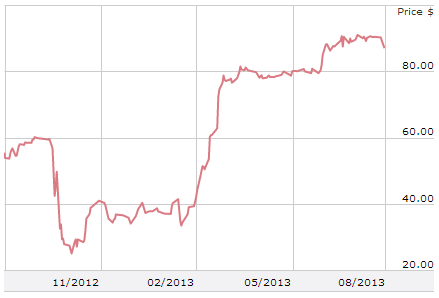 Overseas Shipholding Group 7.50% 02/15/2024 bond price 1 year graph (Source: Finra)
It is very clear from the charts that in this complicated case involving material tax issues there must have been some positive developments that are reflected both in the stock price and the bond prices.
Conclusion and risks
When the price of a company's stock surges while its bonds and loans remain priced at such depressed levels it is almost certain that the stock market participants are wrong and the stock is worth zero. In order to be right they must know something that the bondholders don't. Since no trade has been posted on the Finra website since 08/15/2013, it remains to be seen if bond investors' perception about the prospects of the company has also changed after the recent rally in freight rates.
Disclosure: I am short GNK. I wrote this article myself, and it expresses my own opinions. I am not receiving compensation for it. I have no business relationship with any company whose stock is mentioned in this article.