As someone who covers a lot of short ideas on this site, one of the most important items I follow is short interest data. One must always be aware of the short interest in a stock. A large short base could spark a short squeeze on good news, while low short interest could spark a huge drop on bad news. Every couple of weeks, we get an update from Nasdaq on short interest data, and I report on what I am seeing. Today, I'm here to discuss the middle of August numbers. I'll discuss five names that short sellers are going after, whether just recently or over the longer term.
SodaStream (NASDAQ:SODA):
The company that allows you to make your own soda at home saw a tremendous rise in short interest, almost 19%, in the first few weeks of August. As you can see in the chart below, short interest is now at a 5-month high after the spike. In the past two months, short interest is up more than 28.5%.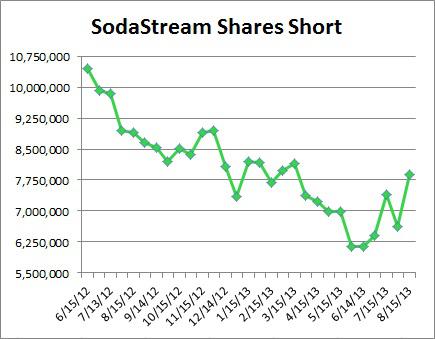 There hasn't been a ton of news out on SodaStream, so it is hard to pinpoint an exact reason for the jump. However, one possible explanation is the possibility that Green Mountain Coffee Roasters (NASDAQ:GMCR) may be looking to enter the carbonated beverage market. Green Mountain is a larger company, but SodaStream does have a solid presence in the space currently. SodaStream shares are back up to levels not seen since early July, so it will be interesting to see what happens at the next update.
Intel (NASDAQ:INTC):
It wasn't a large move in terms of shares short this time around, but Intel's short interest hit another new high. Another 2.13 million shares were shorted during early August, topping the 245 million level. In the last 16 months, Intel's short interest is up nearly 177%. Many technology giants have seen their short interest drop lately, as names like Apple (NASDAQ:AAPL) and Microsoft (NASDAQ:MSFT) have made a number of my lists for drops in short interest. Intel's short interest keeps rising.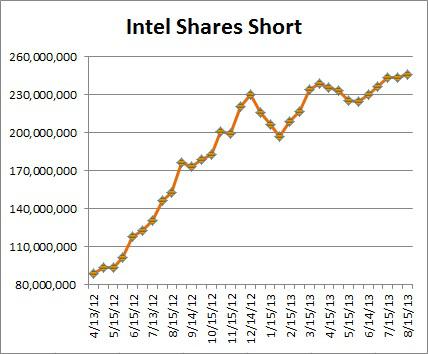 Intel shares have bounced around lately, as there have been battles between analysts upgrading and downgrading the stock. However, 2013 revenue and earnings estimates for Intel are close to the lowest point I've seen. When you combine lower expectations and the lack of a dividend raise, some investors are worried about the near-term future of Intel. The company was late to the mobile party, and they are now playing catch up. How soon they start to make an impact will have a tremendous impact on when this stock turns higher, and short interest turns lower.
First Solar (NASDAQ:FSLR):
The move in short interest for First Solar wasn't just significant for its size. This was the first time in a couple of months where short interest actually increased. Short interest in First Solar increased by more than 21%, but it still remains well below where it was over the past couple of months, as you can see below.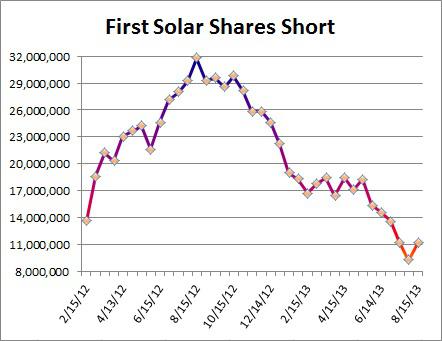 First Solar shares have come down a bit since the recent earnings miss, trading at levels not seen since April. First Solar set aggressive guidance earlier this year, and they had to reduce that guidance after Q2. Add in some dilution from the share sale and some other deals, and investors are wondering if the bar was set too high. Short interest had plunged to a new yearly low, but there seemed to be a disconnect there. Maybe that trend is starting to reverse with short interest popping at the most recent update.
Dendreon (NASDAQ:DNDN):
Shares in the biotech company that brought you the prostate cancer treatment Provenge saw a pop in short interest. Nearly 3.9 million shares were shorted in the first half of August, roughly an 8% jump. This puts short interest in Dendreon at a four-month high and the second highest point this year. Short interest remains elevated, as you can see below, up 24.25% from a year ago.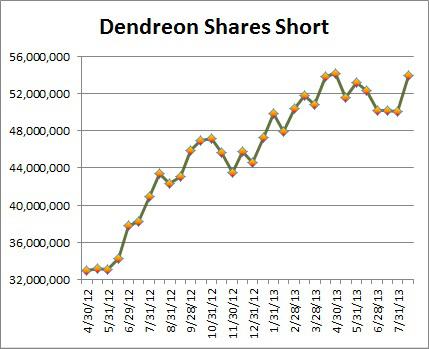 Shares plunged to a new 52-week low after the latest earnings report, and have continued hitting new lows since. Dendreon's window of opportunity may have closed, as Provenge sales continue to disappoint. The company won't hit its key $100 million quarterly sales mark this year, so they will continue to burn through cash for the indefinite future. The balance sheet is very shaky, and Dendreon's debt pile is becoming more of an issue. Dendreon needs to turn things around soon, or investors will face massive dilution. The possibility of bankruptcy also seems to be increasing at this point, which is probably why you saw an increase in short interest. In just three weeks, shares have gone from $5.23 to $2.87, so you might see a decrease in short interest at the next update as shorts begin to take some profits.
Tesla (NASDAQ:TSLA):
Tesla short interest jumped back above the 20 million mark at the latest update, putting short interest in the auto maker at a three-month high. After hitting a low point one month ago, Tesla short interest has jumped nearly 10% in two updates, as you can see in the chart below.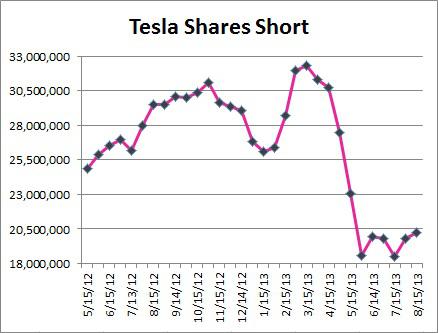 Short interest may be rising as Tesla continues to hit new highs, reaching $173 on Monday, another all-time high. Tesla shares appear to be in a bubble right now, which is why some think it is time to sell shares and raise cash. Shares were under $40 just a few months ago, and the rally just continues to amaze. It has been very painful to those who have been short this name recently, so the hope for new short sellers is that the bubble will soon burst.
Final Thoughts:
All five of these names have seen significant increases in short interest. SodaStream short interest popped to a five-month high, while Intel short interest hit a new multi-year high. The recent drop in First Solar short interest reversed for one update, but will it continue? Dendreon short interest jumped after a weak report has brought the company's future into question. Tesla short interest rose as its stock has continued to new highs almost daily. Will any of these names make the list next time around? We'll see in a couple of weeks.
Disclosure: I have no positions in any stocks mentioned, and no plans to initiate any positions within the next 72 hours. I wrote this article myself, and it expresses my own opinions. I am not receiving compensation for it (other than from Seeking Alpha). I have no business relationship with any company whose stock is mentioned in this article.
Additional disclosure: Investors are always reminded that before making any investment, you should do your own proper due diligence on any name directly or indirectly mentioned in this article. Investors should also consider seeking advice from a broker or financial adviser before making any investment decisions. Any material in this article should be considered general information, and not relied on as a formal investment recommendation.