NeoStem (NBS) is not only transforming the treatment of chronic disease, but the company is working to transform the stock as well. From the transition to the NASDAQ back in July to the hiring of new executives to help lead the next phase of development, NeoStem appears ready for the next growth stage.
The company develops therapies for chronic unmet medical needs around a significant IP portfolio and operates a revenue generating service division with expertise in contract manufacturing and cell banking. With a market cap of only $150 million, the stock is largely unknown by the market, yet it has plenty of opportunities to address chronic diseases from cardiovascular disease to autoimmune disorders to regenerative opportunities.
Enhanced Executive Leadership
NeoStem has made several executive additions and changes in order to position the company for the next growth phase. The company has a new CFO, CMO and a couple of new executives to help the contract manufacturing division grow. Typically a CFO change can be a concern, but in this case the existing CFO is transitioning to the Vice President of Strategic Initiatives.
Robert Dickey IV is an industry veteran with 15 years of management experience at life science companies including positions of CFO and CEO. His previous career as an investment banker at Lehman Brothers should suit the company well in its endeavors to attract institutional investors and fund clinical trials and growth efforts. Previously he was the Senior Vice President at Hemispherx Biopharma (NYSEMKT:HEB) that is working on immune-modulatory therapies for chronic fatigue syndrome and influenza.
A few weeks prior, the company appointed Dr. Douglas Losordo as Chief Medical Officer. Dr Losordo is a leader in cell therapy research and a renowned cardiologist that previously worked as the VP in Regenerative Medicine for Baxter Ventures at Baxter International (NYSE:BAX). He is considered an expert on CD34+ therapeutic development and mentioned that as a primary reason for joining NeoStem.
Again as with the CFO position, the previous CMO is moving to the Chief Visionary Officer position for NeoStem while maintaining the CMO designation for the subsidiaries of Progenitor Cell Therapy [PCT] as well as Amorcyte. In addition, Dr. Pecora will remain on the Board of Directors.
The company also recently added Stephen Potter as Executive VP from the Senior VP of Operations and Corporate Development for Osiris Therapeutics (NASDAQ:OSIR). The PCT subsidiary added Robert Shaw as VP of Commercial Sales and Brian Hampson as Senior Director, Engineering and Innovation.
The new additions to the executive leadership of NeoStem enhance the companies' capabilities with vast experiences in finance, biotechnology, and cell therapy and regenerative medicines. Even more impressive, the company was able to add two experienced execs in the CFO and CMO positions without losing the experience and company specific knowledge of the existing executives. In fact, a previous article makes a compelling argument that Baxter might be interested in NeoStem especially with the potential product synergies of CD34+ cells.
NASDAQ Listing
The move to the NASDAQ Capital Market listing NYSE MKT on August 5 combined with a 1:10 reverse split previously on July 16 has increased liquidity to where the stock now routinely trades over 200,000 shares. Along with the move has been a stronger stock price with new 52-week highs over $8 and a current market cap of around $150 million.
This move combined with a former investment banker as the new CFO should help attract more institutional investors interested in regenerative therapies. The company has recently raised some cash, but it undoubtedly could use another cash infusion or a partnership to fund trials.
Making Progress On Several Fronts
Regardless of the additions to the corporate suite and the stock listing, the key to success will be the ultimate progress made in developing therapies to cure chronic diseases through regenerative medicine. NeoStem continues to develop therapies for cardiovascular disease, autoimmune disorders, and regenerative medicine along with the contract development and manufacturing organization.
The most advanced work is being done with the PreSERVE Phase 2 clinical trial that is currently enrolling patients with a goal of completing enrollment in 2013. AMR-001 works to preserve heart muscle function after a severe heart attack and currently has 120 patients infused as of August 8 with a goal of reaching 160 patients by year-end. This places the trial on pace for a data read out mid-year 2014. The primary endpoint is a change in cardiac perfusion from baseline to 6 months.
The Athelos subsidiary also made significant progress during July with the T-cell program making advancement towards a Phase 2 trial to test the development of a treatment for type 1 diabetes (T1D). The company announced agreements with the University of California, San Francisco and the laboratories of Jeffrey Bluestone, PhD, and Qizhi Tang, PhD, to collaborate on the development of human Regulatory T cells (Treg) for the treatments for T1D.
Both programs advance the company towards dealing with the two most chronic conditions that are leading towards unsustainable growth in domestic health care costs. As the below slide from the investor presentation highlights, Cardiovascular disease and diabetes are forecasted to reach costs in excess of $1.3 trillion by 2030.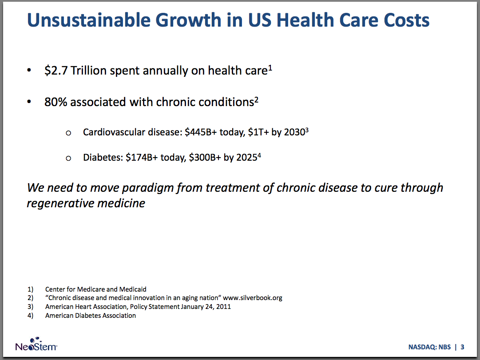 Conclusion
For a small cap stock, NeoStem continues to have several opportunities to grow the stock. Typically a biotech with a market cap of only $150 million is reliant on one drug, but the company has several opportunities in addition to the AMR-001 Phase 2 trial and the T-cell program progressing towards Phase 2. The pipeline in VSEL is progressing towards human bone growth trials and preclinical work on wound healing, Amorcyte working towards a Phase 1b/2a AMR-001 congestive heart failure trial in addition to an organ transplant trial, while Athelos is preparing for other autoimmune disorders trials in areas of steroid resistant asthma and organ transplant tolerance.
While a deal with Baxter or another biotech firm is always a possibility, NeoStem continues to offer a compelling valuation proposition. The Aegis Capital target price of $25 (after split) on the stock suggests the potential could be huge for this stock especially if the funding can be solidified.
Disclosure: I have no positions in any stocks mentioned, and no plans to initiate any positions within the next 72 hours. I wrote this article myself, and it expresses my own opinions. I am not receiving compensation for it (other than from Seeking Alpha). I have no business relationship with any company whose stock is mentioned in this article.
Disclaimer:The information contained herein is for informational purposes only. Nothing in this article should be taken as a solicitation to purchase or sell securities. Before buying or selling any stock you should do your own research and reach your own conclusion or consult a financial advisor. Investing includes risks, including loss of principal.