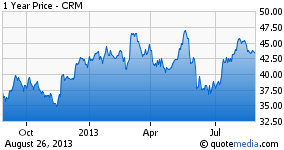 Salesforce.com (NYSE:CRM) is a leader in CRM, which has propelled the company's revenue growth. The company's customers include federal, state and local governments, large corporations and small businesses.
The biggest questions surrounding salesforce.com are about its growth and its valuation. Based on my analysis, I'm forecasting continued revenue growth which could boost the share price about 30%. My intrinsic value estimate is $56.48.
I'm not in the "salesforce.com is overvalued" camp. I think over the next twelve months salesforce.com will outperform the market or, at worst, perform in-line with the market. This isn't an investment for those seeking to outperform on a risk-adjusted basis. Salesforce.com is a solid investment for those seeking to outperform on an absolute basis.
The business and industry are in an excellent position. The employee and customer reviews are superb. The recent developments suggest the company is heading in the right direction, and the financial performance forecast leaves room for considerable share price appreciation.
Risks
This section is not meant to include all of the risks related to an investment in salesforce.com.
Revenue growth slows substantially which could decrease the potential upside and increase the chance of a significant share price decline.
An systemic shock clouds the macroeconomic outlook.
An increase in interest rates decreases the value of the common equity shares.
Business Profile
Salesforce.com, Inc. is a provider of enterprise cloud computing services. The company is dedicated to helping customers of all sizes and industries worldwide transform themselves into "customer companies" by empowering them to connect with their customers, partners, employees and products in entirely new ways. The company provides customers with the solutions they need to build a next generation social front office with social and mobile cloud technologies.
The company's sources of revenue are subscriptions and professional services. About two thirds of salesforce.com's revenue comes from the Americas and one third comes from international operations. In terms of international exposure, Europe is about 62% of international revenue. With Europe emerging from recessionary conditions, the continent could be a continued significant source of revenue growth.
Management classifies deferred commissions as an asset, which is unusual because they are expensed in future periods. Deferred commission represents payments to be made to the company's direct sales force. It is deferred compensation which is typically a liability. I consider this a yellow flag.
At the end of the fiscal first quarter, salesforce.com had over $2 billion of cash on its balance sheet; that is a substantial amount of liquidity and could be used to make a strategic acquisition or repurchase shares. I would consider a share repurchase program to indicate that management believes strong financial performance is likely to occur for the foreseeable future. Given the potential share dilution, I would say that there is a pretty good chance that management will initiate a share repurchase program.
The business profile is bullish for the valuations of salesforce.com as the company is a leader in CRM. Also, salesforce.com has significant exposure to an improving U.S. economy. Lastly, hopefully the Board of Directors implements a share repurchase program in FY14.
Reviews
In order to obtain a more complete picture of the company, I examined employee and customer reviews.
From what I read, the employee reviews are positive. No one is complaining about compensation. Employees call it a "great company" with "smart people." That said, one negative appears to be the long hours that people spend working. Another negative is the influx of talent from other companies that bring the attitude of their previous employer(s), such as the Oracle "close big deals" attitude.
Salesforce.com is an Editors' Choice CRM product, but the offerings can be pricey.
Recent Developments
Forbes named salesforce.com as the "World's Most Innovative Company" for the third consecutive year. Also, salesforce.com plans to unveil new product offerings at Dreamforce 2013.
Salesforce.com announced Salesforce Performance Edition, which combines the Sales Cloud, Service Cloud, and Salesforce Platform together with lead and customer data from Data.com, coaching and feedback tools from Work.com, identity services from Salesforce Identity, and more. Performance Edition is scheduled to be available starting November 4, 2013, at the price of $300 per user, per month.
Salesforce.com is number 4 on a list of the 40 cheapest stocks.
Salesforce.com continues to be recognized for its outstanding contributions as the company further integrates its extraordinary offerings.
Given its growth rate and relative standing in its industry, it comes as no surprise that Goldman Sachs lists it as the fourth cheapest stock on its list.
Forecasted Financial Performance & Valuations
At the end of the fiscal fourth quarter, management raised the FY14 revenue guidance to $3.835-$3.875 billion. My revenue forecast for FY 14 is $3.87-$4.12 billion. The higher end of management's guidance is at the lower end of my expectations. Management expects growth to slow this year from the mid to high 30 percent paces of FY12 and FY13 to at least 25.7%. Salesforce.com is forecasted to continue to remain a growth stock.
I'm looking for a FY14 operating margin in the -3% to -6% range; operating income often fluctuates with cost of revenue and sales, general, and administrative expenses. The net profit margin should be in the -6% to -9% range. Management is forecasting a net loss per share of ($0.33) to ($0.31) while I'm forecasting a range of ($0.59) to ($0.39). I would look towards the higher end of my range as the more likely EPS for FY14, because my operating expense forecasts may be on the high side.
In terms of the FY14 second quarter, I'm forecasting revenue in the $930 million to $988 million range. Management is forecasting revenue in the $931 million to $936 million range. I'm maintaining the same operating margin and net income margin for the second quarter that I am for the full year. I'm looking for a net loss per share of about ($0.10).
Moving on to the valuations, I don't expect salesforce.com to pay a dividend anytime soon, so I am going to use the multiplier models to value the common shares. The current share price is $43.59.
Using the historic valuations, the intrinsic value using the price/book ratio is $43.17, using the price/sales is $42.46, using the price/cash flow ratio is $49.92. The average of those valuations and the intrinsic value is $45.18. Consequently, salesforce.com is fairly valued.
That said, given the growth forecast, I estimate a conservative upside of 30%. In other words, my fair value estimate including the growth forecast is $56.48, which is 29.6% higher than the current share price.
Disclosure: I have no positions in any stocks mentioned, and no plans to initiate any positions within the next 72 hours. I wrote this article myself, and it expresses my own opinions. I am not receiving compensation for it (other than from Seeking Alpha). I have no business relationship with any company whose stock is mentioned in this article.