The two largest U.S. telecom stocks, AT&T (NYSE:T) and Verizon (NYSE:VZ), have traditionally both been regarded as high yielders that were relatively safe and stable, and for good reason. Lately, however, I think that the gap between the two has widened a bit, and one now makes more sense as a new investment than the other. Let's take a look at how the two compare in several key areas, and then I'll discuss why you should care about AT&T's "slightly" higher yield.
Recent performance
So far in 2013, Verizon has performed pretty well, with shares up by about 8.5% even after a recent pullback from the highs. In contrast, AT&T is down about 1.7% on the year, drastically underperforming both its sector and the overall market. I'm not really sure why there is such a stark difference between the performances of these two. AT&T's sales and profits are steadily rising, and the company's earnings are projected to rise by 8.1% and 8.5% during the next two fiscal years, respectively. Verizon is projected to grow its earnings by about 11% annually for the next couple of years, which is definitely worth considering, but I'm not sure it justifies the higher valuation and lower yield.
Comparing the numbers
Due to its recent outperformance, Verizon seems to lag AT&T in virtually every area that I look at for a dividend investment. The most obvious category is annual yield, where AT&T wins handily, 5.32% to 4.38%. Yield doesn't tell the whole story though, and there are many cases in the market where the lower-paying stock out of two peers is the better value.
I don't feel that this is the case here, as AT&T wins in several other categories as well. AT&T trades at just 13.6 times its expected earnings for this year, as opposed to 16.8 for Verizon. Both have similar catalysts and risks going forward, and I don't think that Verizon has anything special going for it that gives it significantly more growth potential than AT&T. In fact, AT&T's high-speed broadband and video service (U-verse) is growing at an astounding 30% annual rate, whereas Verizon's deployment of its FiOS service to new markets has begun to slow down. Analysts frequently cite increased in wireless data services by smartphone users as a catalyst for Verizon going forward, and I agree. It should also be a catalyst for AT&T, and even more so than for Verizon, as AT&T has 108 million mobile subscribers versus just over 100 million for Verizon.
Does a little yield really make a big difference?
To put it simply, YES! My main purpose of this article is to get my readers thinking about the power of dividend yields over a long period of time. A relatively small difference in yield can make an enormous difference over several decades. For a simple comparison using the two companies mentioned here, let's assume that we make a $100,000 investment in both AT&T and Verizon, and that we're 30 years away from retirement. We'll also assume that all dividends are reinvested (you should be doing this anyway), and that the share price of each company rises by 6% each year, a reasonable estimate given the history of each company.
First our hypothetical investment in Verizon:
So, after 30 years, out $100,000 invested in Verizon is worth just shy of $2 million! Not too bad. Now let's take a look at how AT&T does. Bear in mind that the difference between the two is less than 1% of annual yield…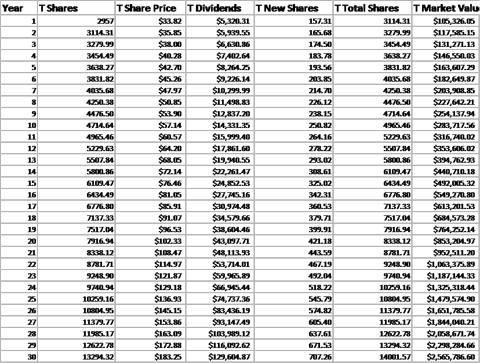 Wow! That's a significant difference. So, after just 10 years, our AT&T investment is worth $24,314 more than our Verizon investment. After 20 years, the difference has risen to $140,011, and at the end of 30 years, as we're getting ready to retire, out AT&T investment is worth a whopping $604,960 more, or a full 31% more than our Verizon investment is worth.
Conclusions
My point in all of this is to try to get you thinking long-term about stocks like this. If your goal is to make a quick buck, big telecom will probably disappoint you.
When keeping your eye on the big picture, sometimes it is in your best interest to overlook a few extra percentage points of possible short term gain in favor of a higher yield that you plan to collect for decades to come. AT&T is one of those situations. While Verizon's share price may indeed outperform AT&T's over the next couple of years, from a long-term standpoint, AT&T is the clear choice here.
Disclosure: I am long T. I wrote this article myself, and it expresses my own opinions. I am not receiving compensation for it (other than from Seeking Alpha). I have no business relationship with any company whose stock is mentioned in this article.