It appears that the stock market might be heading for some rougher trading markets as the comments from Secretary of State John Kerry riled markets yesterday and created a sell-off heading into the close. As stocks sold off we saw the dollar begin to rise and Treasuries rise, which had the effect of pushing rates lower. We already were strong believers that the Federal Reserve would not be tapering in September, and with the economic news yesterday and the possibility of US or NATO intervention in Syria we think it a foregone conclusion that nothing happens until December now.
Chart of the Day:
The ten year has been volatile as this one-month chart highlights but we could see a bigger pullback over the next month if President Obama does in fact decide to intervene in Syria as it could cause serious problems in the Middle East and it does appear that chemical weapons are involved.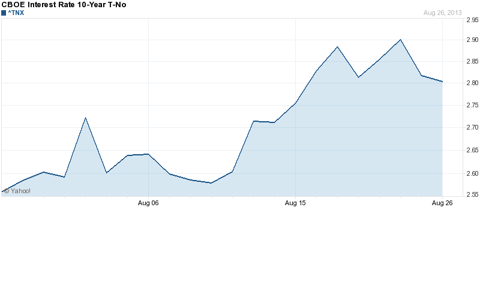 Source: Yahoo Finance
We have economic news today and it is as follows:
Case-Shiller 20-City Index (9:00 a.m. ET): 12.0%
Consumer Confidence (10:00 a.m. ET): 77.0
Asian markets finished mixed today:
All Ordinaries -- up 0.07%
Shanghai Composite -- up 0.34%
Nikkei 225 -- down 0.69%
NZSE 50 -- down 0.08%
Seoul Composite -- down 0.11%
In Europe, markets were mostly lower this morning:
CAC 40 -- down 1.49%
DAX -- down 1.56%
FTSE 100 -- down 0.61%
OSE -- down 0.55%
Retail
The retail sector has seen some interesting news of the past 24 hours with Bill Ackman's Pershing Square announcing that they were exiting their entire 18% stake in JC Penney (NYSE:JCP) and would be taking a $600 million loss on the soured investment. Obviously the trade did not pan out for him, and now that he is finished attempting the turnaround the prudent move to take losses and move on is being taken. Many are giving Mr. Ackman grief for selling now, but this is the move so many investment professionals and talking heads encourage retail investors to make so we applaud Ackman and Pershing Square to sticking to their guns and doing the prudent thing.
Maybe more surprising is the news coming out of Best Buy (NYSE:BBY) that Richard Schulze, the founder and former Board Member who left in order to launch a failed takeover effort for the company, has decided to begin to sell shares in the electronics retailer. Taking profits after the most recent run makes sense, but the reason we think this news is more surprising than the JC Penney news is because no one was talking about this last week or the week before. Schulze has a 20% stake and the reason given for the future sales is his desire to diversify and obtain more liquidity. We would argue that he has had a 180 degree change of heart regarding his stake then because it was not all that long ago that he wanted to keep the 20%, take out loans and increase his stake in the company. An interesting turn of events for sure.
Technology
The 3D printing sector was hot yesterday with both 3D Systems (NYSE:DDD) and Stratasys (NASDAQ:SSYS) hitting fresh highs off of the coverage initiation from Citigroup for both companies. Citigroup initiated both companies with a 'Buy' rating saying that 3D Systems could hit $60/share and Stratasys $125/share over the next year. The analyst at Citigroup also sees the potential for the 3D printing market to hit $6 billion in five years, meaning that the industry would nearly triple in size.
Our call to go long at $30/share has proven to be a good call and now that 3D Systems' shares are breaking above $50/share it might turn out to be an even better call.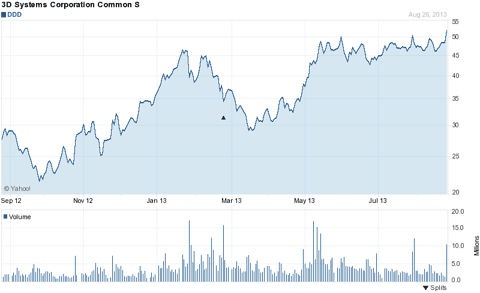 Source: Yahoo Finance
We have long been bullish of 3D Systems and actually called the bottom on the stock right before it began this latest rally. The Citigroup report yesterday pushed the shares above the $50/share resistance level we had been waiting to break through and now that the event has happened we look for further gains ahead. Our view is that the stock breaks through $60/share long before the analyst's estimate.
Biotechnology
A pullback still has not happened, but we still advise against chasing this name.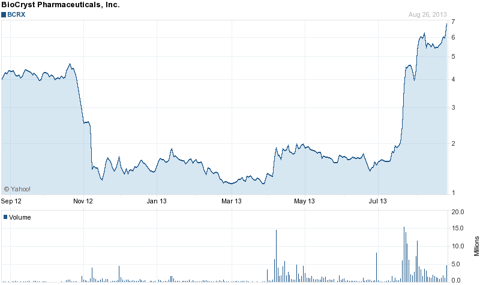 Source: Yahoo Finance
Thus far we have been incorrect in our prediction that BioCryst Pharmaceuticals (NASDAQ:BCRX) would pull back. The stock has been pretty resilient and managed to have enough good news and create enough excitement that each time shares retreat a bit something comes up that once again sends shares higher. The stock is benefiting from a renewed interest in the company's pipeline, trials currently underway and investors looking for potential takeover targets in the biotech space. This has all been a perfect storm to keep the shares inflated, but we are still not interested in taking on the risk here. For readers we still think that looking at the biotech ETF would be a far better risk/reward proposition or looking to the bigger names in the industry. The risk is high here, even though we do like portions of the story.
Disclosure: I have no positions in any stocks mentioned, and no plans to initiate any positions within the next 72 hours. I wrote this article myself, and it expresses my own opinions. I am not receiving compensation for it (other than from Seeking Alpha). I have no business relationship with any company whose stock is mentioned in this article.