Well, we were a little early with predicting a solar recovery, but things are really improving in solar land. This is basically a race between a growing market and falling prices. For the last couple of years, the falling prices have won, slashing margins across the board leaving many solar panel producers on the brink of bankruptcy.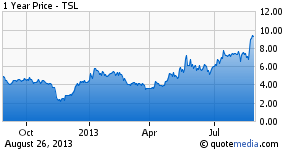 One of these is Trina Solar (NYSE:TSL), we advised to buy on dips last year when the stock was at $6. Well, these dips came, the stock sank all the way to $2. We were not too worried, as Trina is the cost leader in the main market segment, so we would expect this to be one of the survivors when the inevitable market recovery would set in.
Had you bought at $6, let alone if you had indeed waited for the dips and bought lower (all the way down to $2, as it happens), you would now see bright sunlight, as the shares have rallied on encouraging earning news to almost $9.50. And we might have been a little early, that didn't stop us from making a recommendation to buy SunPower (SPWR) at $4.4 last year, the stock is now above $20 (after reaching almost $30 earlier this year) and the best performer in our recommendations.
Here are the main Q2 results:
Increasing shipments by a stunning 64.6% sequentially (over Q1), exceeding initial guidance by more than 200MW.
Increasing net revenue sequentially by 69.4%, although the increase year on year (y/y) is a considerably less impressive 27.4%.
ASP (average selling price) stability, the fall in ASP seems to have halted.
Gross margin improved a lot (to 11.6%) and is minimally expected to remain constant or even improve further. It's negatively impacted by Trina's practice to source some part of demand from third parties as their own capacity is (more than) fully utilized.
Full year module shipment guidance is increased from 2-2.2GW to 2.3-2.4GW, representing approximately 44.3-50.6% increase on 2012 shipments.
There are numerous one-time factors spoiling a clear view, here is a rather amusing quote from a question on the Q2 CC by Gordon Johnson from Axiom Capital Management:
... when I look at your cash flow, I guess the puts and takes here, looks like your working capital contributed roughly 240 million in cash, you burnt about 133 million in paying debt. Your CapEx was roughly 17 million and your EBITDA I calculated a negative 6.5 million, so in total its looks like your cash sort of increased by 82 million yet it was down 157 million
To confuse minds more, there were one-off exchange rate losses (although much less than Q2 2012 or Q1 2013), roughly cancelled out by tax benefits. Then there is the problem of revenue recognition from projects. Rather than trying to sort out all these different, mostly one-off effects (we'll leave that for the accountants), let's concentrate on the essentials, like margins.
Margins
There are quite a few forces impacting margins.
The ASP. The stability of the ASP is very significant. The relentless decline of the ASP the last couple of years has led to a veritable bloodbath amongst solar panel producers, almost all of which produced at a loss. It was mainly a result of huge overinvestment, but since the market is growing briskly (partly as a result of the ASP declines) and many companies went bankrupt and most cut back significantly on investment in new capacity, the market was always going to re-balance sooner or later. This now seems to have happened, at least for now.
Polysilicon and non-polysilicon cost. Together, these cost declined by "high single-digits in percentage terms from the first quarter"
Capacity utilization. Capacity is more than fully utilized!
Outsourcing. Trina is producing in excess of their own capacity and they source-in much of the excess demand from third parties, to the tune of 400MW this quarter (according to Terry Wang, CFO during the Q2 CC). This dampens margins, as explained in earlier CC's and it's not a surprise. Trina is the low-cost producer and any sourcing partner needs to earn some margin as well.
Despite retiring all outstanding convertibles, Trina still holds a large amount of debt outstanding (over $1.1B)
While inventory and working capital balances came down and the company repaid debt (retiring all outstanding convertibles), cash flow from operations was still negative to the tune of $20M. To be break-even, the company requires 15-18% gross margin, cell cost in the mid 50 cents will achieve that (actually a little better):
If we have middle 50s in cost, you have about 20% gross margins right there [Zhiguo Zhu President Module Business Q2 CC]
But here is the thing why we're not quite fully overboard with enthusiasm. Such is the ravage of falling ASPs the last couple of years that the company still isn't profitable, despite operating at full capacity (even beyond nameplate capacity) and engaging only in maintenance CapEx this year, no investment in new capacity whatsoever.
They hope to achieve profitability by the end of the year, but we have to hope ASPs won't fall further. That seems a realistic scenario, as the market is rebalancing and growing vigorously virtually everywhere, especially in China and Japan. However, sooner or later Trina (and a host of other solar companies) will have to put serious money into expanding capacity and invest in automation, so this isn't going to be a very profitable company for quite some time to come, unless the ASP will actually increase.
Even that is possible, but that would slow the advance in the spread of grid parity and slow adoption, which is spreading like wildfire at the moment:
Deutsche Bank said the dramatic fall in the price of solar panels to between $0.60 and $0.70 per watt - lower than thought possible five years ago - has already rendered solar power competitive "without subsidies" in Japan, South Korea, Australia, Italy, Greece, Spain, Israel, South Africa, Chile, Southern California, Hawai and Chile - in some cases because electricity prices are ruinous. (Italy's solar is not efficient but electricity retails at $0.38 per kilowatt hour, compared with $0.15 in Germany and the UK). These regions could be joined within three years by Thailand, Mexico, Argentina, Turkey and India, among others. Mr Shah said emerging markets are likely to embrace solar over the next decade for hard-headed commercial reasons, without the need for government subsidies. [Evans-Pritchard]
Since 2009 the falling ASPs have not quite been matched by falling cost, despite big declines in:
Polysilicon prices, which dropped precipitously due to oversupply, contributed to 54 percent of cost reductions. The other important factor -- one that is less often cited -- was the decline in prices for other consumables like wires, frames and glass, which contributed 26 percent. Together, consumables pricing reductions -- driven mostly by oversupply -- have made up 80 percent of the overall cost drop. [Greentechmedia]
This obviously can't continue, so the next big cost drop (GTM expects Chinese solars to be able to produce cells for 36 cent by 2017) will mainly have to come from the automation of production processes. There is another imperative for this, as Chinese labor cost are rising 10%+ per year. Fortunately, there is considerable scope for automation as most Chinese solar companies relied heavily on labor exactly because it was so cheap. On the other hand, automating production processes requires considerable investments.
Conclusion
The last couple of years have seen a dramatic decline in ASPs. While this is good for the march toward grid parity and market adoption, solar companies need to be given some breeding space in which their cost base can catch up with the dramatic declines in ASPs, return to profitability and generate some funds with which to expand capacity for the next wave of market adoption.
Our take-aways are:
The solar market expanding vigorously and the areas where no subsidies are needed is growing steadily larger, which could lead to an inflection point for solar adoption.
Trina, as one of the low-cost producers, will be a prime beneficiary from this trend.
However, the company still isn't profitable, despite producing more than capacity and embarking on zero capacity expansion and production process automation. These will become inevitable sooner rather than later, so the company (like many others) needs a modicum of ASP stability in order to profit.
We expect the shares to rally further, mostly on momentum. Keep in mind that the shares are very volatile. But this recovery is somewhat fragile, and sooner rather than later it needs to be underpinned by a return to profitability. We expect that to happen, so we still think that you can still make a decent return on Trina Solar stock, but don't expect miracles, at least not yet.
Disclosure: I have no positions in any stocks mentioned, and no plans to initiate any positions within the next 72 hours. I wrote this article myself, and it expresses my own opinions. I am not receiving compensation for it (other than from Seeking Alpha). I have no business relationship with any company whose stock is mentioned in this article.