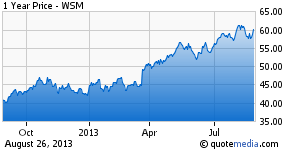 Williams-Sonoma (NYSE:WSM) sells luxury home furnishings and is seeing great growth. The company will report Q2 2014 earnings on August 28, 2013. With its strong balance sheet, impressive growth, and steady management, Williams-Sonoma is a good investment for any portfolio. I believe the retailer has a lot of room for growth. Investors would be wise to pick up shares on any weakness before or after the quarter. This "home jewelry" supplier is far from done growing.
Background
Williams-Sonoma Inc. is a specialty-retailer that sells furnishings for homes. It operates the Williams-Sonoma stores, West Elm, and all Pottery Barn stores. What the company sells has been called "home jewelry" because of its luxury price point.
Thesis
I believe Williams-Sonoma still has room for growth. It consistently beats analyst estimates and management is executing extremely well. Like it or not, this economy has created two different consumers. Wealthier consumers are doing quite well and are able to afford more luxury items. This combined with a growth in the housing market, puts Williams-Sonoma in a good position to profit.
Management has consistently executed. Their primary focus has been on their supply chain. This means having more merchandise in stock as well providing customers with patterns and materials they like. This strategy has helped grow their brands while having a minimal effect on their profit margins. This focus on supply chain has allowed WSM to continue to see growth from all of its brands. In Q1 of 2014 Pottery Barn, which makes up around 43% of WSM's business grew revenues by 7.6%. Pottery Barn Kids had comparable brand revenue growth of 6.9%. PBteen comparable brand revenue increased 16.1%. The company plans to launch PB Dorm products as well. This will help PBteen brands grow even more as graduates will want to take the comfort of home to their new residences on college campuses. And Williams-Sonoma stores also grew 1.9%. West Elm had record revenue in Q1 of 11.8% on top of 22.1% in FY 2013. Such growth, across all brands of the business, is impressive.
WSM management expects to see even more growth as the year unfolds. Their guidance states they expect net revenue to be between $4.2 billion to $4.3 billion in FY 2014. Analyst estimates put EPS for 2014 between $2.73 and $2.90. I believe, given WSM's track record and prospects, that it will reach the higher end of that range. This will mean WSM will see more growth in the coming future.
Financials
Williams-Sonoma has been consistently beating estimates quarter after quarter. In Q1 of 2014, WSM reported non-GAAP earnings of $0.41 per share. This was a 21% increase yoy. Net revenue grew 8.6% in the first quarter. Cash on hand at the end of Q1 2014 was $253 million and had operating cash flow of $325.04 million.
WSM has a beautiful balance sheet as it has a current ratio of 2.12 and a Debt to Equity ratio of .43. This means management has been able to fund most of its growth without having to aggressively use debt. This is impressive and helps to reduce financial risks for the company.
Valuation
WSM is currently trading at 20.26x forward earnings. This is compared to other specialty retailers who are trading at 103.9x forward earnings and the consumer services sector that is trading at around 30x forward earnings. This puts it on sale compared to other companies in its industry and sector.
Because WSM has nothing in its business model, earnings, or balance sheet that could cause concern I want to look at the PEG ratio for WSM. I believe WSM will hit the higher end of its estimated earnings range of $2.90 per share. This would put its EPS growth yoy at around 12.4%. This means that WSM's PEG ratio is 1.63. A company is expensive when its PEG ratio is around 2. This would mean that WSM will have to trade around $71.92 for it to be considered too expensive. I believe there is still a lot of value left in the company and do not believe it is over bought its current level.
Risks
As in any company there are some risks. If consumer spending contracts dramatically, WSM might see growth slow dramatically. This is dependent on the higher end consumer also curtailing their spending. If so, WSM will suffer along with many other luxury brand retailers.
Another risk is that WSM's aggressive push for overseas markets may be ill received. If so, a major objective of management could fall through. This would seriously hurt growth and may leave the company vulnerable for a good period of time
Bottom Line
Williams-Sonoma is a good investment moving forward. With a solid balance sheet, good growth, and strong management, the company is poised to make investors serious gains in the near future.
Disclosure: I have no positions in any stocks mentioned, and no plans to initiate any positions within the next 72 hours. I wrote this article myself, and it expresses my own opinions. I am not receiving compensation for it (other than from Seeking Alpha). I have no business relationship with any company whose stock is mentioned in this article.