Things are looking good again for cloud computing services provider Rackspace Hosting (NYSE:RAX). After reporting a bad quarter in May, the stock recouped most of its recent losses when Rackspace beat analysts' estimates. It might be time to be interested in the company again.
Earnings recap
Overall sales grew as the company boosted headcount, increased research and development spending, and increased sales and marketing expenses. Sales grew in the following areas:
Web hosting, up 2%
Public cloud revenue, up 9%
Server count, up 5%
Overall, according to its press release, sales increased 3.8% from the previous quarter. Sales were 18% higher than last year. Rackspace ended its last quarter with earnings of $123 million, up 10% from the previous year.
Operating margins were one weak spot. It was hurt because capital expenditures rose to $106.5M, up from 82M last year.
Balance sheet summary
Rackspace ended the quarter with $263 million in cash and cash equivalents. Accounts receivable, at $102.6 million, rose from $92.8 million in the last 6 months.
Return on capital weakened to 11.9%, down from 15.5% a year earlier. This was due a lower profit margin as the firm invested more into its business.
Drilling through the income statement
Rackspace increased its investments in all the right places. The consolidated statements of income showed that R&D spending grew the most for R&D, up 60% compared to the last year:
| | | | |
| --- | --- | --- | --- |
| | June 30, 2013 | March 31, 2013 | June 30, 2013 |
| Research and development | $16,742 | $22,773 | $26,776 |
| Sales and marketing | $41,310 | $49,814 | $52,269 |
| General and administrative | $55,854 | $63,079 | $69,280 |
Source: Rackspace
Rackspace spent its R&D efforts on software development, focusing on the OpenStack public cloud platform. Investments in data center infrastructure also contributed to the R&D spending. The adoption of OpenStack as the open source for cloud computing is an important growth driver for RackSpace. OpenStack is currently the second largest public cloud business. Only Amazon's (NASDAQ:AMZN) Web Services ("AWS") is bigger.
Amazon is valued at $135.81 billion by market capitalization. It is far larger than Rackspace, which is worth $6.6 billion. Amazon generated net sales of $15.7B last quarter, with 892M coming partly from Amazon Web Services ("AWS"). This is nearly double the $554M in sales in 2012. Despite the difference in size, Rackspace trades at a price/sales ratio more than double that of Amazon.
| | | |
| --- | --- | --- |
| COMPANY | MKT CAP ($) | PRICE/SALES |
| Rackspace Hosting | 6.60B | 4.28 |
| Amazon.com | 135.81B | 2.02 |
| Equinix | 8.34B | 4.01 |
Data Source: Yahoo Finance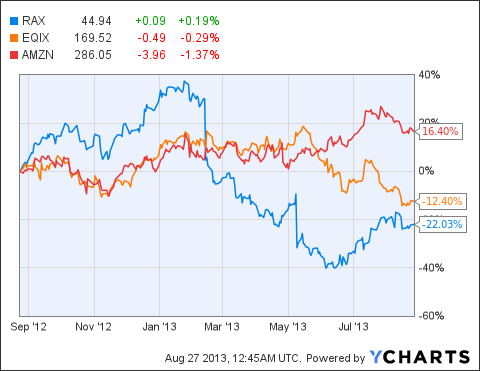 Amazon is a competitive threat to Rackspace. In July, Amazon reduced the price of Amazon EC2 by as much as 80%. The product pricing may differ, but both companies offer different solutions to customers. Amazon offers public cloud solutions, while Rackspace offers hybrid services on the cloud.
Equinix (NASDAQ:EQIX) is another data center services provider for investors to consider. Revenue is growing rapidly, but Equinix expects its rate to be lower than previously forecast in the second half of this year. Demand is slowing because sales in Germany are moderating, enterprise sales are moderating, and the average deal size is declining. Bears will view the revised outlook as negative, but Equinix does not want to compromise its profit margin for the sake of selling more product.
Sales for the company IBX data center are supported by customers adopting hybrid cloud architectures. The company believes that the trend toward hybrid architectures is irreversible. This supports a bullish view for Rackspace. It also implies that the trend for sales growth is will take a few quarters to play out. To support product growth, Equinix is boosting its sales force. By the end of the year, the company aims to add as many as 230 sales agents to the worldwide team.
Growth opportunity
Rackspace believes its growth will be in hybrid cloud. The firm touts it as the next computing platform. New customer adoption and usage will be driven by adding more features and capabilities. Higher service levels will also support customer retention and growth.
Rackspace on the right path
Investors should still consider Rackspace to be a company in transition. Having a rebound quarter that was positive does not confirm that the company will sustain higher growth. Looking beyond next quarter, chances are better that Rackspace is on the right path. The company invested heavily on developing its cloud technology. As customers select Rackspace for its computing needs, sales will grow, and so will gross profit margins.
Disclosure: I have no positions in any stocks mentioned, and no plans to initiate any positions within the next 72 hours. I wrote this article myself, and it expresses my own opinions. I am not receiving compensation for it (other than from Seeking Alpha). I have no business relationship with any company whose stock is mentioned in this article.